Feb 2012 Mojo Barriers line up along the red carpet at The BRIT Awards 2012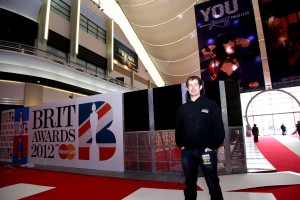 Mojo Barriers provided a range of barriers and configurations to ensure the safety of A-list celebrities, music artists, guests and fans at The BRIT Awards 2012 in association with Mastercard, 21st February.
The spectacular music ceremony was held at the O2 Arena in London where Mojo Barriers UK supervisors Greg Johnson and Chris Kordek worked with three Mojo Barriers specialists to implement an effective crowd control barrier operation. Having worked at the O2 Arena on various occasions and major events similar to The BRIT Awards, the Mojo team applied their expertise and experience to complete the comprehensive barrier formations on the day of the show.
As an international industry leader in crowd control barriers and configurations, Mojo Barriers supplied a wide range of barriers which totalled to 2,510 metres of Mojo Barriers equipment from its exclusive and extensive in house inventory of barrier systems.
This included, 180m of stage barriers, 110m barriers used outside in the red carpet, 70m of Mojo's barriers inside the foyer press area, 80m of sight line kill extensions, 350m heras fencing, 1600m of channel barriers and 300m of met barrier as well as 6 line up gates.
Sight line kill extensions (high barricades) were used giving a height of 2.4m to section off a secure and private VIP area as well as incorporating 22 scaff clamp adaptors into the barrier system allowing the lighting company to build a lighting rig for the VIP press area. Each section of barrier was branded with The BRIT Awards and sponsor logos, proving very popular with the show's organisers.
A rapid turnaround to ensure a safe and efficient egress was conducted whilst the ceremony was held.
Mojo Barriers UK manager, Kevin Thorborn explains;
"We began the barrier breakdown at 7.30pm as soon as the BRIT Awards ceremony started. Planning and conducting this process in advance meant we could transport the line-up gates (LUG) used at the entrance to the exit where the Clipper boat service escorted guests away from the show. This involved positioning the LUG system at the departure gates of the venue to ensure a smooth and organised egress from the event.
"Providing a range of versatile Mojo Barriers products was also a key part of this operation. We wanted to compliment the venue and event requirements without comprising health and safety standards and ensured the guests and fans safety was of highest priority."