Mojo Barriers Australia's Sensational Installation at Spotless Stadium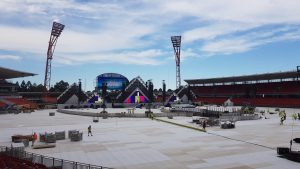 Mojo Barriers Australia recently undertook one of the country's largest stadium field cover installations, with over 15,000m₂ being installed for Sensation at Spotless Stadium, Sydney Showground, November 2017.
Sensation, the biggest open-air festival in Australia this year, was a great success, and protecting the valuable sports surface was of critical importance as Spotless Stadium is the home of Sydney's professional cricket team Sydney Thunder and the Greater Western Sydney (GWS) Giants, part of the Australian Football League. Mojo installed a complete Supatrac system to ensure the best possible pitch protection. It took 34 truck movements to freight the equipment in and out of the stadium and over 850 man hours to install and remove.
The Mojo team installed over 15,000m₂ of 100% white Supatrac, along with over 500m of aluminium Mojo Barrier in a 'D' configuration. Since launching as a supplier of Supatrac in January of this year, Mojo Barriers is now able to provide both barrier and stadium floor covering as a combined offering. To further protect the stadium pitch at Sydney Showground, the team installed a layer of Enkamat under the flooring to provide additional protection at the areas with the highest footfall and crowd density.
As well as being on-site during the event, the Mojo team managed the daily installation and removal of the aluminium ground protection products during the stage build, and worked closely with the festival organisers and stadium groundskeeper to ensure optimum crowd barrier configurations and pitch protection.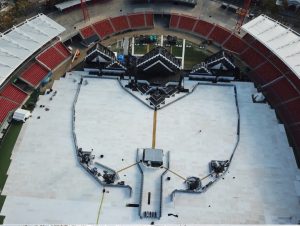 Craig Edwards, General Manager of Mojo Barriers Australia comments: "It was great to be able to showcase our logistical capabilities installing Supatrac and barrier as a combined service, and to be instrumental in one of the largest stadium field covers in Australia makes us particularly proud. Pitch covers are usually a combination of a variety of products; however we supplied 100% white Supatrac to Sensation to ensure the same high quality product throughout the entire stadium.
"Not only did our team need to ensure the products were installed to the highest standard for the biggest festival Australia has seen in three years, but due to it being hosted in such a busy stadium, the condition of the turf post-Sensation was critical with the upcoming sporting schedule."
Joshua Green, Sensation Event Manager from Phoenix Entertainment Live said "The Supatrac product is the way of the future for stadiums, the product doesn't leave indentations on the turf and a sporting event can be held the next day.  Supatrac is an efficient product to install and remove, with 15,000m2 installed in under eight hours there was minimum impact to production load-in – and it was even quicker on the load out. Coupling the supply of flooring and stage barrier products with Mojo delivered further efficiencies and made for a smooth and flexible operation.
"The aluminium and Enkamat combination was also highly effective. We managed to load in over 50 tonnes of steel for the stage and production build with four 135 foot boom lifts and two 60 tonne cranes operating for five days. With heavy production on the aluminium and 30,000 patrons on the Supatrac it is remarkable that none of the turf required replacing after the event – this is a great result for the Sydney Showground. Supatrac is the benchmark for stadium shows to minimise impact on the pitch."
Mojo Barriers US appoints New Vice President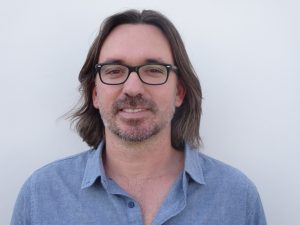 Mojo Barriers US office announces the appointment of Dan Gormley as Vice President, joining fellow US Vice President Jordi van Berkum.
Dan states:
"I am delighted to be joining Mojo Barriers as the company prepares to introduce new product ranges into the US market. I have the upmost respect for Mojo and relish the challenge to continue to evolve and improve our effectiveness and reach, expand the offering to clients, while developing and further strengthen our brand."
Dan's eight years experience working in live entertainment has given him a deep understanding of promoter cost containment requirements, along with the development of both new processes and new products to reduce overhead production costs. Previous roles have spanned festival site development to design and construction of new live event facilities. 
Dan will be based in Mojo's Los Angeles facility.
Mojo Barriers Australia Supplies Lorde on Cockatoo Island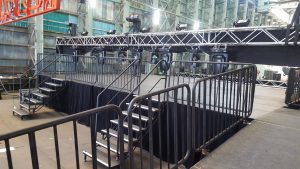 As the exclusive agents in New South Wales for PRO-STAGE, Mojo Barriers Australia supplied staging and risers in addition to stage barriers to Nova's Red Room Presents Lorde on Cockatoo Island, 7th July 2017.
Promoted by popular local radio station, Nova, 1,200 lucky fans were awarded tickets to Lorde's concert which took place at a secret venue; Cockatoo Island's Turbine Hall. The venue originally served as a ship building yard and dates back to the 1850's, and is now a UNESCO World Heritage Site.
This was Mojo's second event as distributors for Pro Stage in New South Wales for this client and at this location, following a Justin Bieber live performance where Mojo supplied media platforms and risers.
For Lorde's performance, Mojo Barriers supplied barrier for front of stage and front of house, along with emergency exit doors. Mojo also supplied a Pro Stage System for main stage at 1.4M in height, with a large access ramp and a tired Front of House Podium.
Being on a small island in the middle of Sydney Harbour gave its own specific challenges as Mojo Barriers Australia's project manager Sheena Edwards explains:
"The only way to reach Cockatoo Island is by catching a ferry across the harbour, which does present challenges when trying to get equipment to the site. All suppliers are ferried over from Sydney, however due to the size of the barge only one truck can fit at a time. Suppliers are ferried one by one and therefore a very tight production schedule had to be maintained to ensure we didn't miss our scheduled time slot and create delays for on-site crew waiting for equipment to arrive.
"Cockatoo Island is a beautiful UNESCO World Heritage Site and as we were working inside a listed building, we were required to be extremely careful when loading and unloading to ensure the building was not damaged by equipment or crew."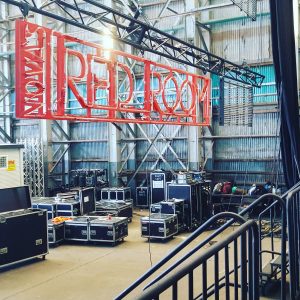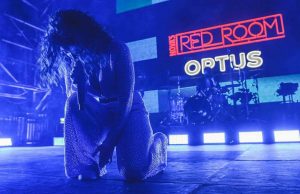 Mojo Supply The Europa League Final Celebrations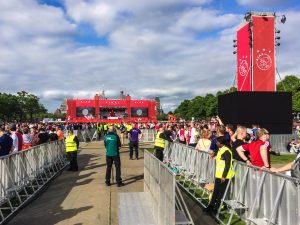 As thousands of Ajax fans gathered to watch the Europa League final, Mojo Barriers ensured crowd safety within Amsterdam's famous Museum Square.
With previous events in the park attracting crowd problems, The Mayor of Amsterdam, Eberhard van der Laan, wanted to create a safe and special environment for fans to watch the Europa League final between AFC Ajax and Manchester United.
Mojo Barriers was entrusted to create fan zones for 80,000 fans at Museum Square, which included multiple big screens to watch the game and a victory stage next to Rijksmuseum. Mojo's team installed five trucks of material including 750 straight barriers, 27 mega exits, 120 specials, 40 police gates and 40 line-up gates.
Mojo Barriers' Erwin Sprengers comments: "I'm extremely proud of the whole Mojo team who delivered quality and speed, and pulled together to help ensure the event was a huge success."
Client: Livetime Productions. Production manager Maarten Lamers. 
Building on 2016 Success for Mojo Barriers US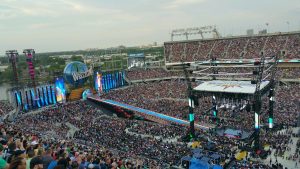 A new look Mojo Barriers US office, with Jordi van Berkum at the helm, has assembled an experienced team to ensure the company continues to offer its world renowned stage and crowd safety barriers to its expanding portfolio of clients.
Mojo Barriers US office has started the year supplying some diverse events, from installing crowd safety barriers to a large political event in Washington DC, WWE WrestleMania 33 in Orlando over the first weekend of April, to servicing the 27 date US tour for Eric Church. Mojo Barriers is still on the road with the Red Hot Chili Peppers and the team has just dispatched the touring barrier system for the five month The Weeknd tour.
The outdoor festival season began in March and witnessed Mojo supply over 500m of stage barrier to Okeechobee Music & Arts Festival in Florida, and over 300m of barrier to the New Orleans Jazz & Heritage Festival, the home of jazz, which it has supplied for many years.
Jordi van Berkum states:
"We are committed to continuing to give our existing clients Mojo Barriers' consistent high service levels, whilst expanding our equipment stocks. There is a growing awareness when it comes to the need for having a tried and trusted crowd or stage barrier system on an event, so we are also advising new clients on how best to use our barrier systems to keep their audiences, artists and crew safe."
Mojo's US Pennsylvania team is building on a successful 2016, when they supplied over 75 festivals, the ten biggest music tours including all 21 North American tour dates for the legendary American rock band, Guns N Roses' Not in this Lifetime Tour, and hundreds of rentals to some of the year's biggest events.
Bruno Mars tours with Mojo Barriers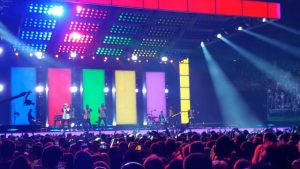 Mojo Barriers helped Bruno Mars create magic safely through the provision of specially-designed touring barrier to all European and US tour dates of his 24K Magic World Tour.
Mojo supplied a complete touring set, including front of stage barriers and a front of house barriers, to Bruno Mars' third concert tour, which began on 29th March at the Sportpaleis in Antwerp. Mojo utilised its G2 barrier, which was designed specifically for the touring industry to bring benefits to production teams, including being lighter, more compact and enabling easier and therefore more cost efficient transportation and installation.
Stanley Jilesen, Mojo Barriers project manager explains:
"We've known Bruno Mars' production manager, Joel Forman, for a long time now and he's always great to work with. For this tour we supplied our G2 touring barrier which is perfect for arena shows as their lightweight, compact design means they require less truck space so they can be easily transported to different venues throughout the tour. This enables the barriers to tour with the rest of the production elements, negating the need to rent equipment from local suppliers at each venue."
Kevin Thorborn Appointed Mojo Barriers UK Director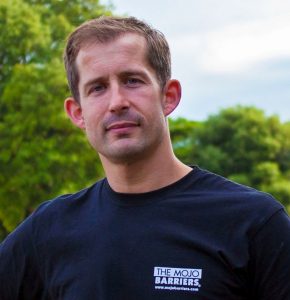 Kevin Thorborn has been promoted to director of Mojo Barriers UK, following his role as UK manager for the past 17 years, 24th April 2017.
Having started at Mojo Barriers in 2000 Kevin has managed the provision of stage and crowd safety barriers to over 1,000 festivals, from their local Medway Castle Concerts to Glastonbury Festival. His diverse experience spans venues from student unions to the O2 Arena, supplying concerts and European tours, which this year have included Bruno Mars, film premieres, award shows such as the Brit Awards, major public and sporting events and he has even supplied police forces in riot situations.
Mojo Barriers CEO Alex Borger states:
"We are delighted at Kevin's progression since joining Mojo, particularly over the past two years when he has delivered consistently impressive results and expanded the UK business. I am sure this promotion to UK director is the beginning of a very exciting future as we look to expand our offering to the UK market with Kevin at the helm.
"Kevin has developed an extensive network of clients and he is clearly delivering the high levels of service we aspire to, as shown by the amount of events contracting Mojo Barriers on a regular basis."
Outside of the companies head office in Netherlands, the UK office sits alongside the USA and Australia offices, with a further 27 distributors providing clients a global network to access Mojo Barriers' trusted range of crowd safety and stage barriers.
Bastille Wild World Tour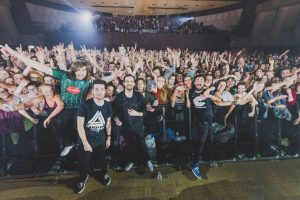 2016 saw Bastille embark on an arena tour to promote the launch of their latest album, Wild World, and we were called upon to ensure artist and audience safety at all 22 UK and European dates. 
Kicking off on the 28th October at Bournemouth BIC, the UK and European tour leg will run until 9th February where it will come to fruition at the Halle 662 in Zurich. We're supplying arena size kit, including stage barriers, flex corners, snake gates and metal cable ramps. As well as positioning barriers across the main stage, we've also designed a bespoke barrier configuration for the B-stage, to ensure continuity throughout each venue.
The tour has already visited 10 UK arenas including the Motorpoint Arena in Cardiff, The O2 in London, First Direct Arena in Leeds, the Barclaycard Arena in Birmingham and The SSE Hydro in Glasgow, and is now heading to Germany, Amsterdam, Switzerland, Spain, Sweden, Denmark and the Czech Republic.
Photo Credit: Joel Stanley/ Gregory Nolan Photography 
BoomTown Fair 2016
Building on its relationship with BoomTown Fair, Mojo Barriers supplied 600m of kit to this year's event, 11-14 Aug 2016.
Hampshire's Matterley Estate once again played host to the fully immersive BoomTown Fair, which this year welcomed an increased capacity of 60,000 music lovers and saw the addition of over 80 street venues. Mojo Barriers expanded on its inaugural year supplying BoomTown Fair, by supplying 600m of kit, which was installed across the entire festival site. Mojo's barriers were installed at all festival stages, including The Lion's Den, The Jolly Dodger and Sector 6, a new district introduced to the 2016 event.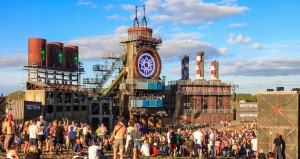 Founded in 2009, BoomTown Fair is an expansive metropolis, split into nine different districts, each of which has a different theme. As well as its impressive main stages, BoomTown Fair is famed for its bespoke entertainment and its creatively themed venues, which this year witnessed performances from Madness, Damian 'Jr Gong' Marley and Fat Freddy's Drop.
Kevin Thorborn, Mojo Barriers' UK manager commented: "The individual and quirky nature of BoomTown makes it such a special event and it's great to see organisers pushing boundaries when it comes to creativity and imagination. BoomTown Fair is famed for its impressive stages and immersive set design and this year saw the introduction of the new district, Sector 6. This wasn't an area we had supplied before, so it was a case of visiting the site, checking the ground and the contours and designing a barrier layout which offered maximum crowd safety.
"As well as supplying new areas, we also installed our barriers at BoomTown's infamous stages, including The Town Centre and The Lion's Den stage, which is situated within a natural bowl, meaning we had to design an effective layout which matched the contour of the land. It's great to be involved with such a progressive event, which keeps growing year on year, and we look forward to expanding our work with BoomTown Fair in the future."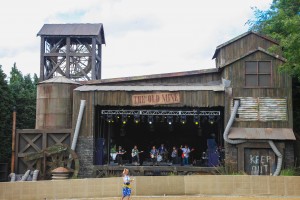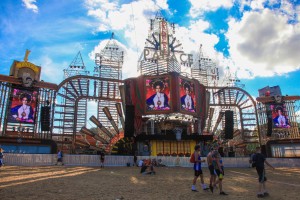 Lining The Red Carpet For The BRIT Awards 2016
Mojo Barriers provided a variety of barriers and configurations to ensure the safety of celebrity guests and music loving fans at The BRIT Awards 2016 in association with Mastercard, 24th February.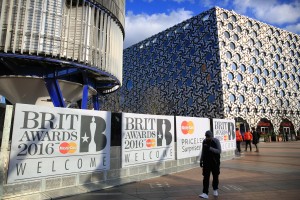 The 2016 ceremony marked the 36th edition of The BRIT Awards, one of the music industry's most prestigious events. Taking place at London's O2 Arena, Mojo Barriers implement an effective crowd control barrier operation and applied its expertise to complete the comprehensive barrier formations on the day of the show.Mojo Barriers supplied 300m of stage barriers, 2250m of heras fencing and crowd control barriers and 90m of sightline kill extensions, which gave a 2.4m of height to section off a secure and private VIP area. Each section of barrier was branded with The BRIT Awards and sponsor logos.
Mojo Barriers UK manager, Kevin Thorborn explains: "The O2 is one of London's busiest venues, so a rapid turnaround was needed to ensure a safe and efficient egress whilst the ceremony was conducted. The BRIT Awards is enjoyed by millions of viewers all over the world, which required us to provide barriers that not only do their job but that also look great, something we at Mojo Barriers pride ourselves upon. We utilised equipment from our extensive inventory to compliment the venue and the events requirements, whilst ensuring the safety of fans and attendees was given the highest priority."