Mojo Barriers Australia heads to Southeast Asia with Metallica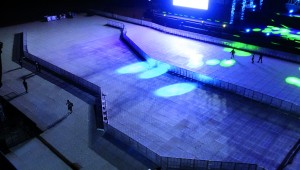 Mojo Barriers' Australian office was called in by Metallica to provide extensive stage barriers for the Southeast Asia leg of the band's Through the Never tour, 21-25 August 2013.
The rock legends played Stadium Merdeka in Kuala Lumpur, Malaysia and Changi Exhibition Centre in Singapore before heading to Gelora Bung Karno Stadium in Jakarta, Indonesia.
Metallica's last show in Indonesia was in 1993, when they were touring their fifth studio album 'Black'. At the peak of their popularity, the hype surrounding the concert resulted in the crowd rioting.
Two decades on, and the bands first time back in Indonesia, Metallica's production teams contracted Mojo Barriers to design  a bespoke barrier configuration using its patented aluminium system, which was then adapted  for the other two dates.
Cees Muurling, Mojo Barriers' managing director, says: "Safety for Metallica has always been paramount, but more attention than ever was focussed on these dates due to past incidents. We have a very longstanding relationship with the band and production, ensuring the highest level of safety for audience, crew and band members.
"We have supplied nearly every single US, Europe and Middle East tour dates for many years now and our recently-opened office in Australia (established October 2012) meant that we are now logistically better able to service tour dates in Southeast Asia too."  
The Mojo Barriers Australia team, led by project manager Craig Edwards, provided one system for Kuala Lumpur and Singapore which consisted of 226 metre-long sections. The system included gates and corners so its shape could be adapted for the needs of each venue.
Malaysia:  For the Kuala Lumpur date Mojo worked with organisers Galaxy to create a configuration that would cater to three different ticket sales. Mojo demonstrated how barriers can be used to safely and easily section off individual areas, creating a 2,000-capacity VIP pit in front of the stage, a curved line behind this for the 2,500 mid-level tickets with the remaining 4,000 capacity from front of house (FOH) back. Total capacity for the gig, including tiered seating, was 25,000.
Singapore:  The Singapore date offered two ticket prices, with Mojo Barriers configuring an open passive D in front of the stage to hold 15,000 with a straight line running behind the FOH tower to create a safe area for a further 15,000 fans. Client was Lamcproductions.
Indonesia: The Jakarta show saw Mojo work with Black Rock Entertainment and add an additional 88m added to the stage barrier system. With one ticket price for the entire 25,000 capacity standing crowd (total show capacity 54,000), an open passive D shape was installed. The first line was located in front of the stage security pit with a further two lines angled 16m apart to encourage an even crowd flow, whilst maintaining sight lines of the stage.  
Craig Edwards, Mojo Barriers project manager, comments: "Having the equipment based in Australia, and it being out of our main festival season meant we were able to supply a large amount of equipment quickly and efficiently, meeting some very tight time constraints.
"It's coming up to the first anniversary of the Mojo Barriers Australia office and it has been a huge success. These dates in Southeast Asia demonstrate the impact our expansion has had not just on the local Australian market but also surrounding countries which now benefit more easily from Mojo Barriers' trusted crowd control knowledge and products."  
June 2012 Mojo Barriers support Metallica across international festivals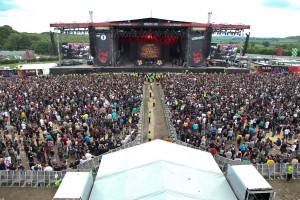 Mojo Barriers is supplying its extensive in-house barrier inventory for Metallica's summer festival tour. Prior to moving into US shows, the European run of outdoor shows began in Paris on 12th May and finished at Download Festival with a historic Black Album set, commemorating the 10th anniversary of the gig. Mojo is continuing its support across the band's Mexico and Canada dates.
Mojo Barriers' European office negotiated with European festival organisers and supplied front of stage systems suited to their requirements, ever mindful of the stringent high standards Metallica's touring party demand when it comes to a robust barrier system.
The Download Story
The Metallica entourage arrived at Download's Donington Park site amidst pouring rain in what was the festival's wettest year to date, with an audience just shy of 100,000. 
Mojo Barriers UK director Jim Gaffney liaised with the event's key management team including Metallica's production co-ordinator Dan Brown, festival director John Probyn, production manager Hannah Farnham, Live Nation health and safety director Paul Crooke, to review the ground conditions on the main stage after Friday night's headline performance (by Prodigy)
Jim comments: "It was a tough call as to whether swapping the barrier configuration after day one was safe. There were several things to consider – the difficulty of extracting Friday's FOS (front of stage) barrier from sticky mud, the challenging installation of the new configuration on slippery conditions and the integrity of that barrier once installed on the muddy surface. Discussions with Metallica's production team before they arrived left us in no uncertainty that they were very keen to have their "snakepit", but the safety of crew and the audience was everyone's primary consideration."
Hannah Fanham adds: " We were surprised with how well the ground had stood up when we surveyed it after The Prodigy, so the decision to go for the changeover was made. Achieving it was a testament to Jim, Chris (Kordec) and the rest of the Mojo crew who worked thorough the night into the morning (in rain) to replace the straight FOS barrier with the snakepit configuration."
Jim concurs: "Ground conditions meant no heavy plant could be used as would normally be the case to move barriers, and with the soft, compacted ground the system was very difficult to remove. This led to considerable extra work from he crew to integrate the FOS snakepit into Download's central thrust barrier running back to the FOH tower." 
At Download Jim also introduced a new FOS thrust design for the second stage and a 60m 'break barrier' to manage crowd movement between the main two stages. 
On to the USA
Mojo Barriers continued its work with the Metallica team in the USA, providing a traditional festival stage FOS barrier system at The Orion Music + More festival in Atlantic City for Metallica's first US shows, June 23 and 24, 2012
Since working with festival organisers C3 Presents in 2011, Mojo Barriers was attentive to the crowd dynamics attracted by the 37 bands and artists from a wide variety of genres, ranging from thrash metal to punk, indie, and experimental rock.  Mojo Barriers ensured a safe event providing the barricade to all four stages along with rolling risers, cable ramps and Gatekeeper turnstiles on site. .
Mojo Barriers will also provide an "In the round" configuration, which encompasses Metallica's performance stage for eight live concerts in Mexico City and four live shows in Canada split between Edmonton and Vancouver. The later concert "In the round" barrier layout will be filmed as part of a 3D production, a long-planned project to capture Metallica's legacy.
The stage set for this will include elements from past tours including the famous collapsing towers, with the barrier system including several curves in unique layouts incorporating a gate on each side.
Mojo Barriers' US President, JB Dolphin explains; "Building the "In the round" system brings its own challenges as the band have to come through the audience to get to the stage, so the integrity of the barricade is paramount.
"We collaborated with Metallica's Dan Braun and tour security extensively who have particular requirements for the safety of the band and everyone working within the stage area on the Arena floor surrounded by the 150m long barricade.
"When I joined the company seven years ago, there was already a strong relationship with Metallica's production team. They were one of the first to learn about Mojo's barriers and bring them to the US before the company had a US office. Patrick (Jordan) designed the aluminium barricade under the behest of Metallica, who were keen to have a safe, lighter weight touring system than the traditional steel barriers."