June 2012 Mojo Barriers' crowd management infrastructure at Diamond Jubilee celebrations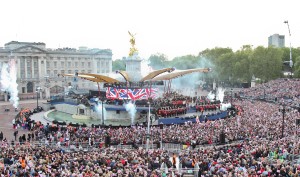 Mojo Barriers UK office provided over 400m of aluminium crowd barriers at landmark locations for London's Diamond Jubilee celebrations, ensuring the safety of spectators, 4th June 2012.
The spectacular Diamond Jubilee Concert, in front of Buckingham Palace was attended by 12,500 ticket holders, including the Queen and VIP guests. With the stage built around Queen Victoria Monument Mojo Barriers supplied the curved barrier which separated the artist's area at the perimeter of the historic monument from the public, as well as numerous camera platforms.
Additionally a hundred thousand additional visitors lined The Mall to participate in the celebrations and watch the concert on giant screens. This free public area was segregated from the concert with additional Mojo Barriers across the Palace end of the Mall.
Again, a range of special barrier pieces drawn from the company's inventory were used to adapt the systems to be fit for purpose in this unique environment.  Particular care in the design was needed to cross the Mall, which has a considerable camber (curve) in its surface, and special adaptors (called 'curb hoppers') were used to ensure the stable positioning of barriers across pavements and curbs.
Mojo's specially designed 'Megagates' were integral components in the barrier in the centre of the system. These meant the Mall could be opened and reclosed quickly, allowing the daily 'Trooping of the Colour' military parade to pass through on the morning of the event.
Mojo Barriers UK director Jim Gaffney states:
"It was great to be part of the Robbie Wilson Productions delivering this huge production at one of the World's busiest tourist attractions. It was especially tricky with members of the public in and around the site and the 'Changing of the Guard' going through the area. Having Mojo's range of barrier specials meant that we could be very efficient installing robust barriers that coped with all of the idiosyncrasies of the ground."