Jan 2013 Mojo Barriers kept millions safe at the London 2012 Olympics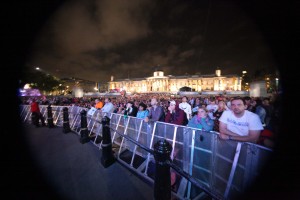 Mojo Barriers provided its crowd management services across the London 2012 Olympics and supporting events, helping to keep millions of visitors, athletes and officials safe. 
The safety of people using public transport was a key concern for LOCOG during the Games, as thousands of extra passengers entered London on trains and buses.  
Mojo Barriers utilised its extensive crowd control knowledge and trusted crowd barrier products to install custom configurations at St Pancras, Ebsfleet and Stratford train stations. 700 metres of barriers were provided and configured at each station to carefully and quickly channel passengers into venues including the Olympic Stadium. Mojo also supplied barriers to the Opening and Closing Ceremonies and at various locations within the Olympic Park site.
In addition, Mojo Barriers was contracted by Live Nation to provide 1,000m of barriers across all three sites of BT London Live, a unique series of concerts, sporting events, and live Olympic and Paralympic screenings. Welcoming more than 1.4million visitors, the events were held in Hyde Park, Victoria Park and Trafalgar Square, where Mojo's bespoke configurations were created to ensure the safe entrance and egress of guests.
A swift turnaround after the Olympics was required to reconfigure the venues for the Paralympics. The events experienced some of the worst ever weather seen in Hyde Park. Mojo Barriers team was onsite throughout the run of events, ensuring the barriers remained safe and in place despite the thick mud and woodchips which were laid by organisers following the downpours.
Jim Gaffney, Mojo Barriers UK director comments; "With so many extra people heading to the capital for the Olympics and supporting events we utilised our extensive stock inventory to deliver safe environments across London. Despite the bad weather we ensured our barriers systems were installed to the specific requirements of each venue, controlling the flow and movement of visitors at entrances, exits and across each site and minimising overcrowding. The Mojo team working tirelessly to ensure all elements were delivered to the highest standards whilst continuing to service a number of summer events such as Hard Rock, Wireless and Reading and Leeds Festival."