Success at Sziget Festival
Mojo Barriers was called upon to supply the main stage barrier, high fence and line-up gates to this year's Sziget Festival, which welcomed an increased capacity of over 90,000 people per day, 10-17 Aug.
Budapest once again played host to the week-long Sziget Festival, one of the largest music and cultural festivals in Europe, which this year boasted performances from Muse, Sia, Rihanna and Bastille. Following on from the success of its inaugural year supplying Sziget Festival, Mojo Barriers was once again called upon to supply 400m of barrier, 50m of High Fence and 20 line-up gates to the 2016 event. As well as stage barrier within the main stage arena and line-up gates throughout the festival site, Mojo also supplied its high fence to the main stage front-of-house in order to enhance security and improve the aesthetics of the structure. With a crew of 10-12 people, protect managed by Mojo's Rik Beulink, the install took one day.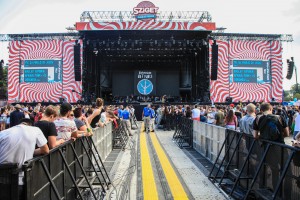 Mojo Barriers' Stanley Jilesen commented: "We first worked with Sziget Festival in 2015, introducing a breaker fence to the main stage to break up the audience and keep the pressure off the people at the front. This is something the organisers are really impressed with and it's worked really well to enhance the experience for the audience and help keep them as safe as possible.
"We're also on-hand throughout the event to make any modifications to the barrier configuration or supply any additional equipment. Two days ago Daniel called me and needed some line-up gates, so half an hour later the equipment was in a truck and on the way from Holland to Budapest. We always leave a project manager on site in case any changes are required, or if a band wishes to bring in some extra set which affects the barrier layout, such as a catwalk, and having one of our team on site means this can be quickly accommodated. It's great to work on such a progressive festival, one which has such a brilliant team and which is constantly evolving, and we look forward to building on our relationship in the future."
Daniel Benis, head of production commented: "Over the last few years, we have used barriers from our existing partners but couldn't beat the quality of Mojo Barriers neither in the equipment side nor on service side. In the last few years nearly all riders have placed greater emphasis upon crowd controlling issues and Mojo Barriers are now seen as a standard, so we had to step up. Mojo's services and equipment has solved all our problems, and any incoming production manager knows what they are getting when they see Mojo Barriers. Regarding the Hungarian regulations and crowd controlling issues, we had to find a solution to help improve the circulation of the crowds, in terms of normal flow and also in case of heavy crowds. Our security teams were also really satisfied with this."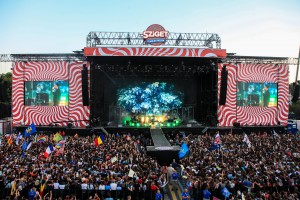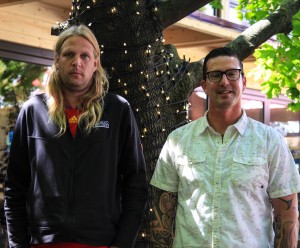 Feb 2012 Mojo Barriers line up along the red carpet at The BRIT Awards 2012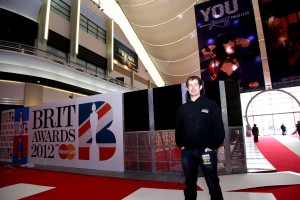 Mojo Barriers provided a range of barriers and configurations to ensure the safety of A-list celebrities, music artists, guests and fans at The BRIT Awards 2012 in association with Mastercard, 21st February.
The spectacular music ceremony was held at the O2 Arena in London where Mojo Barriers UK supervisors Greg Johnson and Chris Kordek worked with three Mojo Barriers specialists to implement an effective crowd control barrier operation. Having worked at the O2 Arena on various occasions and major events similar to The BRIT Awards, the Mojo team applied their expertise and experience to complete the comprehensive barrier formations on the day of the show.
As an international industry leader in crowd control barriers and configurations, Mojo Barriers supplied a wide range of barriers which totalled to 2,510 metres of Mojo Barriers equipment from its exclusive and extensive in house inventory of barrier systems.
This included, 180m of stage barriers, 110m barriers used outside in the red carpet, 70m of Mojo's barriers inside the foyer press area, 80m of sight line kill extensions, 350m heras fencing, 1600m of channel barriers and 300m of met barrier as well as 6 line up gates.
Sight line kill extensions (high barricades) were used giving a height of 2.4m to section off a secure and private VIP area as well as incorporating 22 scaff clamp adaptors into the barrier system allowing the lighting company to build a lighting rig for the VIP press area. Each section of barrier was branded with The BRIT Awards and sponsor logos, proving very popular with the show's organisers.
A rapid turnaround to ensure a safe and efficient egress was conducted whilst the ceremony was held.
Mojo Barriers UK manager, Kevin Thorborn explains;
"We began the barrier breakdown at 7.30pm as soon as the BRIT Awards ceremony started. Planning and conducting this process in advance meant we could transport the line-up gates (LUG) used at the entrance to the exit where the Clipper boat service escorted guests away from the show. This involved positioning the LUG system at the departure gates of the venue to ensure a smooth and organised egress from the event.
"Providing a range of versatile Mojo Barriers products was also a key part of this operation. We wanted to compliment the venue and event requirements without comprising health and safety standards and ensured the guests and fans safety was of highest priority."
July 2011 Mojo on course at Greenbrier Summer Concert Series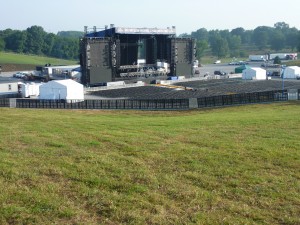 Mojo Barriers was entrusted to deliver a safe festival site at this year's Greenbrier Summer Concert Series at West Virginia State Fair Ground from 28th – 30th July 2011.
The concerts have become a prestigious part of the annual PGA Tournament weekend and this year increased from one to three days. Headliners included Tim McGraw, Black Eye Peas, Miranda Lambert and Keith Urban who performed to over 60,000 people each day.
Mojo Barriers provided 800m of stage barrier for the main stage, designing and installing a bespoke barrier layout to aid the safety and enjoyment of the audience.  
Matthew Tamulis, Mojo Barrier's project manager, said: "The stage sat in a hollow of the hill and we designed the configuration to follow the line of the hill, creating an amphitheatre-like semi circle. The inside of the circle housed a VIP section, for PGA players, their families and other high-profile guests."
Mojo also installed 26 of its line up gates to enable controlled and ordered access to both the VIP section and the general admission area.
Matthew continued: "This year the event changed from a one day concert with a capacity of 15,000 to a three day event with a capacity of 60,000 per day. This meant a huge focus was on the safety of the guests and the flow and management of such a large crowd.
"No two festival sites are the same and we worked closely with the organisers Intero Live and Greenbrier Resort to design configurations that worked both for the site and the audience. Our primary consideration was to keep the crowd, artists and staff safe, whilst also maximizing the enjoyment of the concerts by both VIPs and general admission guests."
The concerts attracted high profile audience members including 2011 Greenbrier Classic winner Scott Stallings who attended on Saturday—the night before winning his title.