Aug 2006 Mojo Barriers BLMS and new barrier design a success at Carling Leeds & Reading Festivals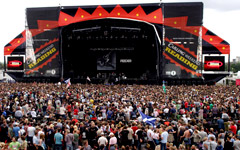 Pearl Jam, Muse, Franz Ferdinand, Kaiser Chiefs, The Artic Monkeys and Primal Scream were among the highlights of a great weekend of music enjoyed by over 150,000 fans at the Carling Leeds and Reading Festivals.
Mojo Barriers supplied over 1000m of barrier across the two sites. Aluminium Mojo Barrier incorporating the Barrier Load Monitor System (BLMS) formed the main front of stage systems with the new secondary barrier system employed at both festival sites constructed from steel barrier, in the new configuration, located between the front of house mixer and stage.
Headliners Pearl Jam's last festival tour in Europe was shattered by the tragic deaths of nine people during their Roskilde show. So their return to festival stages this year was accompanied by particularly close attention to heath and safety issues. 
This is an area Mean Fiddle's festival director Melvin Benn has always managed carefully. He has developed both festival sites over the years and created a festival weekend with a unique atmosphere, with a good record for safety. Melvin said:
" we have always looked for ways to improve the sites, and in the past two years we have worked closely with Mojo Barriers and a team from Buckinghamshire Chilterns University College in conducting research with their Mojo BLMS system that measures the pressure exerted on the front of stage barriers. This has been pioneering research in monitoring the well being of our audiences. 
"When considering our festival barriers, I was very keen not to affect the great atmosphere we get in front of the stage and not create sterile pens or the segregated golden circle we see at some shows.
"The video of the crowd surge at a Manchester concert of Oasis last year influenced y thinking in preventing a surge from further back in the audience and I'm delighted with the way the barrier we designed has worked. It's been self policing in terms of numbers and done exactly what I hoped."
Patrick Jordan, Mojo Barriers MD said:
"Melvin was the first of the big promoters to invest in BLMS and he has taken a lot of time and effort to study how the pressure reading correlate to audience discomfort. Since starting our research at Leeds in 2004 we have installed BLMS into over 30 concerts and festivals across Europe. We are just starting to correlate pressures with factors such as bands, gradients and notably, barrier design. It is still early days for the research, but I think Melvin's decision to look at different barrier configurations, leading to the one he created for Leeds and Reading, reflects his understanding of crowd dynamics and the importance of getting the barrier design right."
Jim Gaffney led the team from Mojo Barriers UK office, who installed the barriers at Leeds and Reading, Jim said:
"It was quite a novel approach of Melvin's, but I have to say it worked out very well. It seemed to help fans who wanted to see a particular band without getting surfed across or dragged into a 'mosh pit'. They could now stand behind the secondary barrier, where it as less exuberant, to watch the bands from a great vantage point."