May 2011 Mojo Barriers UK office Turn Black for Kylie Tour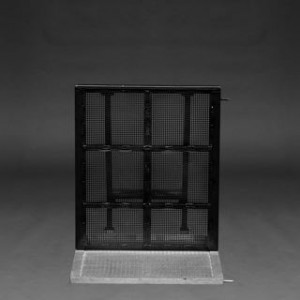 Mojo Barriers' UK office supplied 110 meters of black barrier for the European leg of Kylie Minogue Aphrodite-Les Folies Tour, which started in Denmark on the 19th February 2011. 
The crowd barrier specialists were asked to provide the custom coated black aluminium barriers for all tour dates across the UK and Europe by tour production manager Kevin Hopgood. 
Kevin Thorborn, Mojo Barriers UK manger, oversaw the project from design stages to the test build at the rehearsals and the tour itself. Due to the sheer size of the stage and catwalk, the Mojo Barriers team had to ensure a very tight configuration along the edge of catwalk and stage, as the sell out shows meant high capacity, leading to restricted crowd space.   
Following the mock build at rehearsals, Mojo Barriers redrew the final configuration plans inline with the new layout and provided them for the tour. 
Kevin Thorborn explains what challenges the team faced; 
"The biggest challenge we had was ensuring we had enough black barrier, as we had to custom powder coat our normal barriers due to a large stock of our black barrier being on tour with U2. The final barrier design and therefore length of barrier was decided quite late so creating and preparing the barrier for the tour was completed in a very tight time scale."
Kevin Hopgood says;
"Design and function are at the top of our priorities for Kylie tour staging and that extends through to the barrier systems. Mojo Barriers' products and service fits in with the high production values that Kylie and her design team insist upon. This show required a complex and flexible barrier design that was both aesthetically pleasing and gave us full H&S compliance across Europe.  Kevin Thorborn and his team delivered exactly what we needed."