July 2011 Safety First at Roskilde Festival 2011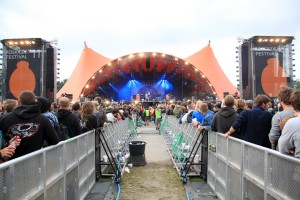 The live production industry is never short of opinions on the best way of doing things. But there are few credible, scientific research projects that collate international data to put evidential weight behind these opinions. That is the aim of a new research programme TPi caught up with at this year's Roskilde Festival. 
Roskilde Festival in Denmark was put on the map for all the wrong reasons in 2000, when nine people died during a crowd crush. The festival organisers have worked tirelessly since then to ensure the highest standards of safety across all areas, not least when engaging (the late and sadly missed) Patrick Jordan of Mojo Barriers to design the safest possible front of stage barrier configuration.
These barriers separated this year's audience from headliners including Iron Maiden, Arctic Monkeys and Kings of Leon, who entertained the 80,000 sell out crowd from 30 June – 3July, along with an expansive artist line-up spread across six stages.
Roskilde's festival manager Henrik Bondo Nielsen dedicated much time and resources after the events of 2000, accessing information via trade associations such as the PSA, and conferences such as the ILMC, in a bid to try and find verified ways to improve safety – but it was slow going, with a dearth of real data.  
In 2006 the festival organisation team embraced the opportunity to host the collaborative research programme that combines Mojo Barriers' innovative Barrier Load Monitor Systems (BLMS) with New Bucks University crowd pressure research.
The revolutionary research programme offers scientific evidence – for the first time – about what barrier configurations are safest for different venues and audiences, and gives a valuable understanding of how to use crowd dynamics to create safe spaces. 
Henrik told TPi where it all started: 
"We hoped to raise funding for research projects as there was no scientifically valid information to say 'this is the safe way to do it', when we asked the question after 2000. But there were no obvious funding routes so we searched out like minded partners. 
"Mojo Barriers had started using its BLMS sensors with Melvin Benn at Reading and Leeds festivals and Penny Mellor, who was on a European Festival Safety Focus Group, introduced me to Chris Kemp (Pro Vice Chancellor BNU), which is how we heard about the programme. We invited Mojo Barriers and BNU to Roskilde and started refining the research." 
Mojo Barriers' BLMS measures the force applied to a section of barrier by a crowd at an event. It comprises of an innovative system of pressure sensors, built in to the load bearing arms of the barriers, linked via ethernet to a computer. The whole system is totally unobtrusive to personnel working in the pit and has been carefully designed to be practical in a concert or festival environment.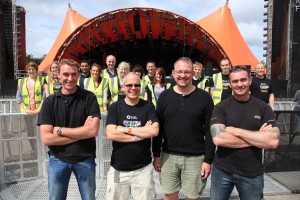 Cees Muurling, managing director at Mojo Barriers, said:
"We have consistently focused on ways to improve safety at concerts and festivals and I'm delighted we've been able to engage in this exciting new research correlating the effects of pressure at the stage barrier and pressures on people within the audience. 
"Crowd safety is all about what could happen; planning for incidents and for artists doing the unexpected. There is a common goal (with Henrik and Chris) of wanting to improve understanding of this and have data supported models on crowd dynamics, which is vital to running a safe event; especially when it comes to venues and festivals which deal with large and unpredictable crowds. 
"Until now decisions regarding barrier positions (and wider site design) have been down to best practice, opinion, and first hand experiences of the event organisers, site managers or barrier suppliers. Looking at some events I'm not sure how much time is spent on this process." 
Roskilde has a unique six pen barrier design in front of the main 'Orange' stage. This year, 34 BLMS barriers were integrated into key positions around the standard front-of-stage Mojo Barrier system, and recorded the force on the barrier for all of the bands. 
Cees explained: "We analysed the pressure readings from BLMS and could see major peaks in the audience's behaviour. They generally occur in the first half of the set as people tire as the gig goes on. 
"We've also seen that small changes in the angle of the curves in corners can affect the readings we get, so we know the optimum designs at Roskilde." 
The standard BLMS set up, combined with BNU's sophisticated crowd safety research, has been used at previous Roskilde Festivals, but this year the research went further and added CCTV and pressure suits to its repertoire – offering an opportunity for more detailed analysis. 
Henrik continued: "To gain a full picture alongside the BLMS readings we filmed the audience and had a commentator explaining what was happening on stage (as we're not allowed to film bands) so we could correlate audience behaviour with what the band were doing. 
"This year's research also used six students all with pressure suits on, which were evolved by BNU over three years, based on flexible plastic tubes with pressure sensors in-built. We placed students into a grid so we could identify where they are, and also attached a temperature gauge to each suit. 
"We have used this data to redesign the barrier pen systems. This year we've changed the size of the audience pens to spread the pressure equally and previously we'd gone from one mixer tower to two front-of-house positions."   
Parties involved in the research admit that no amount of scientific evidence will guarantee that incidents won't happen, but that making the effort to understand and collect data on as many elements of crowd dynamics as possible is vital for a better understanding.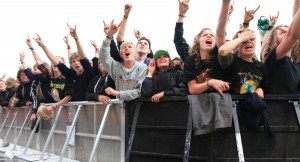 Cees said: "The science has to be there to support the knowledge and experience of the barrier and security professionals to help them make the right call on what barrier layout should be employed and what capacities should be allowed. We're hopeful that more event producers will join us in gathering data at their events.
"The wider the spread of sites, and the more data we have, the better our understanding will be of which barriers are more suitable for which audience. Plus it's the ideal way for event producers to check their barrier layout, or for real time information to be relayed to the head of security."
Henrik agrees, admitting many existing guidelines on such matters can cause more harm than good; "What some licensing councils don't understand when setting capacities is that they can sometimes make it more dangerous by having limits in pits too low. There will be people trying to get in if they can see there's loads of space. Using our research we vary that audience capacity depending on the audience demographic and expected behaviour." 
Safety is a priority for all live events and Mojo Barriers and BNU's research is certainly a big stride in the right direction, with other players following suit. The Fran Hoffer Institute in Germany is currently developing a video camera trained to recognise behaviours in a crowd, which will eventually be used in conjunction with the Mojo Barriers/BNU research programme.
Chris Kemp, BNU, said; "The research programme is being rolled out across the globe over the coming years and we'll be correlating and analysing the results, aiming for a detailed database for future use.
"We're hoping to get a host of other European and USA-based venues and festivals to participate, as well as looking at furthering the scope of the research through additional complementary technologies. Dr Keith Still of BNU is in the later stages of developing a computer model which predicts the forces and pressures on barrier configurations in different atmospheres and when exposed to different elements."