July 2011 Mojo on course at Greenbrier Summer Concert Series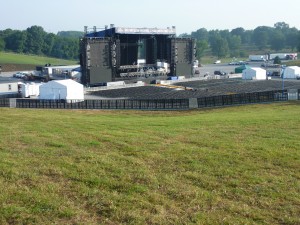 Mojo Barriers was entrusted to deliver a safe festival site at this year's Greenbrier Summer Concert Series at West Virginia State Fair Ground from 28th – 30th July 2011.
The concerts have become a prestigious part of the annual PGA Tournament weekend and this year increased from one to three days. Headliners included Tim McGraw, Black Eye Peas, Miranda Lambert and Keith Urban who performed to over 60,000 people each day.
Mojo Barriers provided 800m of stage barrier for the main stage, designing and installing a bespoke barrier layout to aid the safety and enjoyment of the audience.  
Matthew Tamulis, Mojo Barrier's project manager, said: "The stage sat in a hollow of the hill and we designed the configuration to follow the line of the hill, creating an amphitheatre-like semi circle. The inside of the circle housed a VIP section, for PGA players, their families and other high-profile guests."
Mojo also installed 26 of its line up gates to enable controlled and ordered access to both the VIP section and the general admission area.
Matthew continued: "This year the event changed from a one day concert with a capacity of 15,000 to a three day event with a capacity of 60,000 per day. This meant a huge focus was on the safety of the guests and the flow and management of such a large crowd.
"No two festival sites are the same and we worked closely with the organisers Intero Live and Greenbrier Resort to design configurations that worked both for the site and the audience. Our primary consideration was to keep the crowd, artists and staff safe, whilst also maximizing the enjoyment of the concerts by both VIPs and general admission guests."
The concerts attracted high profile audience members including 2011 Greenbrier Classic winner Scott Stallings who attended on Saturday—the night before winning his title.