Sept 2011 Mojo Barriers prove a success at Westfield Stratford City launch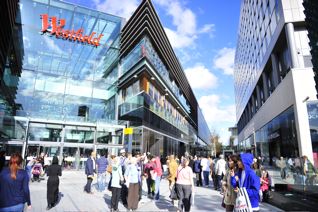 Mojo Barriers kept the crowds and VIPs safe at the grand opening of London's largest urban shopping centre, Westfield Stratford City, on 13th September 2011. The £1.45bn retail centre, located next to the Olympic Park in east London, houses over 300 shops, 70 restaurants, a 14-screen cinema, three hotels, a bowling alley and the UK's largest casino.
The star-studded launch saw thousands of shoppers enjoy performances from stars including Nicole Scherzinger. Crowd barrier specialist Mojo Barriers worked closely with Westfield's production team to supply the opening ceremony with a unique stage barrier layout across the site, to allow efficient crowd flow and management. The barriers were used to create a safe space for the events team to work in, a bespoke VIP guest area and VIP drop off section on Chestnut Plaza, outside one of the entrances.
In total, over 210m of stage barrier was installed along with 310 heavy duty crowd control barriers and 25 channel barriers. Kevin Thorborn, Mojo's UK project manager, said: "There were many aspects to this project, which involved detailed forward planning with the event organisers regarding site layout and the requirements of each area of the new venue. "The centre was technically still a building site when we started working on the project so diligence regarding health and safety was particularly important. All of our crew underwent induction training for the site, and we had to adhere to the regulations stringently throughout.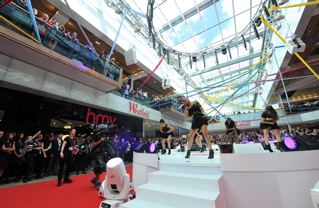 "We also made sure that all of our barrier configurations were designed with this in mind. For example we used our mega exits for the VIP drop off section to ensure vehicles could evacuate in an emergency. These versatile gate sections are ideal for this type of situation where both public and vehicles need access.
The mega gates were also used to allow the construction site plant to cross the event area." The new shopping centre includes a wide variety of prestigious brands including Karen Millen and Apple store, meaning the level of finish required at the opening ceremony was paramount. Kevin explained: "It was an incredibly high profile event and the centre itself is of the highest possible standard. We needed to ensure that our products were pristine and prepared to the highest possible specification.  This required a tight turnaround by staff in our London facility as much of our equipment had recently returned from muddy festival sites." Mojo supplied a crew of eight, who were on site for three nights from 10pm to ensure minimum disruption to the building works happening during the daytime. Simon Jones, senior production manager at Westfield Stratford City, said: "Mojo Barriers supplied all items and installed precisely to our site plans. They co-ordinated the equipment, worked to our tight build and movement timings, and as always delivered with the minimal amount of fuss."