Mojo Barriers Download Triple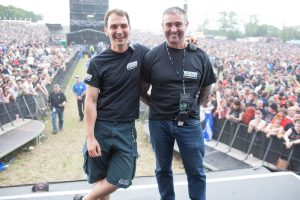 Mojo Barriers was contracted to install over 2,000m of front of stage barriers and bar barriers at three Download Festivals in the UK, France and Spain, June 2017.
Each country's Live Nation division were the promoters and clients, bringing in Mojo to keep rock fans safe through three days of performances by the world's top rock bands.
It was a welcome return to Donington Park's Download weekend, June 9th to 11th, in the UK for Mojo with Jim Gaffney, heralding Jim's return to the company as a senior account  manager.  Jim explained:
"I have managed the design and installation of the stage barriers at Download Festival since it began in 2003, where Mojo Barriers has always been the system of choice. I enjoy a great relationship with the Festival Republic team supporting Live Nation, it's always been a high priority for Melvin Benn and John Probyn to deliver a safe festival. We have a lot of planning discussions to look at the crowd dynamics and create the best barrier design.
"We have developed a very particular barrier configuration for the main stage, accounting in particular for the sloping ground stage right, the very wide sight line, along with the need for the incoming productions to get easy access to the front of house. While very good natured, we also considered this is a very boisterous audience who like to get their mosh pits and circles going, all of which led us to a unique lay-out. Our primary front of stage curved barrier has a central thrust back to front of house, and two secondary "arms" that allow the security improved access to the audience. The layout also allows the audience a choice of areas and a safe event without being too restrictive.
"This year we also had to accommodate Aerosmith's 15m thrust coming off the front of the mainstage, which meant looking at the downstage edge curves very carefully to avoid any pinch points, while retaining the original width of the thrust. This is where experience becomes invaluable. The pit for security personnel was also slightly deeper, because of the thrust, but the fact that the festival management had invested in putting down hard standing in front of the stage since the previous years' festival meant our load in and out were much easier, with less ground damage from plant to deal with."
Also joining the Mojo Barriers UK team at Download was Costa Chaparov as crew chief. Jim and Costa have worked together for many years and, with Mojo this summer, they have already managed barrier installations at BBC Radio 1's Big Weekend in Hull and the Old Trafford Manchester One Love memorial concert at very short notice.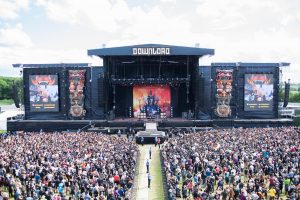 Over 1,200m of aluminium stage barrier was deployed in unique layouts at all five stages and around front of house towers, camera platforms and assisted viewing platforms. Mojo also supplied over 200 meters of Bar barrier to the various bars and concessions around the whole site giving their staff a secure working environment.
Simultaneously on mainland Europe it was the first time Mojo Barriers had supplied 750m of barriers and 400m of plastic bar barriers to the Paris festival. Stanley Jilesen project managed the planning and delivery of six trucks of equipment across five stages with two Mojo supervisors completing installation in just a day and a half, with the assistance of local crew.
Igor Dawidowicz, from Live Nation SAS France comments: "Everything went very well and your team is just great! Honestly, we all feel the difference between your work and other companies."
Stanley will also project manage the 400m of Mojo stage barriers to the new Spanish edition of Download two weeks later.
Mojo Supply Feyenoord Victory Parade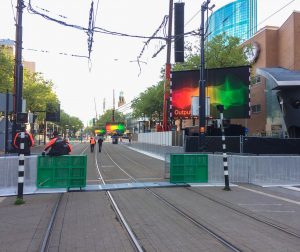 Mojo Barriers ensured over 150,000 fans could celebrate in style when Feyenoord won its first Eredivisie title in 18 years.
Six trailers and 24 Mojo crew installed over 1,750m of crowd barriers including 27 mega exits, high fencing and barrier corners in the centre of Rotterdam in preparation for Feyenoord's victory parade. Feyenoord's first Dutch title win since 1999, came after a defeat by Excelsior on 7th May, in which the title could have been claimed.
Mojo Barriers' Erwin Sprengers explains:
"Feyenoord could have won the league on the 7th May, so we were called in to ensure crowd safety at the victory parade, which took place in central Rotterdam. The night before the match, we installed 1,750m of crowd barriers which lined the main roads and secured the government building where the local Mayor is located. With numerous big screens and players on the Mayor's balcony, we created 11 crowd zones to limit surges and closed the main road and tram route in preparation. Following Feyenoord's defeat, we had to de-rig throughout the night without there being an event.
"With the Dutch league title race coming down to the final day of the season at the Feyenoord V Heracles game, we re-installed all the kit in preparation for their win. With Feyenoord being crowned champions, the atmosphere was incredible and the victory parade attracted over 150,000 fans who all took to the streets of Rotterdam to celebrate with their team and see them lift the Eredivisie shield. It was a pleasure to work with Livetime Productions' production manager, Maarten Lamers."
Mojo Supply The Europa League Final Celebrations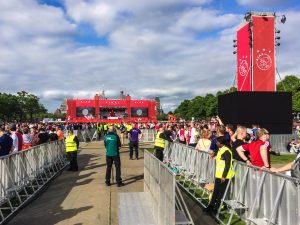 As thousands of Ajax fans gathered to watch the Europa League final, Mojo Barriers ensured crowd safety within Amsterdam's famous Museum Square.
With previous events in the park attracting crowd problems, The Mayor of Amsterdam, Eberhard van der Laan, wanted to create a safe and special environment for fans to watch the Europa League final between AFC Ajax and Manchester United.
Mojo Barriers was entrusted to create fan zones for 80,000 fans at Museum Square, which included multiple big screens to watch the game and a victory stage next to Rijksmuseum. Mojo's team installed five trucks of material including 750 straight barriers, 27 mega exits, 120 specials, 40 police gates and 40 line-up gates.
Mojo Barriers' Erwin Sprengers comments: "I'm extremely proud of the whole Mojo team who delivered quality and speed, and pulled together to help ensure the event was a huge success."
Client: Livetime Productions. Production manager Maarten Lamers. 
Announcing our Indonesian Distributor
Mojo Barriers has expanded its international capabilities with the announcement of its new Indonesian distribution partner, following an increase in music events and tours heading to the region, May 2016.
Working in partnership with Mojo Barriers' Australian office, Emil Mahyudin, owner of Indonesian event company Nada Promotama, has become Mojo Barriers' representative in Indonesia and has kicked things off with 348m of G2 Silver Mojo Barrier, and an extensive selection of Mojo's specials, including 23 Vario Corners, 21 Flexi Corners and 4 Cable Gates. Within the first year, this equipment will be used on over 30 local and international festivals and shows throughout Indonesia.
Emil has been running large scale events for all types of bands and DJ's across Indonesia since 2009 and has a strong position in the market as a leader in his field. He now has a large scale team that manage up to 120 events and shows annually.
Craig Edwards, general manager of Mojo Barriers Australia comments: "After making an entry into Malaysia and Singapore and setting up distributors in these regions – we started getting enquiries coming from Indonesia for the need for quality barriers. I travelled in and out of Jakarta for a series of meetings over two years without being satisfied this would be a market for Mojo Barriers, until I received an email from Emil Mahyudin enquiring about representing us and building a future for Mojo in Indonesia.
"I have just spent two weeks In Indonesia helping set up Mojo here with Emil and training his staff in safe working methods on and off site, stepping in where I thought was necessary until I was completely happy with their work. Emil understands the very high level of safety and workmanship we have within the Mojo family and it has been clear to me that we have made the right choice in choosing him to represent us here in Indonesia."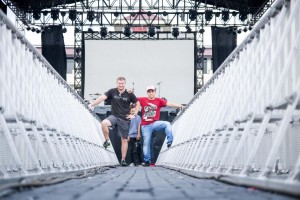 The first show in this new partnership was Australian indie rock band, Tame Impala, who played in Jakarta on the 29th April. 250m of Mojo Barrier was used, with a thrust configuration that ran from the front of stage, extending around the front of house. This was the perfect opportunity for the Mojo team to train Emil's supervisors in safe working methods and to show them the quickest and safest way of installing the barrier.
Craig Edwards continues: "We see this relationship as being a long fruitful one in Indonesia, and it adds another country within South East Asia that we can now provide international production managers and local promoters the option of having Mojo Barriers on hand all year round."
Emil Mahyudin, owner of Nada Promotama comments: "I wanted to raise standards in crowd safety and security at events within Indonesia, and ensure that every event I put on is as safe as it can be. Mojo Barriers is known for being the best at what they do and with their equipment and expertise we are now able to offer improved crowd safety within the region.
"I got in touch with Craig and flew to Europe to meet with him and the Mojo team from Head Office while he was there working on some large scale festivals, seeing how they operate within and around Mojo HQ, as well as meeting the group directors to ensure I really understood the business. We're thrilled to be working with Mojo Barriers to bring their barrier into the Indonesian region and roll out the Mojo system to the country's most prestigious events and festivals."
Mojo Barriers designs new high fence product for the G20 summit
A brand new reinforced barrier system was designed by Mojo Barriers to help keep politicians, dignitaries and heads of state including Barack Obama and David Cameron safe during the G20 Leaders' Summit in Brisbane, Australia from 15-16 November 2014.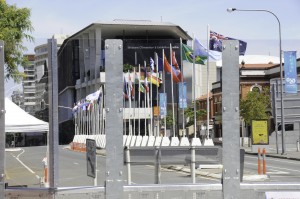 With over 4,000 delegates and 3,000 media descending on Brisbane to discuss a wide range of global economic issues, the system was required to create restricted zones across the city and form protective walls around the event's venues, including the Brisbane Convention and Exhibition Centre.
Coates Hire contracted Mojo Barriers to supply and install a unique barrier solution as specified by police and government officials. The resulting product, High Fence, consists of 1m wide and 2.4m high sections of reinforced aluminium barrier – the standard crowd control equipment from Mojo's product range – with a see-through Polycarbonate upper, which is a durable and high impact resistance material, easily withstanding destructive attacks.
Over 2,000m of the product was installed across the city by the company's Australian team. Doors and gates were also manufactured which integrated into the barrier line, to ensure fire safety and access and egress regulations could be met.
Cees Muurling, managing director at Mojo Barriers, explains: "The brief was to create a product to act as a deterrent and keep the public out of restricted areas. High Fence is quick and simple to install, exceptionally strong and durable and the clear upper section gives security personnel uninterrupted views of the surrounding areas. Its unique aspect is that it is not weighted or pinned to the ground, therefore is completely self supporting, and can withstand significant crowd pressure and deliberate attempts to breach the barrier line.
 "It underwent extreme testing against pressure and targeted attacks. It was proven to be extremely strong and is the ideal solution for events and occasions where crowd and building segregation is an integral part of the security process."
The installation for the G20 was one of the toughest on Mojo's records, with limited overnight shifts to install all barriers and transparent panels, snaking in a complex grid across the city.
Craig Edwards, Mojo Barriers' Australian operations and account manager, explains: "The tough timeframe and sheer scale of the operation meant it was the most complex and challenging project the Australian Mojo office has faced to date. We assembled a skilled team of nine local and international supervisors, managed over fifty truck movements and directed a crew of over one-hundred hands. Coordinating simultaneous legs of the installation required accurate planning."
Over 2,500m of the product is now available to the international event, security and police industries. Cees Muurling expresses the importance the product will play in opening up a new market sector for the company, which was established 25 years ago and is a global leader in the supply of state of the art crowd control solutions to festivals, tours, concerts and live events.
He says: "Post event, we will have 2,500 metres of High Fence available across all of Mojo Barriers' offices; UK, Europe, Australia and the USA. It's ideal for the police, security and protection industries as well as future political, government and cultural events. We've already had interest from parties across these sectors."
High Fence is aesthetically attractive compared to the usual perimeter fencing used at major events and this was essential considering the media and broadcast attention garnered by the Summit.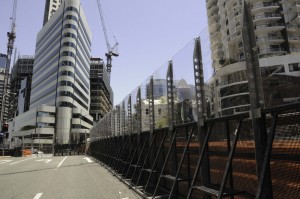 MOJO BARRIERS TO STAR ON THE DISCOVERY CHANNEL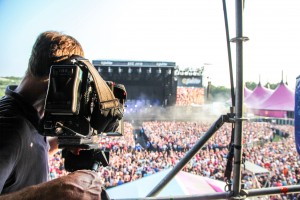 Mojo Barriers has recently returned from The Netherland's oldest festival, Pinkpop, where the stage barrier specialist completed the last segment of filming for the Discovery Channel's 'How do they do it?'
Hosting the programme's production company, WAG TV, Mojo Barriers has been busy helping to film the documentary which will air in winter 2014. It will explain how Mojo Barriers' patented stage barrier system is made, and the important role it plays at some of the world's largest and most well known events.
Jasper Caldenhoven Mojo Barriers' project manager has been managing the process and ensuring that the film crew gets everything they need. He said: "Before joining Mojo Barriers four years ago I worked in film location, so it's been great to be able to put these skills to good use.
"The documentary follows every step of Mojo Barriers' procedures including the manufacturing process, which saw us filming at four different factories. We then filmed the rigorous testing systems back at our warehouse, the logistical and planning processes and finally, how we use the barriers out on site.
"Pinkpop was the perfect festival for this, with over 1,100m of barrier across the site and 485m on the main stage alone, carefully designed and configured for optimum audience, crew and artist safety."
'How do they do it?' is one of the Discovery Channel's flagship programmes and is aired in over 220 countries worldwide. To find out more about the series visit http://www.sciencechannel.com/tv-shows/how-do-they-do-it and keep checking the Mojo Barriers website here to find out when the film will be aired.
MOJO ON THE ROAD WITH THREE AMERICAN HEAVYWEIGHTS THIS SUMMER
Mojo Barriers' UK office was entrusted to supply the stage barriers for three of the USA's biggest stars, Katy Perry, Miley Cyrus and Justin Timberlake, as they headed across the Atlantic to play their UK and European tour dates.
KATY PERRY'S PRISMATIC TOUR:
Katy Perry toured across the UK with 75m of Mojo Barriers' patented aluminium stage barrier, configured to follow the layout of the singer's v-shaped stage which was designed to reflect her latest album's title, Prysm. The layout, designed by Mojo Barriers' CAD specialists in cooperation with Perry's production team, featured a secondary barrier line within the 'v', used to create a custom 'golden circle' for fans to get up close and personal to the Roar star.
JUSTIN TIMBERLAKE'S 20/20 EXPERIENCE:
Justin Timberlake's 20/20 Experience toured with 18m of Mojo's stage barriers to provide crowd control solutions across all of its UK and European dates. The tour also engaged Mojo Barriers' US office for the North American dates, allowing the production team to ensure the same standards of health, safety and security across the globe, as well as the same aesthetic look and feel.
MILEY CYRUS' BANGERZ TOUR:
The sell-out European dates of the 'Bangerz' tour features a total of 128m of Mojo Barriers: 80m to cover the tour's A and B stages and an additional 48m to surround the show's C stage and FOH. The unique cross shaped thrust of the stage and catwalk, and the C stage behind the FOH is a complex set up which required a flexible approach to planning and design. Mojo's system allowed the barrier line to perfectly fit the contours of the stage, getting the audience nearer to the action and Miley herself.
Kevin Thorborn, general manager of Mojo Barriers UK, commented: "Complex designs such as these mean that venues often don't have the correct kit available to match the ambitious production values of the tour.
"Our extensive range of straight sections, corners and gates mean we can create flexible configurations to suit the required layout, without ever compromising on the stringent health and safety standards required.
"We are very proud to be involved in three of the biggest tours in Europe this year, and it reflects our growing reach into the concert and touring industry, which is a core part of Mojo UK's music focus, alongside the festivals we supply every summer."
Gatekeeper helps shape party policy in Belgium
Mojo Barriers demonstrated the versatility of its Gatekeeper 2.0 access control system, as it was installed at the annual N-VA (Nieuw-Vlaamse Alliantie) political party congress in Antwerp Expo, Belgium, 31st January.
The team installed 16 of its intelligent, portable turnstile 'the Gatekeeper', working once-again with Belgium-based partners Playpass who fitted its scanners to the system. Each delegate was issued with a paper barcode which was scanned to give access.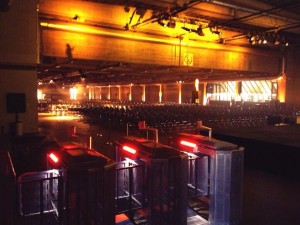 The Gatekeeper links directly to an easy-to-use central computer system, giving instant real time capacity data on the delegate's movement and voting interests.
Jasper Caldenhoven, project manager, Mojo Barriers said: "The Gatekeeper was ideal for this event as party members were required to vote on various issues at the same time. In order to cast votes on a subject, the visitors scanned themselves in at a specific area with a personal barcode, and were unable to scan into another area during the same time slot."
25 years of safety with mojo barriers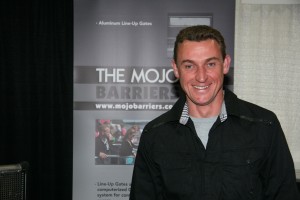 Crowd safety experts Mojo Barriers is celebrating 25 years in industry, helping to raise standards in health and safety at live events across the world.
Established in 1988 as an offshoot of Netherlands-based promoters Mojo Concerts, Mojo Barriers was the first company to launch a specially-designed stage barricade system. The term ' Mojo Barriers' has since become synonymous with crowd safety barriers, much like 'Hoover' has for 'vacuum' or 'Coke' has for 'cola'.
As MD from 1988 to 2009, the fondly-remembered Patrick Jordan steered the company and developed the products and excellent relationships with the music production industry. Current managing director Cees Muurling explains: "Twenty five years ago Mojo Concerts realised the need to make events safer and developed the first ever stage barrier.
"Initially developed for the company's own use we were soon getting requests from some of the world's leading acts including Prince, U2, Rolling Stones and Metallica whose production teams were also starting to pay more attention to health and safety standards."
Since then Mojo Barriers has gone on to supply countless events. Product development has also been key to growth, with the introduction of the lighter aluminium barrier, line up gates and most recently the intelligent turnstile system Gatekeeper 2.0, which incorporates ticket scanning capabilities.
"But there is more to it than the products," continues Cees. "A stage barrier on its own isn't enough, although it is a huge step forward from where the industry was 25 years ago. The industry has moved on a lot; production teams and event organisers realise the importance that stage barrier layout has on the inherent safety of audiences and performers at their events, and now engage us from the early planning stages.
"We've moved on from being a commodity and are now a service provider, analysing site layout, audience demographic and event genre to predict crowd flow and ensure the safest possible configuration."
Mojo has expanded considerably in the last 25 years, opening its UK (London) office in 1998, USA (Colorado Springs) in 2003 and Australia (Sydney) in 2012. It also has a network of international distributors in countries including New Zealand, Finland, Norway, Denmark, France, Spain and Japan.
The team is a familiar sight on some of the world's best known festivals, events and tours including TomorrowWorld, Creamfields, Lollapalooza, Big Day Out, Metallica, Beyonce and Taylor Swift to name just a few, as well as working with councils, sports and corporate clients.
Cees concludes: "Mojo Barriers has remained at the forefront of the sector, despite the marketplace becoming increasingly crowded. I believe the reason for this is simple – it's our close relationship with the industry meaning we're tuned to their requirements, our consistently evolving product portfolio and our experienced, professional project managers and crew."
Mojo Barriers Australia heads to Southeast Asia with Metallica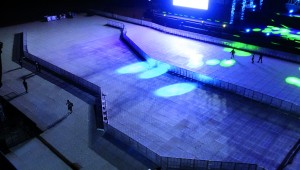 Mojo Barriers' Australian office was called in by Metallica to provide extensive stage barriers for the Southeast Asia leg of the band's Through the Never tour, 21-25 August 2013.
The rock legends played Stadium Merdeka in Kuala Lumpur, Malaysia and Changi Exhibition Centre in Singapore before heading to Gelora Bung Karno Stadium in Jakarta, Indonesia.
Metallica's last show in Indonesia was in 1993, when they were touring their fifth studio album 'Black'. At the peak of their popularity, the hype surrounding the concert resulted in the crowd rioting.
Two decades on, and the bands first time back in Indonesia, Metallica's production teams contracted Mojo Barriers to design  a bespoke barrier configuration using its patented aluminium system, which was then adapted  for the other two dates.
Cees Muurling, Mojo Barriers' managing director, says: "Safety for Metallica has always been paramount, but more attention than ever was focussed on these dates due to past incidents. We have a very longstanding relationship with the band and production, ensuring the highest level of safety for audience, crew and band members.
"We have supplied nearly every single US, Europe and Middle East tour dates for many years now and our recently-opened office in Australia (established October 2012) meant that we are now logistically better able to service tour dates in Southeast Asia too."  
The Mojo Barriers Australia team, led by project manager Craig Edwards, provided one system for Kuala Lumpur and Singapore which consisted of 226 metre-long sections. The system included gates and corners so its shape could be adapted for the needs of each venue.
Malaysia:  For the Kuala Lumpur date Mojo worked with organisers Galaxy to create a configuration that would cater to three different ticket sales. Mojo demonstrated how barriers can be used to safely and easily section off individual areas, creating a 2,000-capacity VIP pit in front of the stage, a curved line behind this for the 2,500 mid-level tickets with the remaining 4,000 capacity from front of house (FOH) back. Total capacity for the gig, including tiered seating, was 25,000.
Singapore:  The Singapore date offered two ticket prices, with Mojo Barriers configuring an open passive D in front of the stage to hold 15,000 with a straight line running behind the FOH tower to create a safe area for a further 15,000 fans. Client was Lamcproductions.
Indonesia: The Jakarta show saw Mojo work with Black Rock Entertainment and add an additional 88m added to the stage barrier system. With one ticket price for the entire 25,000 capacity standing crowd (total show capacity 54,000), an open passive D shape was installed. The first line was located in front of the stage security pit with a further two lines angled 16m apart to encourage an even crowd flow, whilst maintaining sight lines of the stage.  
Craig Edwards, Mojo Barriers project manager, comments: "Having the equipment based in Australia, and it being out of our main festival season meant we were able to supply a large amount of equipment quickly and efficiently, meeting some very tight time constraints.
"It's coming up to the first anniversary of the Mojo Barriers Australia office and it has been a huge success. These dates in Southeast Asia demonstrate the impact our expansion has had not just on the local Australian market but also surrounding countries which now benefit more easily from Mojo Barriers' trusted crowd control knowledge and products."