Jan 2010 Mojo Barriers deliver to half of the Top Ten grossing tours of 2009!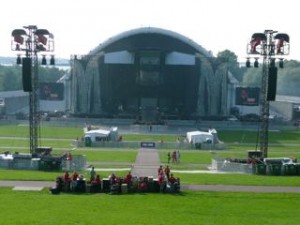 Mojo Barriers worked with the top four highest grossing tours of 2009 according to Rolling Stone Magazine (issue # 1096, Jan 21 2010) out this week! 
Rolling Stone Magazine has announced the highest grossing tours of 2009 with U2, Madonna, Bruce Springsteen and the E Street Band, and AC/DC have taking the top four positions. 
Mojo Barriers proved that the company's line of crowd control barricade is durable and can sustain the rigors of the best worldwide tours.  Metallica, a band with a long-standing relationship with Mojo Barriers also listed in the Top Ten. 
Supplying a "tour stock" of Mojo Barriers is only the first step in many of these relationships.  Additional barricade was often provided for tours with specific large-scale shows, such as Bruce Springsteen at Giants Stadium that required an additional 200 metres of barricade. The Toronto shows for both U2 and The Jonas Brothers also required additional barriers, with Mojo Barriers representatives "hands-on" approach evident with their presence at shows in Europe, North America, and Japan.   
In all, Mojo Barriers provided barricade for 304 shows for tours within the top 10 of 2009 who grossed over three-quarters of a billion dollars. 
Mojo Barriers is excited and committed to continue providing crowd control systems to the largest musical tours in the world.