Biggest and best Greenbrier classic concert series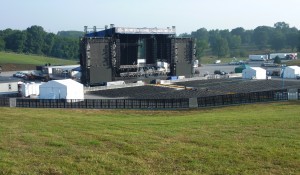 Mojo Barriers' US office was back at Greenbrier Classic Concert Series for the third year running, providing its largest stock of products to date, 1-7th July 2013.
The Greenbrier, a classic American resort in White Sulphur Springs WV, played host to performances from country superstar Kenny Chesney and rock legend Bon Jovi, as part of the annual run of concerts coinciding with the resort's PGA TOUR FedExCup Event, The Greenbrier Classic.
Mojo Barriers' was called in once more by client Nashville Live! to provide over 700m of stage barricade across the site including a bespoke configuration across the main stage. Due to the prestigious headliners and increased crowds additional infrastructure was required including 13 of Mojo's original Gatekeepers turnstile entrances, 150 heavy duty cable ramps and 2,500ft of bike rack to mark the site perimeter.  
Jordi van Berkum, Mojo Barriers' account executive, comments: "This site can be tricky – it has a very steep incline which can make it difficult to secure barricades, and also a truly diverse audience demographic of music and sports fans aged 18-70, who all act differently onsite. All of this needs to be taken into consideration when planning configurations and predicting crowd flow.
"Thorough planning is key and we have a fantastic relationship with our client Gary Bowman at Nashville Live! working closely together each year to meet requirements and ensure that the event is as safe as possible. We were very pleased to be back at the Greenbrier Classic Concert Series for a third year – at what was undoubtedly the biggest and best event yet."