Mojo Barriers at Hellfest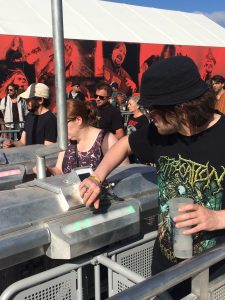 Mojo Barriers introduced its Gatekeeper temporary event turnstile system to Hellfest for the first time, June 2017, along with Mojo aluminium stage barriers keeping crowds safe.
Festival rock fans descended on Clisson, France for Hellfest Summer Open Air, enjoying performances from headliners Linkin' Park, Deep Purple, Aerosmith and many more. 
For its sixth year working with the festival, Mojo supplied over 800 meters of stage barriers, along with 200 meters of bar barriers. For the first time, the company installed 17 Gatekeepers to speed up entry to the festival site. To ensure smooth ingress, Mojo supported Intellitix, who integrated its RFID technology into the Gatekeepers for scanning wristbands at the entrances, enabling the fans to be ushered into the festival site more quickly and efficiently.
The Gatekeeper intelligent portable turnstiles link to a central computer system, which gives accurate capacity data and real time counting. It also incorporates full scanning capabilities and is compatible with any scanning methods.
MOJO BARRIERS TO STAR ON THE DISCOVERY CHANNEL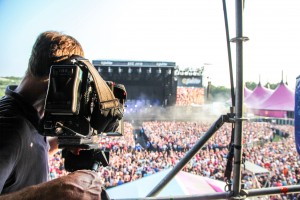 Mojo Barriers has recently returned from The Netherland's oldest festival, Pinkpop, where the stage barrier specialist completed the last segment of filming for the Discovery Channel's 'How do they do it?'
Hosting the programme's production company, WAG TV, Mojo Barriers has been busy helping to film the documentary which will air in winter 2014. It will explain how Mojo Barriers' patented stage barrier system is made, and the important role it plays at some of the world's largest and most well known events.
Jasper Caldenhoven Mojo Barriers' project manager has been managing the process and ensuring that the film crew gets everything they need. He said: "Before joining Mojo Barriers four years ago I worked in film location, so it's been great to be able to put these skills to good use.
"The documentary follows every step of Mojo Barriers' procedures including the manufacturing process, which saw us filming at four different factories. We then filmed the rigorous testing systems back at our warehouse, the logistical and planning processes and finally, how we use the barriers out on site.
"Pinkpop was the perfect festival for this, with over 1,100m of barrier across the site and 485m on the main stage alone, carefully designed and configured for optimum audience, crew and artist safety."
'How do they do it?' is one of the Discovery Channel's flagship programmes and is aired in over 220 countries worldwide. To find out more about the series visit http://www.sciencechannel.com/tv-shows/how-do-they-do-it and keep checking the Mojo Barriers website here to find out when the film will be aired.
Gatekeeper helps shape party policy in Belgium
Mojo Barriers demonstrated the versatility of its Gatekeeper 2.0 access control system, as it was installed at the annual N-VA (Nieuw-Vlaamse Alliantie) political party congress in Antwerp Expo, Belgium, 31st January.
The team installed 16 of its intelligent, portable turnstile 'the Gatekeeper', working once-again with Belgium-based partners Playpass who fitted its scanners to the system. Each delegate was issued with a paper barcode which was scanned to give access.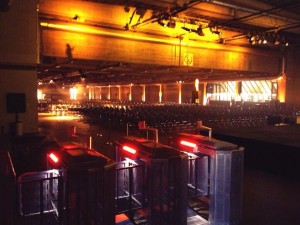 The Gatekeeper links directly to an easy-to-use central computer system, giving instant real time capacity data on the delegate's movement and voting interests.
Jasper Caldenhoven, project manager, Mojo Barriers said: "The Gatekeeper was ideal for this event as party members were required to vote on various issues at the same time. In order to cast votes on a subject, the visitors scanned themselves in at a specific area with a personal barcode, and were unable to scan into another area during the same time slot."
Biggest and best Greenbrier classic concert series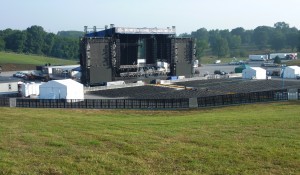 Mojo Barriers' US office was back at Greenbrier Classic Concert Series for the third year running, providing its largest stock of products to date, 1-7th July 2013.
The Greenbrier, a classic American resort in White Sulphur Springs WV, played host to performances from country superstar Kenny Chesney and rock legend Bon Jovi, as part of the annual run of concerts coinciding with the resort's PGA TOUR FedExCup Event, The Greenbrier Classic.
Mojo Barriers' was called in once more by client Nashville Live! to provide over 700m of stage barricade across the site including a bespoke configuration across the main stage. Due to the prestigious headliners and increased crowds additional infrastructure was required including 13 of Mojo's original Gatekeepers turnstile entrances, 150 heavy duty cable ramps and 2,500ft of bike rack to mark the site perimeter.  
Jordi van Berkum, Mojo Barriers' account executive, comments: "This site can be tricky – it has a very steep incline which can make it difficult to secure barricades, and also a truly diverse audience demographic of music and sports fans aged 18-70, who all act differently onsite. All of this needs to be taken into consideration when planning configurations and predicting crowd flow.
"Thorough planning is key and we have a fantastic relationship with our client Gary Bowman at Nashville Live! working closely together each year to meet requirements and ensure that the event is as safe as possible. We were very pleased to be back at the Greenbrier Classic Concert Series for a third year – at what was undoubtedly the biggest and best event yet."
Mojo Barriers launches access control product 'The Gatekeeper 2.0'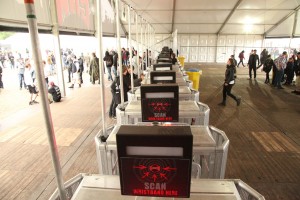 Mojo Barriers unveiled its new access control system 'the Gatekeeper 2.0' at Belgium's Graspop Festival, combining a secure turnstile entrance with integrated scanning capabilities, 27-30 June 2013.
The crowd control specialist launched the new product at Belgium's 'hardest rock festival', which used 18 Gatekeepers to control the ingress and egress of the 45,000 capacity crowd who enjoyed performances from headliners Twisted Sister, Iron Maiden and Slipknot.
Graspop was the first music event to benefit from the Gatekeeper, which manages all aspects of entry and exit into events, festivals, venues and designated areas (such as VIP, staff only and camping).
An intelligent portable turnstile, it links directly to an easy to use central computer system which gives accurate capacity data and real time counting. It incorporates full scanning capabilities and is compatible with any scanning methods.
Cees Muurling, Mojo Barriers managing director, comments: "With the rise of RFID, QR codes, barcodes and mobile phone ticketing, and the vast amount of data these can garner for event organisers and sponsors, there was a requirement from clients for a hardware solution which hosted these technologies. We work in partnership with event organisers, ticketing and scanning companies to reduce ticket fraud by combining a solid physical barrier – the Gatekeeper – with the latest ticket scanning methods."
For Graspop, Mojo Barriers worked with Belgium-based Playpass which provided RFID wristbands to festival-goers, staff, press and artists. The company's scanners were fitted to the Gatekeeper system offering a complete entrance control system, and instant access to data on the crowd's movement and interests across the three day event.
Gert Ruts from Playpass comments: "For me it's not 'if' this is going to become more popular, it's 'when'. The Gatekeeper offers the best of both worlds for event organisers; access to the data offered by RFID wristbands, but also hardware – the turnstile – to make their festival more secure and efficient, cutting down on security personnel and staff required to check and scan tickets. This is our first time supplying wristbands and scanning with Graspop and we have also worked with Rock Werchter for four years. Gatekeeper has proven a great addition to our offering."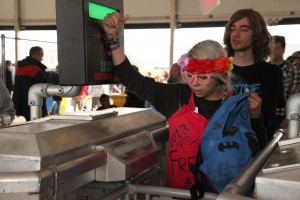 Gatekeeper is ideally suited for standalone greenfield events but also for venues looking to supplement their existing entrance systems. It can be combined with Mojo Barriers' standard temporary barrier system to create a robust segregation line with entrance points and emergency exits. 
Apr 2011 US Events can count on Mojo Barriers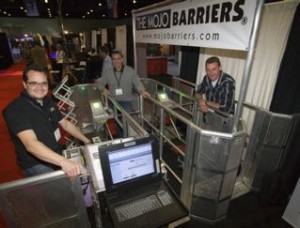 Mojo Barriers launched two new progressive crowd safety innovations into the American live events market at Live Event Expo on 12th April 2011.   
Gatekeeper and Barrier Load Monitoring System (BLMS) are revolutionary products created by Mojo Barriers to address the changing needs of the live event industry and ensure the safest event for both the audience and artists.   
Gatekeeper is a temporary event turnstile system which allows people to be counted in and out of an event space with numbers recorded in real time. Equipped with pioneering proprietary software and designed to improve crowd safety at events, the Gatekeeper works by monitoring the amount of people passing through entrance and exit Gatekeeper systems, which have been manufactured to be compatible with Mojo Barriers aluminium crowd barriers. Gatekeeper includes the option of automatically holding turnstiles at a pre-designated number, making it easy to stay within the permitted event capacity within the controlled area.
This is an ideal system for monitoring and controlling audience numbers in free public concerts and events, VIP golden circles, political rallies, community events and festival arena areas. 
Barrier Load Monitoring System (BLMS) measures the pressure exerted on barriers by an audience using innovative pressure sensors built in to the load bearing arms of the Mojo front of stage barriers. These are linked to a computer which can be located in a convenient position (eg backstage) to display the pressures being excerpted in real time and can be set to record the reading at set time intervals. 
 Mojo Barriers has worked closely with external educational institute Bucks New University leisure faculty in the United Kingdom to research crowd pressure at live events across Europe. Early results from BLMS system readings have been used for academic studies, whilst also helping clients modify the designs of their front of stage barrier configurations. Mojo Barriers continues to support this research and development to continuously progress crowd safety at live events. 
JB Dolphin, Mojo Barriers US President states:
"Both of these products have arisen from clients asking us how they can address specific issues of crowd safety. They have progressed from the design stage, to testing, to manufacture with Mojo Barriers, so we are now very proud to make them available to clients across the USA."
Aug 2009 Mojo Barriers' Gatekeeper at Lowlands Festival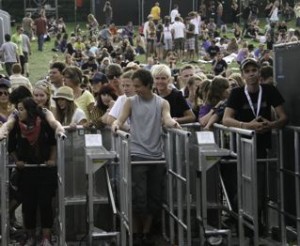 There were two significant but very different firsts for Mojo Barriers at this year's Lowlands Festival. It was the first time the Gatekeeper, Mojo's new intelligent turnstile system had been integrated into the festival's barrier system, and the first Lowlands Festival for Cees Muurling since being appointed Managing Director of the company. 
The three day festival in Holland brought together 55,000 festival goers to enjoy the Lowlands experience with music from the likes of Arctic Monkeys, The Prodigy, Kaiser Chiefs and Snoop Dog. 
This year, Mojo Barriers' innovative Gatekeeper was used for the first time at the festival as part of the entry and exit system for the two main stage front audience pens. The Gatekeeper's turnstile system counted the number of people entering and leaving the enclosed pens immediately in front of the stage throughout the day to ensure the capacity didn't exceed 1,200 people at any one time. 
Since its international launch at the beginning of 2009, the Gatekeeper is the first system to measure capacity figures in real-time for segregated event areas. This means that security teams can accurately control capacity in the segregated area, giving improved safety. Lowlands is one of the first festivals to use the system, in line with the festival's progressive nature towards development of the site. The Gatekeeper system is fully integrated into Mojo's aluminium barrier system to create a very stable infrastructure for audience queuing, so fans could be controlled and counted effectively.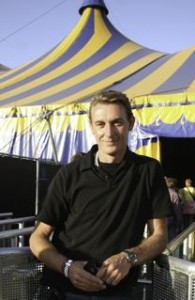 Mojo Barriers has worked with Lowlands since the festival was launched by Mojo Concerts and LOC 7000 in 1993, co-operating closely with the co-promoters to improve health and safety at the festival over the years. The company has pioneered its new products at the festival over the years, which Mojo Concerts has supported and been rewarded with an advanced festival site. 
Having previously worked on the festival since day one at Mojo Concerts, Cees Muurling has recently changed roles to become Managing Director of Mojo Barriers. Cees explains:
"Crowd safety has always been the highest priority for the festival since day one and the festival benefits from the synergy between Mojo Concerts, LOC 7000 and Mojo Barriers as it provides a safe experimental field for the final stages of testing new products and systems in a controlled way before offering to other festivals and events." 
Across the site, Mojo Barriers installed the barrier systems for all 11 stages and supplementary site structures, providing 750m of barrier, making it one of the largest festivals the company is involved with. 
Feb 2009 Mojo Barriers Back in Black with AC/DC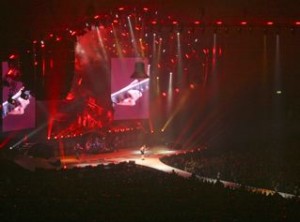 The AC/DC European tour started this February 18th with a spectacular show in Oslo's new Telenor Arena.
Tour Barrier
Mojo Barriers has supplied 100m of their proprietary black aluminium barriers for the main front of stage barrier and front of house mix position for all dates on the European tour. The black finished aluminium is a visually unobtrusive system, creating the all important robust, safe partition between the audience, artists and production professionals. AC/DC were known for getting among the crowd during performances during their early years, but in order to get up close to their audience they now have a front of stage extension that allows them to get out into their audience safely.
Production manager Dale Skjerseth commented: "Mojo Barriers give us a high quality system and they have all the specials and corners needed to get around the uniquely shaped stage. There is a lot of history within the AC/DC team. We know we can rely on the Mojo (Barriers) team and we like to stick with what we know is the best system. "The initial system was prepared by the Mojo Barriers US office when he World tour began on 28th October 2008, taking in 42 arena shows across the USA and Canada. It continues with European dates until the end of June, followed by shows in South America, Australia and further US and European legs.
Mojo Barriers in Norway
The first night of AC/DC European tour in Oslo's Telenor Arena saw Mojo Barriers Head Office team working closely with their Norwegian distributor, Pro Sec Professional Security AS (Pro Sec) to ensure a successful night. A sell-out 23,000 rock fans were the first to see a concert at Europe's newest arena, with Norwegian security professionals Pro Sec supplying security staff as well as the additional aluminium barrier required to extend the front of house barrier across the full width of the Telenor Arena.
Pro Sec is the official distributor, with a permanent stock of Moj0o's aluminium barrier based in norway to supply the local market. The company is managed by Kenneth Isaksen who said: " Our partnership with Mojo Barriers means that we can offer promotors and event organizers in Norway the highest standard of crowd management infrastructure to create safe shows for everyone concerned. The experienced support and additional inventory of equipment we have received from the head office in Holland means we can work with any event to deliver professional service. The Gatekeeper made the ingress is very smooth process for our staff at this new venue and on this show we also supplied Mojo ~Bar Barriers for the merchandise and catering outlets in the venue. 
Mojo's Gatekeeper first concert with AC/DC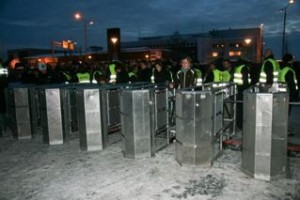 The crowd at the Telenor Arena was split between the three tiered seated sides and the standing audience on the 'pitch' area in front of the stage. Mojo Barriers' new intelligent turnstile Gatekeeper system was deployed as the new venue management and promoters were keen to ensure a safe, regulated crowd flow onto the arena floor through one entrance. Ten Gatekeeper units were securely fixed at the entrance allowing the security professionals to control crowd flow and effectively carry out a stop and search function as 12,000 people entered the standing area. The Gatekeeper monitor was located inside the arena, allowing the real-time capacity to be read at any given time.
Leon van der Velden from Mojo Barriers head office supported Kenneth Isaksen on this show and looked after the Gatekepper. He said: "This was the first big arena show for the Gatekeeper. It demonstrated that it is a great system for controlling crowd-flow and measuring exactly how effectively the audience is entering the show. It allows the new venue to analyse the habits of local people and find out how the local transport system coped with getting people into the venue. The system went together quickly and proved itself to be very practical an easy to use. There were no problems even working in the snowy conditions at -10 degrees. We processed 12,000 rock fans coming in to the venue. We have received compliments from everyone concerned with the show." 
Jan 2009 Mojo Barriers celebrates 21st anniversary with Gatekeeper launch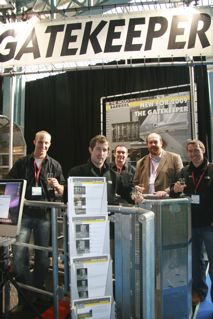 The international crowd safety barriers specialist Mojo Barriers celebrates 21 years of business with the international launch of an innovative new product, Gatekeeper.
Gatekeeper is a smart turnstile system with proprietary software, designed to improve crowd safety at events. By counting the number of people entering and leaving a controlled event area through multiple exits, it monitors and automatically controls the capacity in real time.
The worldwide launch of Gatekeeper took place at The Event Show, Olympia, London this January.
"Gatekeeper meets a long-standing demand of promotors and public event organizers everywhere in the world," said Patrick Jordan, Managing Director of Mojo Barriers. "Until now, there has been no way of measuring the exact size of a crowd entering or leaving a public space through many different gates. Gatekeeper can keep track of the number of people in any controlled space, allowing organizers to prevent overcrowding event at a free, ticketless event."
In addition, the company has also merged with the established London-based company Marathon Barriers, which specializes in pedestrian barrier and rope and pole facilities for "red carpet" events.
"Marathon enhances Mojo Barriers' ability to provide a wider range of barriers and crowd control facility in the UK," says Patrick Jordan, "We are excited about the possibilities the new purchase affords us in this market."