MOJO BARRIERS HOLLAND SUPPLIES NICK AND SIMON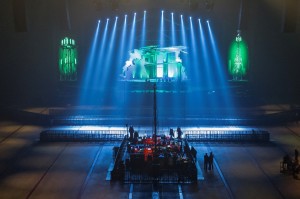 Mojo Barriers Netherlands' office designed a bespoke stage configuration for Nick and Simon as they performed at the Gelredome in Arnhem, Friday 11th October 2013.
The musical duo took to the stage to perform hits including Fly with me to the Rainbow and Roseanne, to a sell out crowd of 30,000 fans.
Mojo Barriers worked with client Mojo Concerts to supply 12 line-up gates to control egress into the stadium and over 500m of its generation two black aluminium stage barriers.
Erwin Sprengers,  manager at Mojo Barriers, commented: "We have a long-term relationship with Gelredome stadium, supplying barriers to many of the acts they welcome each year.
"For Nick and Simon – which attracted a diverse audience – we designed a custom barrier layout incorporating a secondary barrier line which gave security personnel easy access to the crowd.
"An additional line ran alongside the main stage, with a t-shaped layout circling the front of house, which was a larger space than usual, integrating extensive camera equipment.
"We used Heras fencing to section off the camera tracking platform which was positioned in front of the secondary barrier line, giving a clean, tidy look whilst keeping equipment and crowds secure."
Mojo Barriers was due back at the Gelredome on the 20th October for the venue's annual musical event Symphonica in Rosso; which was unfortunately delayed due to headliner Anouk being diagnosed with a vocal infection.
Her concerts have been rescheduled to take place at the Ziggo Dome in December where, as the venue's chosen barriers supplier, Mojo Barriers will be on hand to keep the audience, artist and crew safe.