Mojo Barriers at Download Festival 2013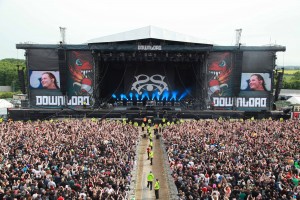 Mojo Barriers was entrusted to supply all of Download festival's stage barriers. Jim Gaffney was project director, with crew chief Chris Kordek managing six crew to install over 1,100metres of Mojo aluminium barrier, 14-16 June 2013.
Download had five music stages this year, each with its own barrier design and supplementary front of house and delay towers to be surrounded. 

Gaffney commented: "Working with Live Nation and Showsec we look at each stage to plan the optimum barrier configuration, building on our previous years' experiences of how this audience behaves. The smaller stages are relatively straightforward, although we introduced a curve onto the Jagermeistter Stage in line with its increased profile. The main stage, main arena and second stage are the areas that attract the highest intensity of crowds, so we opted to install secondary barriers on both, and in the case of the main arena a third crowd break sits higher up the hill. We know the audience appreciate the positive effect these have on their safety.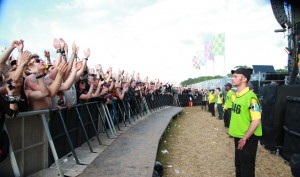 "On the main stage we have observed greatly improved safety in reducing the potentially dangerous lateral motion of the crowds with the central thrust that extends through to the mixer position. This affords the security improved access to the audience, the sound and lighting technicians have easy access to front of house as a lot of the artists like to jump off stage and get close to their fans.

"We are always very mindful of factors such as ground conditions, slopes, audience size and profile in the design and installation of the barriers; so Download has evolved to a sophisticated design. Live Nation want open sides on the secondary barriers so we look at the crowd movements between stages and during ingress /egress, and can tweak angles of corners once we're on site and actually see it.

"This year the crowd for Slipknot on the Friday night was very lively. There was a lot of movement within the mosh pits with over 3,000 crowd surfers coming over the main stage barrier during their set, showing the kind of pressures were under. Showsec and the production team called two show-stops in the interests of audience safety during their set, which Slipknot's frontman Corey Taylor helped coordinate very well. I was in the pit and the barriers performed as they should have, in conjunction with effective communications from the production team through to the band stopping the show."