Mojo Barriers increase presence at Glastonbury Festival
For the 13th year Mojo Barriers supported the Glastonbury Festival, expanding their service to the world-famous event and introducing new systems to improve audience safety, 22-25 June, 2017
Once again 150,000 ticket holders made their way to Worthy Farm at Pilton, Somerset to enjoy performances from the likes of Radiohead, Foo Fighters, Ed Sheeran, Stormzy, Lorde and even Jeremy Corbyn joining hundreds of other acts spread across the 1,100 acre site.
Mojo supplied aluminium stage barriers to 16 of the stages at Glastonbury Festival 2017, delivering a total of 1,400 metres across the site, including at the new Death Metal stage in the Shangri La area.
Mojo Barriers' project manager Jim Gaffney has been a Glastonbury supplier for nearly quarter of a century and he has been at the core of developing the barrier configurations at the festival over the years, with 2017 no different. New for this year were 15 Line-up Gates and one Mega Gate in the south-east corner of the arena at the entrance leading to the campsite, which reduced the queuing at that bottleneck.
Mojo once again installed secondary barrier systems on the festival's two biggest stages: – The Pyramid Stage and Other Stage. The Pyramid Stage secondary system was introduced a few years' ago to help cope with the increased capacity for that area, whereas the Other Stage barrier system came in last year when changes were made to open up sight lines for the audience.
Jim Gaffney, Mojo Barriers' UK senior account manager, said: "The new gates we introduced at the south east corner worked perfectly and eradicated the problems that have occurred there in the past.
"The secondary systems for the Pyramid Stage and Other Stage once again gave the audience a safer event and also allowed security staff more access to the audience."
Jerry Milichip was the site manager for the Pyramid Stage this year. Jerry has overseen many events that Mojo Barriers have supplied so played a pivotal role in the smooth delivery of the barriers.
"Jerry and our crews work very well together," said Jim. "He understands the way we work and why we do certain things because of his experience with barriers. Having him in a senior role was a huge help as he had made all the ground preparations we needed and logistical details like having enough forklifts at the right time to make our installation quick and efficient."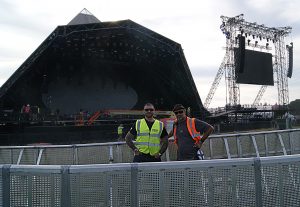 Mojo Barriers at Hellfest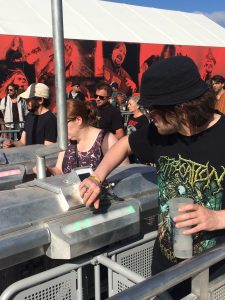 Mojo Barriers introduced its Gatekeeper temporary event turnstile system to Hellfest for the first time, June 2017, along with Mojo aluminium stage barriers keeping crowds safe.
Festival rock fans descended on Clisson, France for Hellfest Summer Open Air, enjoying performances from headliners Linkin' Park, Deep Purple, Aerosmith and many more. 
For its sixth year working with the festival, Mojo supplied over 800 meters of stage barriers, along with 200 meters of bar barriers. For the first time, the company installed 17 Gatekeepers to speed up entry to the festival site. To ensure smooth ingress, Mojo supported Intellitix, who integrated its RFID technology into the Gatekeepers for scanning wristbands at the entrances, enabling the fans to be ushered into the festival site more quickly and efficiently.
The Gatekeeper intelligent portable turnstiles link to a central computer system, which gives accurate capacity data and real time counting. It also incorporates full scanning capabilities and is compatible with any scanning methods.
Mojo Barriers Download Triple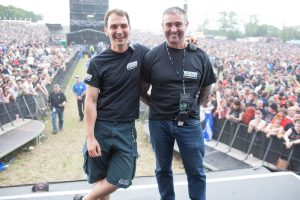 Mojo Barriers was contracted to install over 2,000m of front of stage barriers and bar barriers at three Download Festivals in the UK, France and Spain, June 2017.
Each country's Live Nation division were the promoters and clients, bringing in Mojo to keep rock fans safe through three days of performances by the world's top rock bands.
It was a welcome return to Donington Park's Download weekend, June 9th to 11th, in the UK for Mojo with Jim Gaffney, heralding Jim's return to the company as a senior account  manager.  Jim explained:
"I have managed the design and installation of the stage barriers at Download Festival since it began in 2003, where Mojo Barriers has always been the system of choice. I enjoy a great relationship with the Festival Republic team supporting Live Nation, it's always been a high priority for Melvin Benn and John Probyn to deliver a safe festival. We have a lot of planning discussions to look at the crowd dynamics and create the best barrier design.
"We have developed a very particular barrier configuration for the main stage, accounting in particular for the sloping ground stage right, the very wide sight line, along with the need for the incoming productions to get easy access to the front of house. While very good natured, we also considered this is a very boisterous audience who like to get their mosh pits and circles going, all of which led us to a unique lay-out. Our primary front of stage curved barrier has a central thrust back to front of house, and two secondary "arms" that allow the security improved access to the audience. The layout also allows the audience a choice of areas and a safe event without being too restrictive.
"This year we also had to accommodate Aerosmith's 15m thrust coming off the front of the mainstage, which meant looking at the downstage edge curves very carefully to avoid any pinch points, while retaining the original width of the thrust. This is where experience becomes invaluable. The pit for security personnel was also slightly deeper, because of the thrust, but the fact that the festival management had invested in putting down hard standing in front of the stage since the previous years' festival meant our load in and out were much easier, with less ground damage from plant to deal with."
Also joining the Mojo Barriers UK team at Download was Costa Chaparov as crew chief. Jim and Costa have worked together for many years and, with Mojo this summer, they have already managed barrier installations at BBC Radio 1's Big Weekend in Hull and the Old Trafford Manchester One Love memorial concert at very short notice.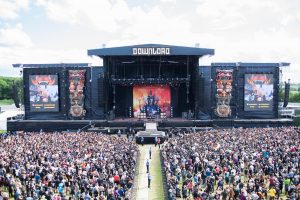 Over 1,200m of aluminium stage barrier was deployed in unique layouts at all five stages and around front of house towers, camera platforms and assisted viewing platforms. Mojo also supplied over 200 meters of Bar barrier to the various bars and concessions around the whole site giving their staff a secure working environment.
Simultaneously on mainland Europe it was the first time Mojo Barriers had supplied 750m of barriers and 400m of plastic bar barriers to the Paris festival. Stanley Jilesen project managed the planning and delivery of six trucks of equipment across five stages with two Mojo supervisors completing installation in just a day and a half, with the assistance of local crew.
Igor Dawidowicz, from Live Nation SAS France comments: "Everything went very well and your team is just great! Honestly, we all feel the difference between your work and other companies."
Stanley will also project manage the 400m of Mojo stage barriers to the new Spanish edition of Download two weeks later.
Mojo Scoop Best Crowd/Pit Barrier at The Festival Supplier Awards
We're thrilled to have been awarded 'Best Crowd/Pit Barrier' at the Festival supplier Awards 2016. Following an incredible year at Mojo Barriers, it was our bespoke barrier configuration at BoomTown Fair 2015 that scooped up this prestigious award, beating off tough competition.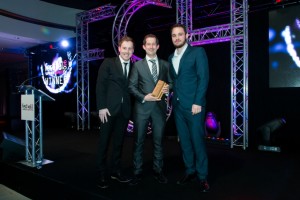 With the judges commenting that Mojo Barriers "always seems to be at the forefront of new developments", we're proud to be recognised for our innovation and continuous product development.
The awards took place at the Hurlingham Club, London on the 28th January 2016, and UK manager Kevin Thorborn was on hand to collect the award from comedian Andrew Ryan.
Kevin Thorborn comments: "We're honoured to have been awarded best crowd/ pit barrier at this year's Festival Supplier Awards and this win reflects the hard work and innovation of the team at Mojo Barriers. It's brilliant to be part of such a great team and to have the privilege to work on some of the world's best events. We want to thank the FSA for this accolade and for helping to showcase and celebrate all the behind the scenes work that goes into UK's festivals. We look forward to another brilliant year."
2015 Success For Mojo Barriers US
Mojo Barriers' US office had a busy 2015 supplying safety barricades and a range of special equipment to some of the year's biggest events.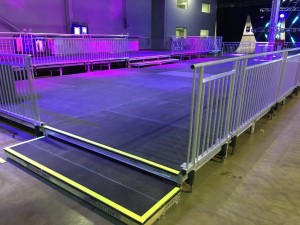 Pemberton Music Festival: 561m of barrier and 1,740 ft of cable ramps were supplied to Pemberton Music Festival, which took place in Pemberton, British Colombia from 16th – 19th July. Billed as "Canada's largest festival," the four-day event witnessed performances from Kendrick Lamar, The Black Keys and The War on Drugs.
Squamish Valley Music Festival: Mojo Barriers supplied 470m of Mojo's specially-designed touring barrier the G2, which enabled the team to load up to 15% more barrier, meaning only one truck was needed. Mojo first worked with Squamish Valley Music Festival in 2014 when Mojo's Peter Burns trained the local staff to safely install the barriers, this meant for the 2015 event the Squamish team were able to take on the barrier install for themselves. Squamish Valley Music Festival took place in Squamish, Canada from the 7th – 9th August.
Time Warp Festival: The team undertook Mojo's largest decking job to date as they helped transform an empty warehouse into a venue fit for this brilliant EDM event. Mojo Barriers provided DJ Booths with tracking table tops for easy set changes, stages, VIP risers and barriers to surround the stages and front of house platforms. Time Warp Festival took place in Brooklyn, New York on from the 20th – 21st November. The festival, presented by German promoters Cosmopop, boasted performances from EDM royalty including Sven Väth, Luciano and Jamie Jones.
Reaction NYE: Reaction NYE is Chicago's premier NYE event, taking place on the 30th – 31st December. Mojo Barriers aided the transformation of 580,000 raw sq ft of warehouse, through the supply of 183m of barriers and the construction of one of the stages. Mojo also supplied a multi tiered VIP platform with ADA compliant ramps, specially designed using custom size stage decking allowing the upmost flexibility in design. With performances from deadmau5, Skrillex and Chvrches, Mojo helped music-lovers ring in the New Year in true EDM style.
MOJO BARRIERS KEEPS THE CROWDS SAFE AT FIRST EVER ON BLACKHEATH FESTIVAL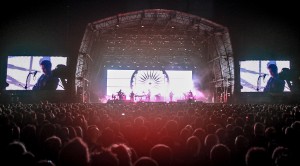 Mojo Barriers was chosen as the official barrier supplier for the inaugural and much-anticipated  On Blackheath festival, ensuring the safety of 25,000 people as they headed to south east London for one of the last festivals of the summer, 12-14 September 2014.
The festival pulled in big names both on and off stage with Harvey Goldsmith managing the launch and Massive Attack, Frank Turner and Grace Jones performing in headline spots.
 On Blackheath celebrated much more than just the music though, with a large farmers market, food stages and live demonstrations from culinary royalty including Gizzi Erkstine and Adam Simmonds.
Mojo Barriers was contracted by the festival to supply 180m of its trusted aluminium barriers, configured cross the main stage and front-of-house, plus the second and third stages. An extensive stock of kwo online slots new zealand its bar barriers were also in use across the site, providing vendors with a portable, durable and easy-to-clean serving solution.  
Kevin Thorborn, Mojo Barriers UK, comments: "On Blackheath was a huge hit and is a great addition to the UK festival calendar. It marked the end of a busy and successful summer for the Mojo Barriers' UK team and we're looking forward to working with the team again in the future."