Aug 2009 Mojo Barriers' Gatekeeper at Lowlands Festival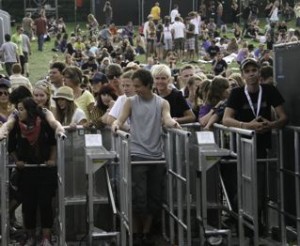 There were two significant but very different firsts for Mojo Barriers at this year's Lowlands Festival. It was the first time the Gatekeeper, Mojo's new intelligent turnstile system had been integrated into the festival's barrier system, and the first Lowlands Festival for Cees Muurling since being appointed Managing Director of the company. 
The three day festival in Holland brought together 55,000 festival goers to enjoy the Lowlands experience with music from the likes of Arctic Monkeys, The Prodigy, Kaiser Chiefs and Snoop Dog. 
This year, Mojo Barriers' innovative Gatekeeper was used for the first time at the festival as part of the entry and exit system for the two main stage front audience pens. The Gatekeeper's turnstile system counted the number of people entering and leaving the enclosed pens immediately in front of the stage throughout the day to ensure the capacity didn't exceed 1,200 people at any one time. 
Since its international launch at the beginning of 2009, the Gatekeeper is the first system to measure capacity figures in real-time for segregated event areas. This means that security teams can accurately control capacity in the segregated area, giving improved safety. Lowlands is one of the first festivals to use the system, in line with the festival's progressive nature towards development of the site. The Gatekeeper system is fully integrated into Mojo's aluminium barrier system to create a very stable infrastructure for audience queuing, so fans could be controlled and counted effectively.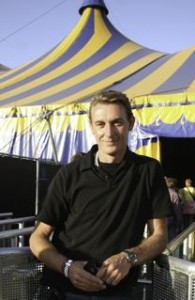 Mojo Barriers has worked with Lowlands since the festival was launched by Mojo Concerts and LOC 7000 in 1993, co-operating closely with the co-promoters to improve health and safety at the festival over the years. The company has pioneered its new products at the festival over the years, which Mojo Concerts has supported and been rewarded with an advanced festival site. 
Having previously worked on the festival since day one at Mojo Concerts, Cees Muurling has recently changed roles to become Managing Director of Mojo Barriers. Cees explains:
"Crowd safety has always been the highest priority for the festival since day one and the festival benefits from the synergy between Mojo Concerts, LOC 7000 and Mojo Barriers as it provides a safe experimental field for the final stages of testing new products and systems in a controlled way before offering to other festivals and events." 
Across the site, Mojo Barriers installed the barrier systems for all 11 stages and supplementary site structures, providing 750m of barrier, making it one of the largest festivals the company is involved with.