Dec 2011 Mojo Barriers US Office adds VIP for Deadmau5 gig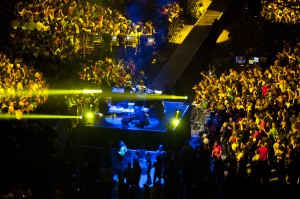 Mojo Barriers US office created a unique VIP enclosure giving guests a 'close up experience' when DeadMau5 performed at the Rogers Centre, Toronto, Canada on 5th November 2011.
The Grammy-nominated electronic artist and producer (real name Joel Zimmerman) took to the stage in his hometown for his acclaimed Meowingtons Hax tour, in a gig that saw a Canadian artist headline the venue for the first time in its 22 year history. 
Stage barricade specialist Mojo, based near Lititz, PA, was contracted by client Live Nation Canada to provide 412m of barricade, in a unique configuration designed for the safety of the 14,000 strong audience, with specific modifications for the VIP audience area.
A primary barricade line rang along the front of the stage with a 20m thrust encompassing a catwalk and leading to – and surrounding – the B stage. Further barricades formed a huge box around the front of house tower, creating an exclusive VIP area to house up to 2,000 guests.
Mojo Barriers US president JB Dolphin, who led a team of eight crew, said: "This was a very distinctive configuration, but having thousands of people in a confined VIP area meant that special attention needed to be paid to safety.
"We liaised closely with the production team and the Live Nation Canada team to create a barricade design that matched their expectations but incorporated three double-wide exits for safe egress."