Mojo Barriers appoints New Budapest Distributor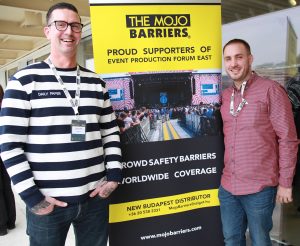 A range of Mojo Barriers aluminium crowd safety barriers are now based in Budapest with the announcement of a new Mojo distributor giving convenient, cost effective barrier rental for festival  organisers and tours coming to Eastern Europe, November 17th, 2017.
A stock of Mojo Barriers will be permanently located in Budapest for rental and it has already been hired out to create the front of stage barrier for the Gorillaz concert, 13th November in Budapest, Papp Laszlo Arena.
Mojo's project and touring manager Stanley Jilesen states:
"With the expanding live events market in Hungary and Eastern Europe, Mojo Barriers is proud to support organisers with local resource to help keep their events safe. Having worked with Sziget Festival for several years we are delighted to work with the innovators in this region pushing for higher standards." 
The new Hungarian distributorship is the company's 12th along with the international offices in Netherlands, UK, USA and Australia. Growing this global network strengthens the ability to support world tours with local resources whilst also making it easy for festivals and concerts in the region to hire the range of barriers. 
Dániel Benis, Sziget production director, comments:
"We wanted to deliver our events to the highest of international production standards, particularly when it came to the safety of our audience, artists and crew. Our experience with Mojo Barriers has been very positive so we are delighted to be able to offer their products to other events in the region."