Building on 2016 Success for Mojo Barriers US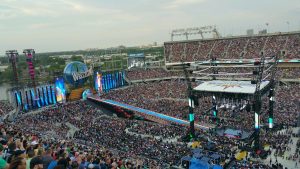 A new look Mojo Barriers US office, with Jordi van Berkum at the helm, has assembled an experienced team to ensure the company continues to offer its world renowned stage and crowd safety barriers to its expanding portfolio of clients.
Mojo Barriers US office has started the year supplying some diverse events, from installing crowd safety barriers to a large political event in Washington DC, WWE WrestleMania 33 in Orlando over the first weekend of April, to servicing the 27 date US tour for Eric Church. Mojo Barriers is still on the road with the Red Hot Chili Peppers and the team has just dispatched the touring barrier system for the five month The Weeknd tour.
The outdoor festival season began in March and witnessed Mojo supply over 500m of stage barrier to Okeechobee Music & Arts Festival in Florida, and over 300m of barrier to the New Orleans Jazz & Heritage Festival, the home of jazz, which it has supplied for many years.
Jordi van Berkum states:
"We are committed to continuing to give our existing clients Mojo Barriers' consistent high service levels, whilst expanding our equipment stocks. There is a growing awareness when it comes to the need for having a tried and trusted crowd or stage barrier system on an event, so we are also advising new clients on how best to use our barrier systems to keep their audiences, artists and crew safe."
Mojo's US Pennsylvania team is building on a successful 2016, when they supplied over 75 festivals, the ten biggest music tours including all 21 North American tour dates for the legendary American rock band, Guns N Roses' Not in this Lifetime Tour, and hundreds of rentals to some of the year's biggest events.
Mojo Supply Gorillaz New Album Launch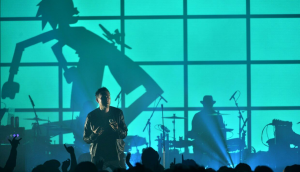 To mark the launch of their highly anticipated new album 'Humanz', Gorillaz performed a secret one-off show at Printworks, London, and Mojo Barriers showed it's not all about big tours and festivals by supplying its world-class stage barriers to this prestigious event, 24th March 2017.
The world's most successful virtual band celebrated the release of their new studio album with a very special performance which saw Gorillaz play 'Humanz' live for the first time in a ''triumphant comeback gig'' (NME) supported by Telekom Electronic Beats.
As the Gorillaz live band took to the stage, Mojo Barriers ensured artist and audience safety, highlighting that a big artist launch in a small venue still needs detailed attention. Held at new London venue, Printworks, the show saw Gorillaz joined on stage by a stellar rollcall of talent including Del La Soul, Pusha T and Noel Gallagher. Mojo Barriers ensured the safety of the audience and the band by providing a complete barrier and cable cover set, which included straight barrier sections, flex corners and snakegates. Mojo worked closely with the production team to install a barrier configuration that matched the contour of the stage and front-of-house area, and offered optimum safety. 
Stanley Jilesen, Mojo Barriers project manager commented: "We've worked with Gorillaz production manager, Joel Stanley, on previous events and it was great to work with him on such an exciting and highly-anticipated launch. Even with the event being held in an intimate venue, the prestige of the band and the calibre of acts they collaborated with on the night meant that the event required detailed attention to ensure the wellbeing of the crowd, the band and the front-of-house team. We worked closely with the production team to ensure the equipment and configuration we supplied did just this, and it was great to be involved in this very special Gorillaz show."
Gorillaz production manager, Joel Stanley, commented: "As always, Mojo have been crucial in the show and a pleasure to deal with, always flexible and amazing value."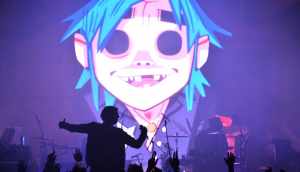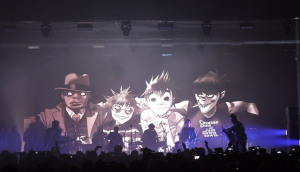 Mojo Barriers Australia Supplies High Fence at the Sydney Opera House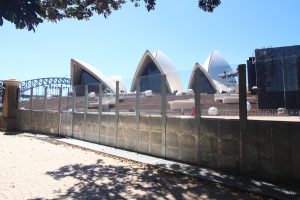 Mojo Barriers Australia has supplied over 300m of its reinforced barrier system 'High Fence' at the Sydney Opera House for a number of outdoor shows. 
Originally manufactured by Mojo for the 2014 G20 Summit in Brisbane, High Fence offers a 2.4m high robust security barrier, compatible with all additional components such as gates or corners. It has a polycarbonate upper, which is a durable and high impact resistance material which easily withstands destructive attacks. Mojo Barriers Australia supplied High Fence to a number of outdoor concerts at Sydney Opera House including Crowded House and Ben Harper & The Innocent Criminals, which formed part of Live Nation's 'On The Steps' concert series.
Opera Australia also chose Mojo's High Fence to secure the perimeter of the Sydney Opera House forecourt for their outdoor production of Handa presents Sydney Opera House – The Opera (The Eighth Wonder) which saw a run of five shows.
Mojo Barriers provided transparent polycarbonate upper panels to create perimeter fencing without obscuring sight lines, to ensure the public could still see the iconic Sydney Opera House backdrop. For areas where a sight kill was required, Mojo utilised its tinted polycarbonate panels while the shows were taking place on the forecourt, to block views of the stage and prevent crowd build-up outside the perimeter barrier.
Mojo also supplied mega exits to allow access for large emergency vehicles and emergency exit points for large crowds.
Craig Edwards, general manager of Mojo Barriers Australia commented: "It's great to see Mojo Barrier's High Fence creating safe event areas at such an iconic venue as the Sydney Opera House. The event safety, security and management teams all love the look and strength that this product provides. With adaptable polycarbonate uppers, High Fence has given organisers the option of blocking off views of certain areas, such as the back of house, whilst also ensuring attendees are able to enjoy the beautiful harbour views. High Fence is more aesthetically attractive compared to the usual perimeter fencing used at major event and it's the perfect solution for occasions where crowd and structure segregation is a vital part of the crowd management process."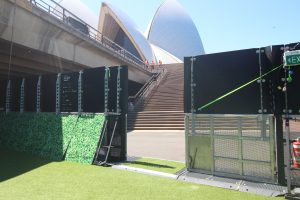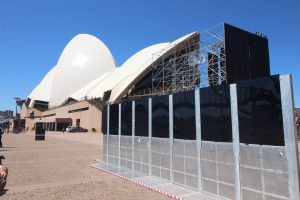 Bastille Wild World Tour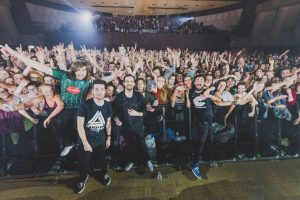 2016 saw Bastille embark on an arena tour to promote the launch of their latest album, Wild World, and we were called upon to ensure artist and audience safety at all 22 UK and European dates. 
Kicking off on the 28th October at Bournemouth BIC, the UK and European tour leg will run until 9th February where it will come to fruition at the Halle 662 in Zurich. We're supplying arena size kit, including stage barriers, flex corners, snake gates and metal cable ramps. As well as positioning barriers across the main stage, we've also designed a bespoke barrier configuration for the B-stage, to ensure continuity throughout each venue.
The tour has already visited 10 UK arenas including the Motorpoint Arena in Cardiff, The O2 in London, First Direct Arena in Leeds, the Barclaycard Arena in Birmingham and The SSE Hydro in Glasgow, and is now heading to Germany, Amsterdam, Switzerland, Spain, Sweden, Denmark and the Czech Republic.
Photo Credit: Joel Stanley/ Gregory Nolan Photography 
Mojo Barriers' Busy European Touring Summer
With over 1,000m of Mojo's touring barrier supplied across 201 tour dates, this summer saw Mojo Barriers' European business consolidate its position as a global partner to  artists touring UK and Europe; September 2016.     
Stanley Jilesen headed up Mojo's summer tours in Europe, supplying enough specially designed touring barrier to cross from France to England across the English Channel. Featuring on five of the summer's biggest tours, Mojo supplied all 42 European tour dates of The Red Hot Chilli Peppers' The Getaway World Tour, 28 European dates of Bruce Springsteen's The River Tour 2016, including his open-air concert at the Malieveld in The Hague, 33 AC / DC dates featuring Axle Rose on vocals, 23 European tour dates of Rihanna's The Anti World Tour and 50 European tour dates of Muse's The Drones World Tour.
All the tours benefitted from Mojo Barriers' world famous stage barriers, with specially designed features, including Vario and Flex corners and Mega Exits, along with full support designing and installing customised barrier configurations within each venue.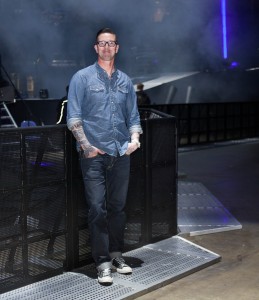 Mojo Barriers' Stanley Jilesen commented: "We're working with our US and Australian offices to give world tours a seamless service. Four out of five of these tours have come out of the US, and it was great to get the opportunity to work with new performers whilst continuing to build on our longstanding relationships with existing clients. As well as an incredibly busy summer of festivals, these contract wins reflect our strong links with the concert and touring industry, which is a core part of our business."
Rebel Heart Tour with Madonna
Mojo Barriers supplied a variety of barrier products for the front of stage and front of house production areas, for the European leg and two Asian tour dates of Madonna's Rebel Heart World Tour. 
Rebel Heart Tour is the tenth worldwide tour from Madonna and supports the release of her 13th studio album of the same name. The tour kicked off on the 9th September in Montreal, Canada and ran for six months, visiting 22 countries worldwide.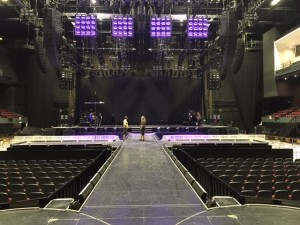 Mojo Barriers was contracted to ensure audience and artist safety for all of Madonna's 25 European tour dates, as well as at her shows in Taipei and Macau, which both took place in February 2016. The European leg of Madonna's tour began with the Lanxess Arena in Cologne of the 4th November 2015 and visited 12 European countries.
Mojo Barriers supplied almost 200 pieces of kit, including vario corner sections, snake gates and flex corner sections for the front of stage and front of house production areas. Mojo's wide range of special curves and corners in black aluminium made it an ideal choice, allowing the barrier configuration to match the complex stage design of a cross and heart shaped B stage. All the barriers were supplied in black aluminium, in line with Madonna's wish for the barriers to be unobtrusive. 
Madonna is famed for her inventive stage shows and this tour was no different. Madonna's large elevated stage was complete with an extending catwalk with a circular stage half way down and heart-shaped stage at the end. Although not a challenging layout, this install did create some challenges as Stanley Jilesen, Mojo Barriers' project manager comments:
"Madonna is one of the world's biggest artists, with state of the art production, so it was an honour to be entrusted with both audience and artist safety during her European tour dates. Although this wasn't a challenging install, the shape of the stage did make this slightly more complex as Madonna wanted the barriers very close to her stage to increase intimacy and enable closer contact with her audience. The shape of the stage meant it was slightly more difficult to get these barriers as close as was requested, so we utilised specialist stock, including our corner sections, to ensure we got the shape spot on."
"The American tour shows were seated, which meant there was not a lot of barrier pressure during the show. Here in Europe, the standing shows meant the barriers needed to be able to withstand this increased crowd pressure. We worked closely with the PM, Jason Danter, to design a barrier layout that suited the show and enabled Madonna to be as close as possible to her audience."
Lining the NTA's Red Carpet
For the 6th year running, Mojo Barriers was entrusted to supply crowd safety barriers to the glitzy 21st anniversary of the National Television Awards at London's O2 Arena, 20th January 2016.
This year saw the live TV ceremony, hosted by Dermot O'Leary, award EastEnders Best Serial Drama, Suranne Jones scooped Drama Performance, Best Newcomer went to Shayne Ward and Ant & Dec won Best Presenter for a 15th year running.
Kevin Thorborn, Mojo Barriers' UK manager, and four crew, worked closely with the venue and NTA's production team Indigo Television, to install 140 metres of its trusted aluminium stage barrier to line the star-studded outdoor red carpet, ensuring the safety of both the fans and the TV personalities.
Indigo Television's Robyn-Marie Towle comments: "The National Television Awards is one of the most glamourous awards events in the UK and Indigo Television have worked closely with Mojo Barriers for the past 5 years to ensure that both the eager crowds and the celebrities are kept safe at all times. Together we are always working on new ideas to enhance the show experience, compliment the venue and event requirements. The Mojo Barriers team work tirelessly to ensure health and safety standards are of the highest nature, whilst working to a tight installation schedule."
Kevin Thorborn adds, "We have previously worked with the NTA's and it is always a privilege to work on such a fun show, set in an iconic London venue that has been home to many other events that we've also worked on like the BRIT Awards. A rapid turnaround is required in a venue like the O2 and as a team we work to compliment the event requirements, ensuring the guest and fan safety is of the highest standard."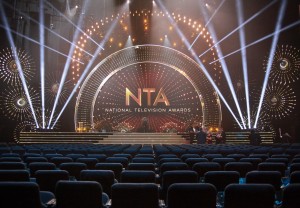 Mojo at V Festival Venues
Mojo Barriers supplied over 1,300m of safety barriers at both V Festival sites – Hylands Park, Chelmsford and Weston Park, Staffordshire, 22nd to 23rd August 2015.
This year saw the 14th anniversary of Mojo Barriers' long-standing relationship working at both V Festival sites.
As one of Mojo Barriers' largest annual events, V Festival organisers entrusted them with supplying over 700m of stage barrier to ensure crowd safety around every stage at the Chelmsford venue, including barrier protection around sponsor areas. In addition to the stock inventory supplied to the southern venue, 250m of bar barriers were also provided to both V Festival venues, constructing public concessions such as food, drink and other retail outlets.
Mojo Barriers also supplied 128m of stage barriers to control large crowd pressures around stage 1 and two at Staffordshires' Weston Park location.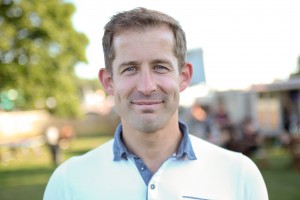 Kevin Thorborn, of Mojo Barriers UK, said: "We enjoy a great relationship with Simon Forshaw, Andy Redhead, Tony Wheeler and the rest of the management team at V Festival, who have always shared our passion t create safe festival sites.
"We have a dedicated V Festival team of six staff responsible for the smooth installation of barriers at both venues, bolstered with another four staff to ensure a rapid load out of all kit earmarked for the next event in our busy summer events calendar."
This year the festival saw headline acts such as Kasabian, Calvin Harris, Olly Murs, Stereophonics, Nero and Paloma Faith. Across the same weekend, Mojo Barriers' European offering supplied crowd safety barriers for Belgium's Pukkelpop alternative music festival and Lowlands festival in the Netherlands.
| | | |
| --- | --- | --- |
| |   | |
A BoomTown First
Mojo Barriers continued to expand its work with independent festivals by securing a new contract win for this year's BoomTown Fair, 13th– 16th August 2015. 
BoomTown Fair called upon Mojo Barriers to design and deliver its trusted stage barriers for this year's festival, which took place at Matterley Estate in Hampshire. Mojo Barriers was contracted to supply 450 metres of stage barrier, 200 metres of bar barrier and 13 line-up gates across the whole festival site.
Set in its own unique, fantasy festival town, Boomtown boasts nine different districts with winding streets and a host of bespoke entertainment venues, including a casino, hotel, hairdressers and roller disco. BoomTown Fair is now in its 7th year and this year it witnessed performances from Mungos Hi-fi, John Butler Trio, Dreadzone and a host of other artists across 22 main stages.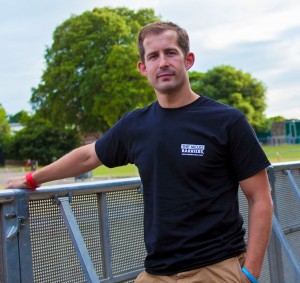 Kevin Thorborn, Mojo Barriers' UK manager commented: "There is a lot of original thinking going on within the independent festival scene and we're excited to be working alongside BoomTown Fair, which is widely renowned for its unique character. Moving away from the traditional five or six stage festival format, with its own crowd dynamics and within a temporary town setting. We worked with the organisers to identify the 'hotspots' to ensure festival-goers were kept safe, deploying crowd barriers where densities were at their highest."
2015 marks a notable increase in Mojo Barriers work with Independents, after it secured new contracts with 51st State, Found Festival and Glastonbudget.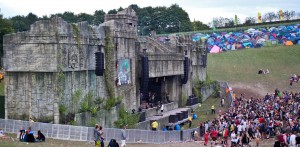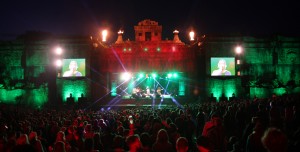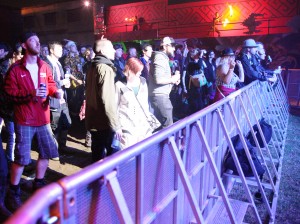 Mojo Barriers designs new high fence product for the G20 summit
A brand new reinforced barrier system was designed by Mojo Barriers to help keep politicians, dignitaries and heads of state including Barack Obama and David Cameron safe during the G20 Leaders' Summit in Brisbane, Australia from 15-16 November 2014.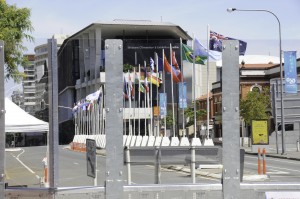 With over 4,000 delegates and 3,000 media descending on Brisbane to discuss a wide range of global economic issues, the system was required to create restricted zones across the city and form protective walls around the event's venues, including the Brisbane Convention and Exhibition Centre.
Coates Hire contracted Mojo Barriers to supply and install a unique barrier solution as specified by police and government officials. The resulting product, High Fence, consists of 1m wide and 2.4m high sections of reinforced aluminium barrier – the standard crowd control equipment from Mojo's product range – with a see-through Polycarbonate upper, which is a durable and high impact resistance material, easily withstanding destructive attacks.
Over 2,000m of the product was installed across the city by the company's Australian team. Doors and gates were also manufactured which integrated into the barrier line, to ensure fire safety and access and egress regulations could be met.
Cees Muurling, managing director at Mojo Barriers, explains: "The brief was to create a product to act as a deterrent and keep the public out of restricted areas. High Fence is quick and simple to install, exceptionally strong and durable and the clear upper section gives security personnel uninterrupted views of the surrounding areas. Its unique aspect is that it is not weighted or pinned to the ground, therefore is completely self supporting, and can withstand significant crowd pressure and deliberate attempts to breach the barrier line.
 "It underwent extreme testing against pressure and targeted attacks. It was proven to be extremely strong and is the ideal solution for events and occasions where crowd and building segregation is an integral part of the security process."
The installation for the G20 was one of the toughest on Mojo's records, with limited overnight shifts to install all barriers and transparent panels, snaking in a complex grid across the city.
Craig Edwards, Mojo Barriers' Australian operations and account manager, explains: "The tough timeframe and sheer scale of the operation meant it was the most complex and challenging project the Australian Mojo office has faced to date. We assembled a skilled team of nine local and international supervisors, managed over fifty truck movements and directed a crew of over one-hundred hands. Coordinating simultaneous legs of the installation required accurate planning."
Over 2,500m of the product is now available to the international event, security and police industries. Cees Muurling expresses the importance the product will play in opening up a new market sector for the company, which was established 25 years ago and is a global leader in the supply of state of the art crowd control solutions to festivals, tours, concerts and live events.
He says: "Post event, we will have 2,500 metres of High Fence available across all of Mojo Barriers' offices; UK, Europe, Australia and the USA. It's ideal for the police, security and protection industries as well as future political, government and cultural events. We've already had interest from parties across these sectors."
High Fence is aesthetically attractive compared to the usual perimeter fencing used at major events and this was essential considering the media and broadcast attention garnered by the Summit.