Mojo Barriers increase presence at Glastonbury Festival
For the 13th year Mojo Barriers supported the Glastonbury Festival, expanding their service to the world-famous event and introducing new systems to improve audience safety, 22-25 June, 2017
Once again 150,000 ticket holders made their way to Worthy Farm at Pilton, Somerset to enjoy performances from the likes of Radiohead, Foo Fighters, Ed Sheeran, Stormzy, Lorde and even Jeremy Corbyn joining hundreds of other acts spread across the 1,100 acre site.
Mojo supplied aluminium stage barriers to 16 of the stages at Glastonbury Festival 2017, delivering a total of 1,400 metres across the site, including at the new Death Metal stage in the Shangri La area.
Mojo Barriers' project manager Jim Gaffney has been a Glastonbury supplier for nearly quarter of a century and he has been at the core of developing the barrier configurations at the festival over the years, with 2017 no different. New for this year were 15 Line-up Gates and one Mega Gate in the south-east corner of the arena at the entrance leading to the campsite, which reduced the queuing at that bottleneck.
Mojo once again installed secondary barrier systems on the festival's two biggest stages: – The Pyramid Stage and Other Stage. The Pyramid Stage secondary system was introduced a few years' ago to help cope with the increased capacity for that area, whereas the Other Stage barrier system came in last year when changes were made to open up sight lines for the audience.
Jim Gaffney, Mojo Barriers' UK senior account manager, said: "The new gates we introduced at the south east corner worked perfectly and eradicated the problems that have occurred there in the past.
"The secondary systems for the Pyramid Stage and Other Stage once again gave the audience a safer event and also allowed security staff more access to the audience."
Jerry Milichip was the site manager for the Pyramid Stage this year. Jerry has overseen many events that Mojo Barriers have supplied so played a pivotal role in the smooth delivery of the barriers.
"Jerry and our crews work very well together," said Jim. "He understands the way we work and why we do certain things because of his experience with barriers. Having him in a senior role was a huge help as he had made all the ground preparations we needed and logistical details like having enough forklifts at the right time to make our installation quick and efficient."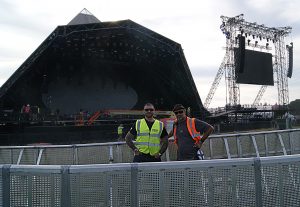 Building on 2016 Success for Mojo Barriers US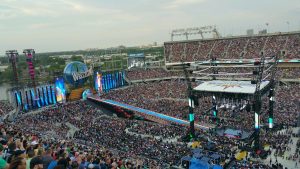 A new look Mojo Barriers US office, with Jordi van Berkum at the helm, has assembled an experienced team to ensure the company continues to offer its world renowned stage and crowd safety barriers to its expanding portfolio of clients.
Mojo Barriers US office has started the year supplying some diverse events, from installing crowd safety barriers to a large political event in Washington DC, WWE WrestleMania 33 in Orlando over the first weekend of April, to servicing the 27 date US tour for Eric Church. Mojo Barriers is still on the road with the Red Hot Chili Peppers and the team has just dispatched the touring barrier system for the five month The Weeknd tour.
The outdoor festival season began in March and witnessed Mojo supply over 500m of stage barrier to Okeechobee Music & Arts Festival in Florida, and over 300m of barrier to the New Orleans Jazz & Heritage Festival, the home of jazz, which it has supplied for many years.
Jordi van Berkum states:
"We are committed to continuing to give our existing clients Mojo Barriers' consistent high service levels, whilst expanding our equipment stocks. There is a growing awareness when it comes to the need for having a tried and trusted crowd or stage barrier system on an event, so we are also advising new clients on how best to use our barrier systems to keep their audiences, artists and crew safe."
Mojo's US Pennsylvania team is building on a successful 2016, when they supplied over 75 festivals, the ten biggest music tours including all 21 North American tour dates for the legendary American rock band, Guns N Roses' Not in this Lifetime Tour, and hundreds of rentals to some of the year's biggest events.
Mojo Supply Gorillaz New Album Launch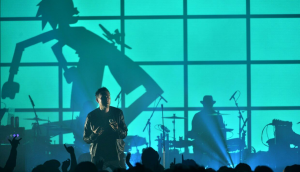 To mark the launch of their highly anticipated new album 'Humanz', Gorillaz performed a secret one-off show at Printworks, London, and Mojo Barriers showed it's not all about big tours and festivals by supplying its world-class stage barriers to this prestigious event, 24th March 2017.
The world's most successful virtual band celebrated the release of their new studio album with a very special performance which saw Gorillaz play 'Humanz' live for the first time in a ''triumphant comeback gig'' (NME) supported by Telekom Electronic Beats.
As the Gorillaz live band took to the stage, Mojo Barriers ensured artist and audience safety, highlighting that a big artist launch in a small venue still needs detailed attention. Held at new London venue, Printworks, the show saw Gorillaz joined on stage by a stellar rollcall of talent including Del La Soul, Pusha T and Noel Gallagher. Mojo Barriers ensured the safety of the audience and the band by providing a complete barrier and cable cover set, which included straight barrier sections, flex corners and snakegates. Mojo worked closely with the production team to install a barrier configuration that matched the contour of the stage and front-of-house area, and offered optimum safety. 
Stanley Jilesen, Mojo Barriers project manager commented: "We've worked with Gorillaz production manager, Joel Stanley, on previous events and it was great to work with him on such an exciting and highly-anticipated launch. Even with the event being held in an intimate venue, the prestige of the band and the calibre of acts they collaborated with on the night meant that the event required detailed attention to ensure the wellbeing of the crowd, the band and the front-of-house team. We worked closely with the production team to ensure the equipment and configuration we supplied did just this, and it was great to be involved in this very special Gorillaz show."
Gorillaz production manager, Joel Stanley, commented: "As always, Mojo have been crucial in the show and a pleasure to deal with, always flexible and amazing value."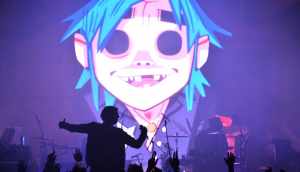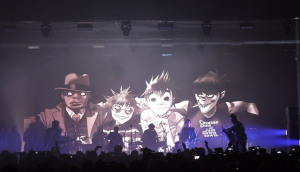 BoomTown Fair 2016
Building on its relationship with BoomTown Fair, Mojo Barriers supplied 600m of kit to this year's event, 11-14 Aug 2016.
Hampshire's Matterley Estate once again played host to the fully immersive BoomTown Fair, which this year welcomed an increased capacity of 60,000 music lovers and saw the addition of over 80 street venues. Mojo Barriers expanded on its inaugural year supplying BoomTown Fair, by supplying 600m of kit, which was installed across the entire festival site. Mojo's barriers were installed at all festival stages, including The Lion's Den, The Jolly Dodger and Sector 6, a new district introduced to the 2016 event.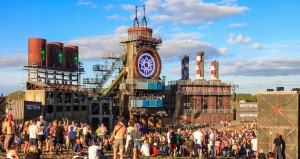 Founded in 2009, BoomTown Fair is an expansive metropolis, split into nine different districts, each of which has a different theme. As well as its impressive main stages, BoomTown Fair is famed for its bespoke entertainment and its creatively themed venues, which this year witnessed performances from Madness, Damian 'Jr Gong' Marley and Fat Freddy's Drop.
Kevin Thorborn, Mojo Barriers' UK manager commented: "The individual and quirky nature of BoomTown makes it such a special event and it's great to see organisers pushing boundaries when it comes to creativity and imagination. BoomTown Fair is famed for its impressive stages and immersive set design and this year saw the introduction of the new district, Sector 6. This wasn't an area we had supplied before, so it was a case of visiting the site, checking the ground and the contours and designing a barrier layout which offered maximum crowd safety.
"As well as supplying new areas, we also installed our barriers at BoomTown's infamous stages, including The Town Centre and The Lion's Den stage, which is situated within a natural bowl, meaning we had to design an effective layout which matched the contour of the land. It's great to be involved with such a progressive event, which keeps growing year on year, and we look forward to expanding our work with BoomTown Fair in the future."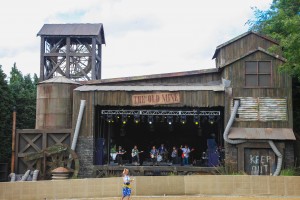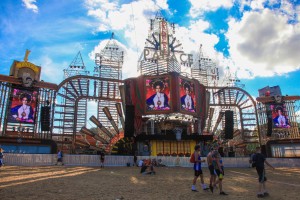 Rebel Heart Tour with Madonna
Mojo Barriers supplied a variety of barrier products for the front of stage and front of house production areas, for the European leg and two Asian tour dates of Madonna's Rebel Heart World Tour. 
Rebel Heart Tour is the tenth worldwide tour from Madonna and supports the release of her 13th studio album of the same name. The tour kicked off on the 9th September in Montreal, Canada and ran for six months, visiting 22 countries worldwide.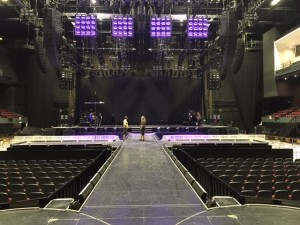 Mojo Barriers was contracted to ensure audience and artist safety for all of Madonna's 25 European tour dates, as well as at her shows in Taipei and Macau, which both took place in February 2016. The European leg of Madonna's tour began with the Lanxess Arena in Cologne of the 4th November 2015 and visited 12 European countries.
Mojo Barriers supplied almost 200 pieces of kit, including vario corner sections, snake gates and flex corner sections for the front of stage and front of house production areas. Mojo's wide range of special curves and corners in black aluminium made it an ideal choice, allowing the barrier configuration to match the complex stage design of a cross and heart shaped B stage. All the barriers were supplied in black aluminium, in line with Madonna's wish for the barriers to be unobtrusive. 
Madonna is famed for her inventive stage shows and this tour was no different. Madonna's large elevated stage was complete with an extending catwalk with a circular stage half way down and heart-shaped stage at the end. Although not a challenging layout, this install did create some challenges as Stanley Jilesen, Mojo Barriers' project manager comments:
"Madonna is one of the world's biggest artists, with state of the art production, so it was an honour to be entrusted with both audience and artist safety during her European tour dates. Although this wasn't a challenging install, the shape of the stage did make this slightly more complex as Madonna wanted the barriers very close to her stage to increase intimacy and enable closer contact with her audience. The shape of the stage meant it was slightly more difficult to get these barriers as close as was requested, so we utilised specialist stock, including our corner sections, to ensure we got the shape spot on."
"The American tour shows were seated, which meant there was not a lot of barrier pressure during the show. Here in Europe, the standing shows meant the barriers needed to be able to withstand this increased crowd pressure. We worked closely with the PM, Jason Danter, to design a barrier layout that suited the show and enabled Madonna to be as close as possible to her audience."
Lining The Red Carpet For The BRIT Awards 2016
Mojo Barriers provided a variety of barriers and configurations to ensure the safety of celebrity guests and music loving fans at The BRIT Awards 2016 in association with Mastercard, 24th February.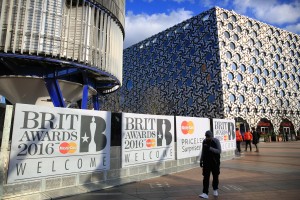 The 2016 ceremony marked the 36th edition of The BRIT Awards, one of the music industry's most prestigious events. Taking place at London's O2 Arena, Mojo Barriers implement an effective crowd control barrier operation and applied its expertise to complete the comprehensive barrier formations on the day of the show.Mojo Barriers supplied 300m of stage barriers, 2250m of heras fencing and crowd control barriers and 90m of sightline kill extensions, which gave a 2.4m of height to section off a secure and private VIP area. Each section of barrier was branded with The BRIT Awards and sponsor logos.
Mojo Barriers UK manager, Kevin Thorborn explains: "The O2 is one of London's busiest venues, so a rapid turnaround was needed to ensure a safe and efficient egress whilst the ceremony was conducted. The BRIT Awards is enjoyed by millions of viewers all over the world, which required us to provide barriers that not only do their job but that also look great, something we at Mojo Barriers pride ourselves upon. We utilised equipment from our extensive inventory to compliment the venue and the events requirements, whilst ensuring the safety of fans and attendees was given the highest priority."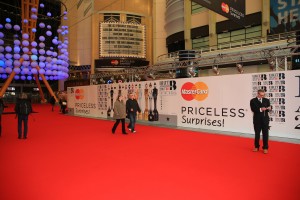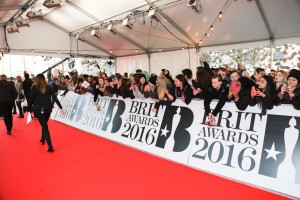 Mojo Barriers designs new high fence product for the G20 summit
A brand new reinforced barrier system was designed by Mojo Barriers to help keep politicians, dignitaries and heads of state including Barack Obama and David Cameron safe during the G20 Leaders' Summit in Brisbane, Australia from 15-16 November 2014.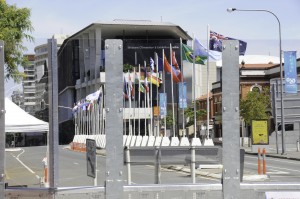 With over 4,000 delegates and 3,000 media descending on Brisbane to discuss a wide range of global economic issues, the system was required to create restricted zones across the city and form protective walls around the event's venues, including the Brisbane Convention and Exhibition Centre.
Coates Hire contracted Mojo Barriers to supply and install a unique barrier solution as specified by police and government officials. The resulting product, High Fence, consists of 1m wide and 2.4m high sections of reinforced aluminium barrier – the standard crowd control equipment from Mojo's product range – with a see-through Polycarbonate upper, which is a durable and high impact resistance material, easily withstanding destructive attacks.
Over 2,000m of the product was installed across the city by the company's Australian team. Doors and gates were also manufactured which integrated into the barrier line, to ensure fire safety and access and egress regulations could be met.
Cees Muurling, managing director at Mojo Barriers, explains: "The brief was to create a product to act as a deterrent and keep the public out of restricted areas. High Fence is quick and simple to install, exceptionally strong and durable and the clear upper section gives security personnel uninterrupted views of the surrounding areas. Its unique aspect is that it is not weighted or pinned to the ground, therefore is completely self supporting, and can withstand significant crowd pressure and deliberate attempts to breach the barrier line.
 "It underwent extreme testing against pressure and targeted attacks. It was proven to be extremely strong and is the ideal solution for events and occasions where crowd and building segregation is an integral part of the security process."
The installation for the G20 was one of the toughest on Mojo's records, with limited overnight shifts to install all barriers and transparent panels, snaking in a complex grid across the city.
Craig Edwards, Mojo Barriers' Australian operations and account manager, explains: "The tough timeframe and sheer scale of the operation meant it was the most complex and challenging project the Australian Mojo office has faced to date. We assembled a skilled team of nine local and international supervisors, managed over fifty truck movements and directed a crew of over one-hundred hands. Coordinating simultaneous legs of the installation required accurate planning."
Over 2,500m of the product is now available to the international event, security and police industries. Cees Muurling expresses the importance the product will play in opening up a new market sector for the company, which was established 25 years ago and is a global leader in the supply of state of the art crowd control solutions to festivals, tours, concerts and live events.
He says: "Post event, we will have 2,500 metres of High Fence available across all of Mojo Barriers' offices; UK, Europe, Australia and the USA. It's ideal for the police, security and protection industries as well as future political, government and cultural events. We've already had interest from parties across these sectors."
High Fence is aesthetically attractive compared to the usual perimeter fencing used at major events and this was essential considering the media and broadcast attention garnered by the Summit.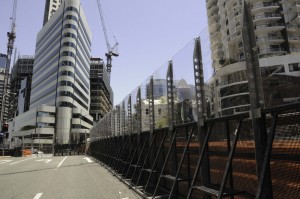 MOJO BARRIERS TO STAR ON THE DISCOVERY CHANNEL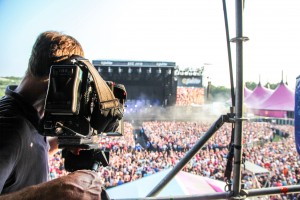 Mojo Barriers has recently returned from The Netherland's oldest festival, Pinkpop, where the stage barrier specialist completed the last segment of filming for the Discovery Channel's 'How do they do it?'
Hosting the programme's production company, WAG TV, Mojo Barriers has been busy helping to film the documentary which will air in winter 2014. It will explain how Mojo Barriers' patented stage barrier system is made, and the important role it plays at some of the world's largest and most well known events.
Jasper Caldenhoven Mojo Barriers' project manager has been managing the process and ensuring that the film crew gets everything they need. He said: "Before joining Mojo Barriers four years ago I worked in film location, so it's been great to be able to put these skills to good use.
"The documentary follows every step of Mojo Barriers' procedures including the manufacturing process, which saw us filming at four different factories. We then filmed the rigorous testing systems back at our warehouse, the logistical and planning processes and finally, how we use the barriers out on site.
"Pinkpop was the perfect festival for this, with over 1,100m of barrier across the site and 485m on the main stage alone, carefully designed and configured for optimum audience, crew and artist safety."
'How do they do it?' is one of the Discovery Channel's flagship programmes and is aired in over 220 countries worldwide. To find out more about the series visit http://www.sciencechannel.com/tv-shows/how-do-they-do-it and keep checking the Mojo Barriers website here to find out when the film will be aired.
MOJO ON THE ROAD WITH THREE AMERICAN HEAVYWEIGHTS THIS SUMMER
Mojo Barriers' UK office was entrusted to supply the stage barriers for three of the USA's biggest stars, Katy Perry, Miley Cyrus and Justin Timberlake, as they headed across the Atlantic to play their UK and European tour dates.
KATY PERRY'S PRISMATIC TOUR:
Katy Perry toured across the UK with 75m of Mojo Barriers' patented aluminium stage barrier, configured to follow the layout of the singer's v-shaped stage which was designed to reflect her latest album's title, Prysm. The layout, designed by Mojo Barriers' CAD specialists in cooperation with Perry's production team, featured a secondary barrier line within the 'v', used to create a custom 'golden circle' for fans to get up close and personal to the Roar star.
JUSTIN TIMBERLAKE'S 20/20 EXPERIENCE:
Justin Timberlake's 20/20 Experience toured with 18m of Mojo's stage barriers to provide crowd control solutions across all of its UK and European dates. The tour also engaged Mojo Barriers' US office for the North American dates, allowing the production team to ensure the same standards of health, safety and security across the globe, as well as the same aesthetic look and feel.
MILEY CYRUS' BANGERZ TOUR:
The sell-out European dates of the 'Bangerz' tour features a total of 128m of Mojo Barriers: 80m to cover the tour's A and B stages and an additional 48m to surround the show's C stage and FOH. The unique cross shaped thrust of the stage and catwalk, and the C stage behind the FOH is a complex set up which required a flexible approach to planning and design. Mojo's system allowed the barrier line to perfectly fit the contours of the stage, getting the audience nearer to the action and Miley herself.
Kevin Thorborn, general manager of Mojo Barriers UK, commented: "Complex designs such as these mean that venues often don't have the correct kit available to match the ambitious production values of the tour.
"Our extensive range of straight sections, corners and gates mean we can create flexible configurations to suit the required layout, without ever compromising on the stringent health and safety standards required.
"We are very proud to be involved in three of the biggest tours in Europe this year, and it reflects our growing reach into the concert and touring industry, which is a core part of Mojo UK's music focus, alongside the festivals we supply every summer."
Gatekeeper helps shape party policy in Belgium
Mojo Barriers demonstrated the versatility of its Gatekeeper 2.0 access control system, as it was installed at the annual N-VA (Nieuw-Vlaamse Alliantie) political party congress in Antwerp Expo, Belgium, 31st January.
The team installed 16 of its intelligent, portable turnstile 'the Gatekeeper', working once-again with Belgium-based partners Playpass who fitted its scanners to the system. Each delegate was issued with a paper barcode which was scanned to give access.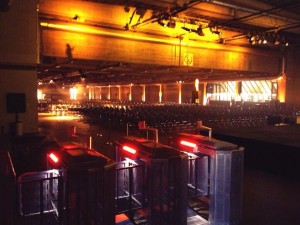 The Gatekeeper links directly to an easy-to-use central computer system, giving instant real time capacity data on the delegate's movement and voting interests.
Jasper Caldenhoven, project manager, Mojo Barriers said: "The Gatekeeper was ideal for this event as party members were required to vote on various issues at the same time. In order to cast votes on a subject, the visitors scanned themselves in at a specific area with a personal barcode, and were unable to scan into another area during the same time slot."