Mojo Barriers celebrates 25 years with Lowlands Festival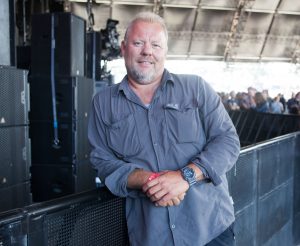 2017 was a landmark celebration for the organisers and suppliers of Lowlands Festival, where Mojo Barriers has kept crowds and artists safe at all 25 editions, August 17th – 20th, 2017.
A 60,000 sell out crowd were in attendance for a wide range of artists including Mumford & Sons, Iggy Pop, The XX, Cyprus Hill and Bastille across six stages. This year the main two Alpha and Bravo stages were newly designed and manufactured, creating impressive focal points on the creatively designed Biddinghuizen site.
Mojo Barriers account manager Erwin Sprenger states:
"This year is really special to see with all of the innovations on the festival and the 25th celebrations. I have worked on 17 Lowlands Festivals and even with all of the site developments this year it is one of the easiest projects I manage, thanks to the efficiency of the festival management team and local crews. We supply 600m of equipment but only two Mojo co-ordinators are required to manage the installation."
In addition to Mojo's aluminium front-of-stage barrier, a range of special corner barriers, mega-gates, line-up-gates and Gatekeeper turnstiles were installed across the site. The company also supplies its plastic Bar Barrier system for concessions and cable ramps.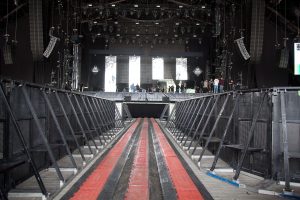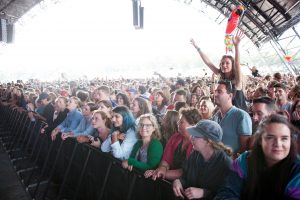 Mojo Barriers Australia Supplies Lorde on Cockatoo Island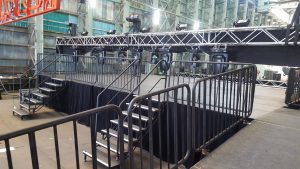 As the exclusive agents in New South Wales for PRO-STAGE, Mojo Barriers Australia supplied staging and risers in addition to stage barriers to Nova's Red Room Presents Lorde on Cockatoo Island, 7th July 2017.
Promoted by popular local radio station, Nova, 1,200 lucky fans were awarded tickets to Lorde's concert which took place at a secret venue; Cockatoo Island's Turbine Hall. The venue originally served as a ship building yard and dates back to the 1850's, and is now a UNESCO World Heritage Site.
This was Mojo's second event as distributors for Pro Stage in New South Wales for this client and at this location, following a Justin Bieber live performance where Mojo supplied media platforms and risers.
For Lorde's performance, Mojo Barriers supplied barrier for front of stage and front of house, along with emergency exit doors. Mojo also supplied a Pro Stage System for main stage at 1.4M in height, with a large access ramp and a tired Front of House Podium.
Being on a small island in the middle of Sydney Harbour gave its own specific challenges as Mojo Barriers Australia's project manager Sheena Edwards explains:
"The only way to reach Cockatoo Island is by catching a ferry across the harbour, which does present challenges when trying to get equipment to the site. All suppliers are ferried over from Sydney, however due to the size of the barge only one truck can fit at a time. Suppliers are ferried one by one and therefore a very tight production schedule had to be maintained to ensure we didn't miss our scheduled time slot and create delays for on-site crew waiting for equipment to arrive.
"Cockatoo Island is a beautiful UNESCO World Heritage Site and as we were working inside a listed building, we were required to be extremely careful when loading and unloading to ensure the building was not damaged by equipment or crew."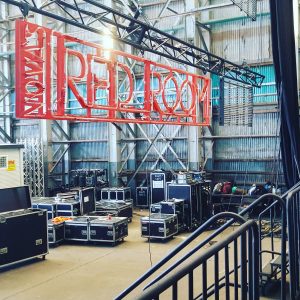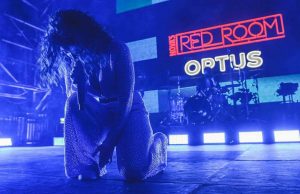 Mojo Barriers at Hellfest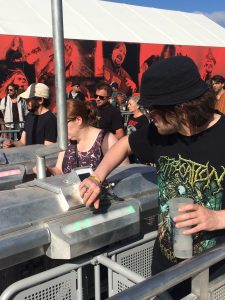 Mojo Barriers introduced its Gatekeeper temporary event turnstile system to Hellfest for the first time, June 2017, along with Mojo aluminium stage barriers keeping crowds safe.
Festival rock fans descended on Clisson, France for Hellfest Summer Open Air, enjoying performances from headliners Linkin' Park, Deep Purple, Aerosmith and many more. 
For its sixth year working with the festival, Mojo supplied over 800 meters of stage barriers, along with 200 meters of bar barriers. For the first time, the company installed 17 Gatekeepers to speed up entry to the festival site. To ensure smooth ingress, Mojo supported Intellitix, who integrated its RFID technology into the Gatekeepers for scanning wristbands at the entrances, enabling the fans to be ushered into the festival site more quickly and efficiently.
The Gatekeeper intelligent portable turnstiles link to a central computer system, which gives accurate capacity data and real time counting. It also incorporates full scanning capabilities and is compatible with any scanning methods.
Building on 2016 Success for Mojo Barriers US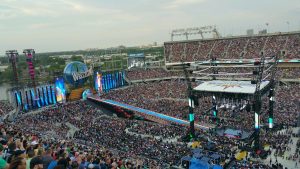 A new look Mojo Barriers US office, with Jordi van Berkum at the helm, has assembled an experienced team to ensure the company continues to offer its world renowned stage and crowd safety barriers to its expanding portfolio of clients.
Mojo Barriers US office has started the year supplying some diverse events, from installing crowd safety barriers to a large political event in Washington DC, WWE WrestleMania 33 in Orlando over the first weekend of April, to servicing the 27 date US tour for Eric Church. Mojo Barriers is still on the road with the Red Hot Chili Peppers and the team has just dispatched the touring barrier system for the five month The Weeknd tour.
The outdoor festival season began in March and witnessed Mojo supply over 500m of stage barrier to Okeechobee Music & Arts Festival in Florida, and over 300m of barrier to the New Orleans Jazz & Heritage Festival, the home of jazz, which it has supplied for many years.
Jordi van Berkum states:
"We are committed to continuing to give our existing clients Mojo Barriers' consistent high service levels, whilst expanding our equipment stocks. There is a growing awareness when it comes to the need for having a tried and trusted crowd or stage barrier system on an event, so we are also advising new clients on how best to use our barrier systems to keep their audiences, artists and crew safe."
Mojo's US Pennsylvania team is building on a successful 2016, when they supplied over 75 festivals, the ten biggest music tours including all 21 North American tour dates for the legendary American rock band, Guns N Roses' Not in this Lifetime Tour, and hundreds of rentals to some of the year's biggest events.
Mojo Barriers' Touring Treble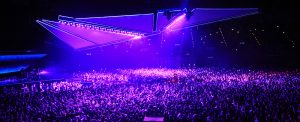 Mojo Barriers UK office has continued its winter touring season with a busy start to the year supplying its specially designed touring barrier to three major tours, January 2017.
Avenged Sevenfold kicked off their European arena tour on January 10th at Glasgow's SSE Hydro. Collaborating with the team behind Cirque du Soleil, the band took their stage production to the next level with projection mapping, giant inflatables and impressive visuals. Mojo Barriers supplied almost 100m of equipment for the UK and European tour dates, with a barrier configuration that contoured the additional thrust and B stage.
Mojo Barriers is also supplying an arena sized stage barrier system to all the UK and European tour dates of Kings of Leon's 'Walls' tour, starting on the 15th February at the Laxness Arena in Cologne. Mojo is also supplying the European and US legs of The Weeknd's Starboy: Legend of the Fall Tour which will begin on the 17th February at Stockholm's Ericsson Globe. With an impressive catwalk stage, Mojo is installing a number of supplementary products including diamond plates, vario corners and flex corners, to ensure the barrier configuration matches the contours of the stage.
Kevin Thorborn, Mojo Barriers' UK manager commented: "The touring market has always been an important one for us at Mojo Barriers, both internationally and in the UK, and we've witnessed major growth in this area over the last few years. As tours push the boundaries when it comes to stage shows and production we've seen an increased demand for our specifically designed touring barrier, which offers a more tour-friendly product whilst maintaining the highest levels of structural integrity and safety."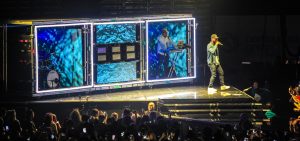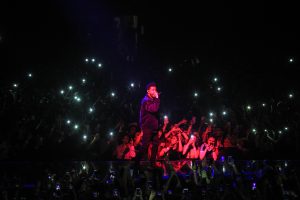 Red Hot Chilli Peppers 'The Getaway Tour'
The Red Hot Chilli Peppers began the European leg of their Getaway World Tour in September and we were asked to supply touring barriers for all 42 European tour dates.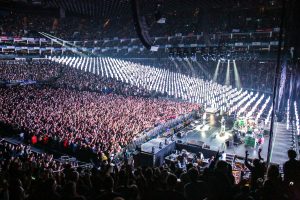 The band played some of the biggest arenas on the continent from Madrid and Barcelona to Vienna, Berlin and Stockholm, to promote their latest album. We supplied an arena sized Mojo stage barrier kit, for each of the 42 European show dates which took place in 26 venues, and which featured the largest automated kinetic light show in concert touring history.
The Californian band started their European tour at the Laszlo Papp Budapest Sports Arena and took their spectacular show to Amsterdam's Ziggo Dome, Franktfurt's Festhalle and Birmingham's Genting Arena.
The tour finished at the Dublin 3Arena on Wednesday 21st and the band will resume their epic trip around the world with a series of concerts back in the USA beginning in San Antonio on January 5.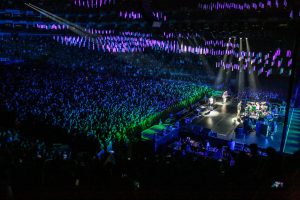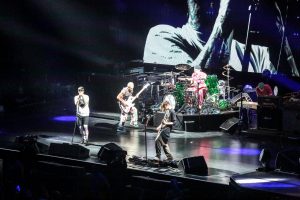 Bastille Wild World Tour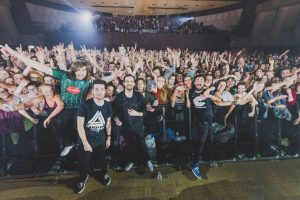 2016 saw Bastille embark on an arena tour to promote the launch of their latest album, Wild World, and we were called upon to ensure artist and audience safety at all 22 UK and European dates. 
Kicking off on the 28th October at Bournemouth BIC, the UK and European tour leg will run until 9th February where it will come to fruition at the Halle 662 in Zurich. We're supplying arena size kit, including stage barriers, flex corners, snake gates and metal cable ramps. As well as positioning barriers across the main stage, we've also designed a bespoke barrier configuration for the B-stage, to ensure continuity throughout each venue.
The tour has already visited 10 UK arenas including the Motorpoint Arena in Cardiff, The O2 in London, First Direct Arena in Leeds, the Barclaycard Arena in Birmingham and The SSE Hydro in Glasgow, and is now heading to Germany, Amsterdam, Switzerland, Spain, Sweden, Denmark and the Czech Republic.
Photo Credit: Joel Stanley/ Gregory Nolan Photography 
Success at Sziget Festival
Mojo Barriers was called upon to supply the main stage barrier, high fence and line-up gates to this year's Sziget Festival, which welcomed an increased capacity of over 90,000 people per day, 10-17 Aug.
Budapest once again played host to the week-long Sziget Festival, one of the largest music and cultural festivals in Europe, which this year boasted performances from Muse, Sia, Rihanna and Bastille. Following on from the success of its inaugural year supplying Sziget Festival, Mojo Barriers was once again called upon to supply 400m of barrier, 50m of High Fence and 20 line-up gates to the 2016 event. As well as stage barrier within the main stage arena and line-up gates throughout the festival site, Mojo also supplied its high fence to the main stage front-of-house in order to enhance security and improve the aesthetics of the structure. With a crew of 10-12 people, protect managed by Mojo's Rik Beulink, the install took one day.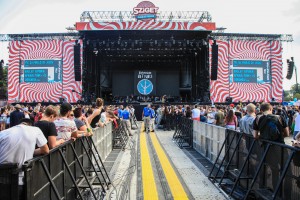 Mojo Barriers' Stanley Jilesen commented: "We first worked with Sziget Festival in 2015, introducing a breaker fence to the main stage to break up the audience and keep the pressure off the people at the front. This is something the organisers are really impressed with and it's worked really well to enhance the experience for the audience and help keep them as safe as possible.
"We're also on-hand throughout the event to make any modifications to the barrier configuration or supply any additional equipment. Two days ago Daniel called me and needed some line-up gates, so half an hour later the equipment was in a truck and on the way from Holland to Budapest. We always leave a project manager on site in case any changes are required, or if a band wishes to bring in some extra set which affects the barrier layout, such as a catwalk, and having one of our team on site means this can be quickly accommodated. It's great to work on such a progressive festival, one which has such a brilliant team and which is constantly evolving, and we look forward to building on our relationship in the future."
Daniel Benis, head of production commented: "Over the last few years, we have used barriers from our existing partners but couldn't beat the quality of Mojo Barriers neither in the equipment side nor on service side. In the last few years nearly all riders have placed greater emphasis upon crowd controlling issues and Mojo Barriers are now seen as a standard, so we had to step up. Mojo's services and equipment has solved all our problems, and any incoming production manager knows what they are getting when they see Mojo Barriers. Regarding the Hungarian regulations and crowd controlling issues, we had to find a solution to help improve the circulation of the crowds, in terms of normal flow and also in case of heavy crowds. Our security teams were also really satisfied with this."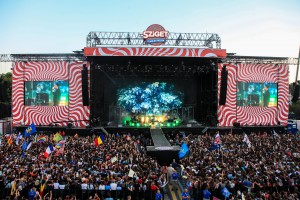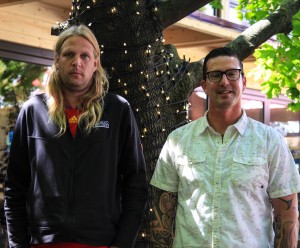 Home Treble for Mojo Barriers
More often servicing a plethora of global events, Mojo Barriers experienced one of the companies' busiest periods on its own soil, with three consecutive weekends of huge occasions, May 2016.
The first of these significant projects was King's Day: Netherlands national holiday in honour of King Willem-Alexander. King's Day celebrations ran throughout The Netherlands, saw Mojo Barriers keeping the crowds safe at 16 events across the seven cities of Zwolle, Rotterdam, Amsterdam, Eindhoven, Alkmaar, Groningen and Den Bosch. The most popular destination was Amsterdam, where 750,000 visitors joined the 822,000 plus locals for the world's largest street party.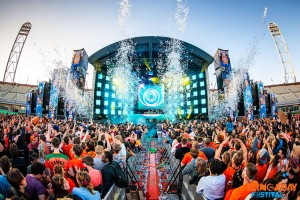 In recent years Amsterdam authorities have introduced several successful measures to stem the flow of visitors as the city was becoming too congested. Effective crowd management plans, coupled with relocating stages and creating ticket only areas to limit capacity have improved crowd safety. In total Mojo Barriers deployed 1,800m barriers, along with 91 Line Up Gates, 780 Bar Barriers and eight Gatekeeper turnstiles.
The following weekend brought Liberation Day, a national day of celebration with a wide variety of entertainment and events taking place to commemorate the liberation of The Netherlands during World War II. Mojo Barriers supplied Liberation Day festivals' with 1,000 barriers, 26 Gatekeepers, 90 Line Up gates across seven cities: Haarlem, Zwolle, Groningen, Wageningen, Rotterdam, Utrecht and Den Haag.
In anticipation of the hotly predicted Championship victory celebrations, Mojo Barriers' team loaded in loaded 900 barriers and specials for the expected Ajax celebrations on the 8th of May. But with final day unexpected twists on the pitch PSV Eindhoven retained the Dutch title, leapfrogging Ajax on a dramatic final day in the Eredivisie. Mojo dispatched a team of 16 people to take out the Ajax barriers and move to the new location. A long day began with a 5am load at two sites. At the railway station 115 units plus 20 Line Up gates were installed, while at Arena Park 785 units including gates, high-fence and 16 mega exit doors were ready by 1pm, for the fans arriving ahead of the 4pm show. Mojo's team began load out at 9.30pm and the sites were clear by 2am, minimising disruption for the city.
Mojo Barriers' director Alex Borger states:
"This was a logistically challenging run of projects. Beginning with King's Day covering multiple urban event sites, we were always working to tight deadline to minimise disruption to normal city life. We have worked with the King's Day organisers for many years, and that experience is valuable for everyone involved. But this year our whole team, led by Erwin Sprengers, Stanley Jilesen, account managers, Rik Beulink and Gijs de Snoo deserve huge credit, as we went straight into the Liberation Day and then onto PSV's football Championship celebrations. All of this coincides with supplying barrier to AC / DC and Bruce Springsteen European tours, leading into an unbelievably busy summer of festivals."
Photo courtesy of Everfest and Iamsterdam.
Mojo chosen for Macklemore & Ryan Lewis
Mojo Barriers supplied 75m of barrier and 20 Vario Corners to the UK and European tour dates of Macklemore & Ryan Lewis' latest tour, April 2016.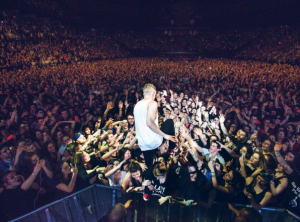 Following the release of their album 'This Unruly Mess I've Made', Macklemore & Ryan Lewis embarked on their first tour in two years. The impressive production saw the creation of a bespoke stage design which facilitated their energetic performances and enabled them to get as close as possible to their fans.
Due to the complex shape of the stage 75m of barrier and 20 Mojo Vario Corners were required to give flexibility when it came to matching its shape and contours, whilst ensuring the upmost safety at the UK and European dates.
Mojo Barriers UK manager Kevin Thorborn commented: "This is the first time we have worked with Macklemore and production manager Chris Fussell, and they are extremely knowledgeable of our products. We dry hired our barriers, meaning we didn't need to supply any crew with the tour; however we were on hand throughout to answer any questions that arose. The effort that went into the production was huge and this really shines through, it's been a really great tour."
Photo credit: Zoe Rain