Jan 2009 Mojo Barriers celebrates 21st anniversary with Gatekeeper launch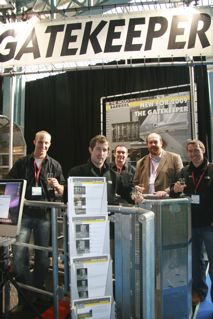 The international crowd safety barriers specialist Mojo Barriers celebrates 21 years of business with the international launch of an innovative new product, Gatekeeper.
Gatekeeper is a smart turnstile system with proprietary software, designed to improve crowd safety at events. By counting the number of people entering and leaving a controlled event area through multiple exits, it monitors and automatically controls the capacity in real time.
The worldwide launch of Gatekeeper took place at The Event Show, Olympia, London this January.
"Gatekeeper meets a long-standing demand of promotors and public event organizers everywhere in the world," said Patrick Jordan, Managing Director of Mojo Barriers. "Until now, there has been no way of measuring the exact size of a crowd entering or leaving a public space through many different gates. Gatekeeper can keep track of the number of people in any controlled space, allowing organizers to prevent overcrowding event at a free, ticketless event."
In addition, the company has also merged with the established London-based company Marathon Barriers, which specializes in pedestrian barrier and rope and pole facilities for "red carpet" events.
"Marathon enhances Mojo Barriers' ability to provide a wider range of barriers and crowd control facility in the UK," says Patrick Jordan, "We are excited about the possibilities the new purchase affords us in this market."