Sep 2006 Mojo Barriers MD Patrick Jordan awarded an Honorary Doctorate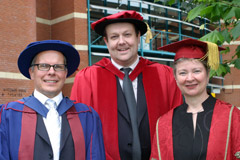 It would be fair to say that the live music industry is taking a long time to achieve a national, let alone international, set of qualifications that can be held up by production professionals as globally recognized proof of competence.
Significant advances have been made over the past decade on several fronts, the PSA is working to introduce several initiatives and there are numerous courses now establishing themselves in different sectors. Going back over the past few years Total Production has reported how Buckinghamshire Chilterns University College (BCUC) has established itself as an academic centre of excellence, offering a wide range of courses for full-time and vocational students. 
Whilst hundreds of young graduates received their qualifications this September to begin their careers in the live entertainment industry, the college paid the largest possible tribute to the more mature figure of Patrick Jordan, MD of Mojo Barriers. He was awarded with an honorary doctorate in recognition for the significant contribution made to research into crowd safety at live events over recent years. 
Accepting his award (Dr) Patrick Jordan said:
"I'm very proud for everyone at Mojo and my family who have supported me over the years. It has been inspiring for Mojo Barriers to partner the team at BCUC and undertake meaningful research that will make a real difference to health & safety at live concerts and festivals. Whilst everyone in the (production) industry has a theory on the best way of doing things, I am looking forwards to continuing our research so that eventually there will be a bank of reference materials that will help site, tour and production managers to make informed decisions with some scientific data to guide them." 
Professor Chris kemp, Dean of the Faculty for Leisure and Tourism at BCUC was introduced to Patrick (Jordan) by Mick Upton(founder of Showsec and pioneer of industry training) several years ago.
Chris (Kemp) told Total Production:
"Mojo Barriers has developed their Barrier Load Monitor System (BLMS) in 2004 to measure the pressures exerted on (Mojo aluminium) stage barriers and we started on the common ground of exploring how the BLMS system could be used as a research tool to improve safety at live events. "
"I was immediately impressed that Patrick prioritized improving safety at events over the simple commercial aspects of making money, and since those early exploratory discussions he has backed up that sentiment consistently by actions. Two very important facets Patrick has contributed towards the success of our research have been his honest commitment to everything we set out to do with patrick has moved off the paper and been done, and secondly, everything we worked on has been finalized to a meaningful conclusion. 
"This Honorary Doctorate recognizes the incredible level of his support to achieve effective academic studies to better understand crowd dynamics, and improve safety at events. The support and partnership we have developed with companies such as Mojo Barriers working at the 'coalface' of the events industry is very important for BCUC in developing relevant qualifications to prepare our students as best we can for the 'real World'." 
"Patrick has been invaluable in opening doors for us to key people in the music industry. We have taken measurements at over fifty festivals and concerts across Europe in conjunction with crowd studies for analysis through those connections. For example, Melvin Benn, Director f the Carling Reading and Leeds Festivals, has bent over backwards to help us in our aim to pinpoint anomalies at festivals to make them safer. We have worked with Mojo Barriers at both of Melvin's events over the past two years to monitor the relationships of crowd behavior, pressures in front of the stage and the effects on the wellbeing of the fans. "
"I think that people had (and maybe still have) concerns that we are trying to over-sanitise concerts, which is definitely not the case. We want to identify elements that can be safer at concerts but we definitely don't want to spoil the public having fun and take away the unique atmospheres generated at live events."
"What has become glaringly evident through our research id that, more than any piece of equipment, good management systems are the key to safer concert environments in the areas of event management and crowd management.
"It is very difficult to identify exactly when an event is safe. The type of people working is paramount and the way an effective infrastructure is created, such as barriers, structures and temporary flooring. The barrier configuration is key and will only be successful if the festival has the right management to employ the right barrier design for the right situation.
"At BCUC we have recently developed a CAD CAM system that allows our research teams to input multiple variables to test barriers with different models, which helps people choose the right barrier configuration for their event.
"The BLMS has given us the ability to triangulate evidence with photos/video and questionnaires so that we have been able to start building a database of that happened at a set of concerts and festivals under a range of real conditions. This allows for intelligent predications for effective risk assessment of the pit barrier area and how it is managed. At Reading (festival) the safety officer was very thorough, and took his risk assessment and vigilance during the event down to the level of every individual working in and around that area, from security personnel to the BBC staff and even included our own researchers. 
"Our findings and conclusions to date after two years working with the BLMS will be published in time for the 2007 ILMC in London, and we are collaborating with event professionals in the 'EUROPE Group' to develop the delivery of improved health & safety to live events. 
"These are exciting times and we are looking towards the coming years. We are hoping to create an extension of the centre at BCUC by having a working BLMS system on-site, to help us research to effects of crowd pressures and crowd movement.