May 2012 New Orleans keeps record festival crowds safe with Mojo Barriers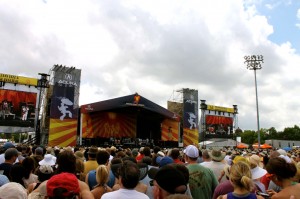 Mojo Barriers US office supplied 624ft of aluminium barriers to the New Orleans Jazz and Heritage Festival, 26th April – 5th May, 2012.
The legendary New Orleans festival is a celebration of the unique music tradition and culture of New Orleans with a strong Mardi Gras feel and a vast array of music, food and arts.  Over 65,000 fans were in attendance at the festival's main Acura stage for the return of Bruce Springsteen and his veteran E Street band, whilst another 11 stages hosted a variety of music from blues to gospel, Caribbean to folk, and rock'n'roll to jazz.
Mojo Barriers supplied 624ft of its proprietary aluminium stage barrier across Congo, Gentilly and Acura – three of the festival's main stages.  The barrier configurations at certain stages were moved and amended on a daily basis to accommodate different sized crowds.  The light-weight design of the barrier allowed crew to make changes quickly, completing the job within tight time constraints. 
Mojo Barriers US President J.B. Dolphin comments:
"With such a high attendance this year the organisers, The New Orleans Jazz and Heritage Foundation, had a strong focus on crowd safety and the flow of the audience from one area to another. We worked closely with them to install bespoke barrier configurations across three stages. We've worked with the festival for six years and it's great to be a part of such a culturally rich event and see the growth and progression of the festival."