Aug 2006 Rolling Stones make 'Bigger Bang' with Mojo Barriers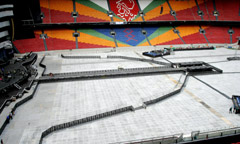 The current sell-out Rolling Stones tour, a Bigger Bang, reached the shores of the UK in August 2006, with a spectacular production incorporating 350 meters of Mojo Aluminium Barriers.
Mojo Barriers MD Patrick Jordan explained: "In May 2005 Jake Berry (Production Director) approached us to supply the Rolling Stones with our barriers for their US dates starting in August 2005. Having worked with the (Rolling) Stones before, we were delighted to be awarded the contract to supply barriers for the whole Bigger Bang World Tour. Due to commitments with U2, Jake passed the roll of the tour production manager to Dale 'Opie" Skjerseth to look after the daily business on the road."
Mojo Barriers supplied 220 meters of black aluminium Mojo Barriers for the US stadium shows. This allowed Opie to create a specially shaped barrier in front of the stage that extended around the thrust that incorporated a b-stage area situated 40m from the main stage.
From August to December the band played both stadiums and arenas across the US. For the indoor shows they used 120 meters of black aluminium Mojo Barriers. After the Christmas break they took the indoor system for a run of shows in de US and South America, one of the shows being a huge free concert on Copacabana Beach to nearly two million fans. After the final US show in New York, in March 2006, the barrier system was shipped to Europe.
For the shows in Japan, Australia and New Zealand, Mojo Barriers supplied three separate systems of 250 meters of steel Mojo Barriers. These barriers are based in Australia normally, operated by ESS Australia, who worked in conjunction with the team at Mojo's head office in Holland to ensure everything ran smoothly. 
The band was scheduled for Europe when the 'coconut hit the fan'… and Keith Richards took his well documented tumble from a coconut tree. This meant that shows had to be rescheduled (or cancelled in some cases) and the Mojo Barriers team worked closely with Opie on logistics  to work out a series of contingencies to store and move the barriers during the peak of the outdoor festival and concert season. 
When the tour finally kicked off again in early July, Mojo Barriers supplied 350 meters of black aluminium Mojo Barriers for their 17 European Stadium Shows, (pictured here in Amsterdam Arena).
Mojo Barriers has been contracted by Opie to send the 220 meters of black aluminium Mojo Barriers from Europe back to the States, as they are have added another US leg to the tour, consisting of stadiums and a few arenas, starting in September and ending on Thanksgiving in Hawaii.
Opie commented: "I have worked with Mojo Barriers for a long time with lots of artists and they've always given me excellent service. I like the fact that we work out how we're going to do the tour and once decisions are made they make sure it happens at every show without me having to get involved, they just get on and solve any problems. You know what you're going to get: good barriers and consistently good service with some-one always available if we need support."