Mar 2008 Mojo Barriers' Big Day Out down under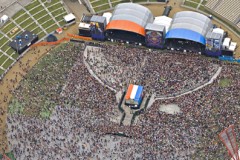 The international barrier specialist Mojo Barriers has consolidated its position in the Australasian and Far Eastern markets this year by helping Australia's Big Day Out festival series to develop a safer configuration of barriers at this unique event.
The Big Day Out, which runs in five Australian cities (plus Auckland, New Zealand) during January and February, is known for its unusual stage layout, featuring two main stages side by side. One stage is silent while and act plays on the other stage, offering a high turnaround of artists but presenting a number of challenges to the crowd management team, of which Mojo Barriers are an integral part. 
Mojo Barriers\ system allowed the festival organisers to control crowd sizes in front of the two stages and monitor the flow of people between acts. "The Production Director of Big Day out, Matt Doherty and his colleague Jeff Gray designed a barrier configuration in the shape of a 'D', which allowed stewards to control the number of people within the barriers," says Alex Borger, Mojo Barriers' Account Manager for the Australian marker. "Our diversity of product made it possible to work that design out." 
The company worked with their partners in Australia, ESS Australia, to ensure that the staging and barrier set up were built on time and on budget for all of the six festival days. In all, Mojo Barriers supplied 400 meters of barrier for the main stages and a further 100 meters to the ancillary stages. "It is the high level of service we deliver and the high quality and diversity of our product that makes us the biggest supplier of barriers in Australia," says Alex. "Outside Europe we work with local distributors, who store and deliver our equipment. We have a reliable agent in ESS Australia." 
"ESS Australia not only supplies the barrier for Big Day Out," says Iain Barclay, Managing Director, ESS Australia. "We also send an experienced crew on tour to lead the installation of the system for each show. We provide a full barrier service to the festival. The demand for Mojo Barriers in Australia grows every year – each summer is a sell-out, and the off-seasons just keep getting stronger."