Mojo Barriers announces Spanish distributor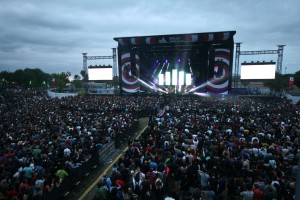 Mojo Barriers has announced Sensei Producciones, as part of Live Nation Barcelona, as its first exclusive Spanish distributor; building on the company's success providing its patented barrier systems across the country, July 2013.  
Sensei's director Kata has worked in the Spanish production industry for over 30 years on major tours and festivals. An admirer of Mojo Barriers' system since it was first developed by John Mulder in Holland in 1988, Kata was announced as official Spanish distributor earlier this month.
 Kata comments: "Mojo Barriers are known for being the very best at what they do. There are many suppliers throughout the world who have tried to copy their crowd barrier equipment but there is only one original.  They are the first and most trusted crowd safety experts and I'm confident that that every event I put on will be as safe as it can be now that we have their equipment and expertise within our company. I've wanted to become a distributor for many years and I am pleased that it is now official."
Over 200m of stock will be located in Sensei's offices in Madrid, supplemented by Mojo Barrier's European stock when necessary. The first events of the partnership are Primavera Sound and Sonisphere Festivals along with BBK Bilbao Live and Festival International Benicassim later in July.
Cees Muurling, Mojo Barriers managing director, commented: "Building on the company's expanding presence in Spain we are very pleased to be working with Sensei Producciones. This partnership means we can now offer more stock, and faster and more cost efficient service to our Spanish clients. We now have an international network of 14 distributors and offices, and are continuing look to new and emerging markets."