March 2012 Mojo Barriers show off its moves at UK's first ZUMBA® instructor conference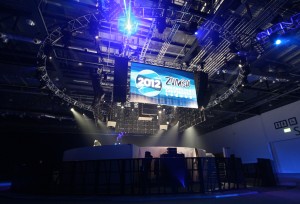 Mojo Barriers supplied 80m of its black aluminium barriers at the UK's inaugural 2012 Zumba® Instructor Conference held at ExCeL London, ensuring the safety of thousands of ZIN™ (Zumba Instructor Network) members visiting the event from all over the world, 24-26th February 2012.
The three-day conference was hosted by global lifestyle brand, Zumba Fitness®, and brings ZIN™ members together for high-energy gatherings in cities across the world.
Mojo Barriers implemented a circular barrier configuration in Hall S10 at ExCeL which surrounded the stage, which showcased performances of the fast paced and energetic Zumbathon® Fitness-Concert™ on the first evening of the event. The Mojo team then reassembled the barriers immediately after to construct a rectangular barrier formation encompassing a new stage for the Carnival-themed party the following evening.
Kevin Thorborn, Mojo Barriers UK Manager supervised the project and liaised with event organisers George P Johnson's production manager Mark Bannister and Groundwork  Events' production manager Dave Wright months prior to the event.  
Kevin explains; "It was an incredibly high profile event being the first one of its kind in the UK. There were many aspects to this project, which involved detailed forward planning with the event organisers regarding site layout, aesthetics and the quick turnover requirements for dismantling and rebuilding barriers formations."