Building on 2016 Success for Mojo Barriers US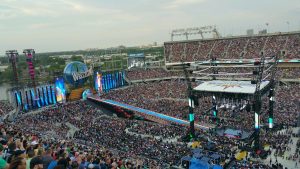 A new look Mojo Barriers US office, with Jordi van Berkum at the helm, has assembled an experienced team to ensure the company continues to offer its world renowned stage and crowd safety barriers to its expanding portfolio of clients.
Mojo Barriers US office has started the year supplying some diverse events, from installing crowd safety barriers to a large political event in Washington DC, WWE WrestleMania 33 in Orlando over the first weekend of April, to servicing the 27 date US tour for Eric Church. Mojo Barriers is still on the road with the Red Hot Chili Peppers and the team has just dispatched the touring barrier system for the five month The Weeknd tour.
The outdoor festival season began in March and witnessed Mojo supply over 500m of stage barrier to Okeechobee Music & Arts Festival in Florida, and over 300m of barrier to the New Orleans Jazz & Heritage Festival, the home of jazz, which it has supplied for many years.
Jordi van Berkum states:
"We are committed to continuing to give our existing clients Mojo Barriers' consistent high service levels, whilst expanding our equipment stocks. There is a growing awareness when it comes to the need for having a tried and trusted crowd or stage barrier system on an event, so we are also advising new clients on how best to use our barrier systems to keep their audiences, artists and crew safe."
Mojo's US Pennsylvania team is building on a successful 2016, when they supplied over 75 festivals, the ten biggest music tours including all 21 North American tour dates for the legendary American rock band, Guns N Roses' Not in this Lifetime Tour, and hundreds of rentals to some of the year's biggest events.
Mojo Barriers Supply Muse World Tour
Muse is the latest band to benefit from Mojo Barriers' specially-designed touring barrier as 160m of the system keeps crowds safe throughout 'The Drones World Tour'.
Mojo Barriers was contracted to ensure audience and artist safety at all the US and European dates of Muse's nine month tour. Mojo supplied 160m of barrier, ADA and heavy duty cable ramps along with custom designed Double Flex Corners to allow the Muse production team to pass cabling under the barriers safely.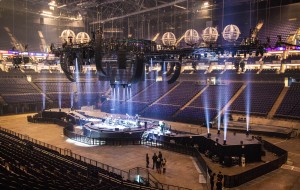 Mojo's JB Dolphin and John Wagoner oversaw all 27 Mexican and North American dates, whilst Stanley Jilesen oversaw the 50 shows in Europe. Muse played in the round, with a circular stage in the middle with two catwalks at either end. To compliment the unique stage layout, Mojo's Vario Corners were widely used to work with the contours of the stage. The tour has been celebrated for its use of the latest drone technology by Motion Business, who worked with the production team to fly giant drones above the audience throughout the show.
Mojo US' John Wagoner comments: "The Drones World Tour has been groundbreaking with the bands use of technology and we're proud to have been involved with such a spectacular production. During rehearsals the production team had some last minute changes that augmented the barrier layout, however we were able to deploy the crucial parts to accommodate these changes and ensure the tour didn't miss a beat."
Mojo's Stanley Jilesen comments: "Muse's stage design allows the band to offer greater intimacy and get as close as possible to their fans. We were able to accommodate this layout using specialist equipment from our stock list,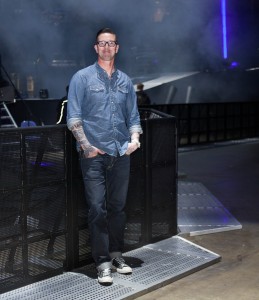 as well as custom designed barrier pieces, which enabled us to install the desired barrier configuration. Muse's use of technology within their stage show has enabled them to produce a truly brilliant spectacle and we're proud to play a part in this." 
Chris Kansy, production manager commented: "Muse's Drones World Tour isn't a straightforward one-size fits all show. The tour is sculpted around a bespoke stage layout with multiple entrances and multiple cable routing in and out. The set up depends on a number of factors including the venue, where the band enters and how we need to feed equipment in and out of it. We rely on carrying a range of spare equipment Mojo Barriers has supplied us to enable us to adopt the configuration that we need for the show, and having the right parts to do this is important.
"My relationship with Mojo Barriers has been a long one and I have huge trust in the team and their kit. Mojo understand our requirements and have gone out of their way to ensure we have all the special corners and gates needed to stage this impressive show."
The Drones World Tour officially begun on the 17 November 2015 in Mexico's Palacio de Los Deportes and will end at Hungary's Sziget Festival on the 10 August 2016.
Mojo Barriers designs new high fence product for the G20 summit
A brand new reinforced barrier system was designed by Mojo Barriers to help keep politicians, dignitaries and heads of state including Barack Obama and David Cameron safe during the G20 Leaders' Summit in Brisbane, Australia from 15-16 November 2014.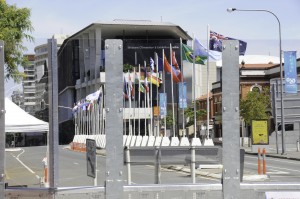 With over 4,000 delegates and 3,000 media descending on Brisbane to discuss a wide range of global economic issues, the system was required to create restricted zones across the city and form protective walls around the event's venues, including the Brisbane Convention and Exhibition Centre.
Coates Hire contracted Mojo Barriers to supply and install a unique barrier solution as specified by police and government officials. The resulting product, High Fence, consists of 1m wide and 2.4m high sections of reinforced aluminium barrier – the standard crowd control equipment from Mojo's product range – with a see-through Polycarbonate upper, which is a durable and high impact resistance material, easily withstanding destructive attacks.
Over 2,000m of the product was installed across the city by the company's Australian team. Doors and gates were also manufactured which integrated into the barrier line, to ensure fire safety and access and egress regulations could be met.
Cees Muurling, managing director at Mojo Barriers, explains: "The brief was to create a product to act as a deterrent and keep the public out of restricted areas. High Fence is quick and simple to install, exceptionally strong and durable and the clear upper section gives security personnel uninterrupted views of the surrounding areas. Its unique aspect is that it is not weighted or pinned to the ground, therefore is completely self supporting, and can withstand significant crowd pressure and deliberate attempts to breach the barrier line.
 "It underwent extreme testing against pressure and targeted attacks. It was proven to be extremely strong and is the ideal solution for events and occasions where crowd and building segregation is an integral part of the security process."
The installation for the G20 was one of the toughest on Mojo's records, with limited overnight shifts to install all barriers and transparent panels, snaking in a complex grid across the city.
Craig Edwards, Mojo Barriers' Australian operations and account manager, explains: "The tough timeframe and sheer scale of the operation meant it was the most complex and challenging project the Australian Mojo office has faced to date. We assembled a skilled team of nine local and international supervisors, managed over fifty truck movements and directed a crew of over one-hundred hands. Coordinating simultaneous legs of the installation required accurate planning."
Over 2,500m of the product is now available to the international event, security and police industries. Cees Muurling expresses the importance the product will play in opening up a new market sector for the company, which was established 25 years ago and is a global leader in the supply of state of the art crowd control solutions to festivals, tours, concerts and live events.
He says: "Post event, we will have 2,500 metres of High Fence available across all of Mojo Barriers' offices; UK, Europe, Australia and the USA. It's ideal for the police, security and protection industries as well as future political, government and cultural events. We've already had interest from parties across these sectors."
High Fence is aesthetically attractive compared to the usual perimeter fencing used at major events and this was essential considering the media and broadcast attention garnered by the Summit.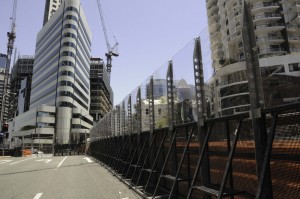 MOJO BARRIERS ENTRUSTED BY MCBUSTED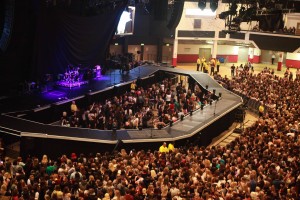 Mojo Barriers is keeping McBusted's screaming fans safe as the British supergroup heads across the UK on its first ever arena tour.
The tour sees members of boy bands Busted and McFly join forces to perform hits from both of their back catalogues, including Air Hostess (Busted), Five Colours in Her Hair (McFly), What I go to School For (Busted) and Shine A Light (McFly).
Originally planned for just 11 dates, it's now on the road for 34 in total, running until June 2014. Mojo Barriers has been contracted by Live Nation's promoter's rep Max Burnham from iBurnham Ltd, to provide the safety barriers for every date.
 Kevin Thorborn, Mojo Barriers' UK general manager, comments: "Touring has always been an important market for Mojo Barriers internationally, and in the UK we've seen significant growth in the area this year, also winning contracts for Katy Perry, Justin Timberlake and Miley Cyrus.
"For McBusted we have a full time Mojo Barriers crew member – Kosta Chaparov – out on the road with the production team, ensuring smooth and safe installation at every venue. We work regularly in many of the venues already, which has been a great help in ensuring that we can load in and out quickly and play our part in keeping the smooth running of the tour. This is vital with so many back-to-back dates."
Working to CAD drawings Mojo is providing 48m of standard aluminium barriers and corners configured to form a golden circle which is situated inside the curved catwalk, alongside a secondary barrier line. A further 40m is used on the C-stage.
Max Burnham commented: "Mojo Barriers are the industry standard. They're the first people you go to because you know they're going to turn up, they've got proper, trustworthy kit and they've got people who have been doing it for years. They work well with touring productions because they understand the difficulties of running a show and work alongside you to overcome them. Kosta has been brilliant too; he's become part of our crew. Working with Mojo gives you peace of mind."
Lollapalooza gets a new layout with Mojo Barriers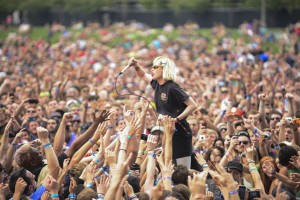 Mojo Barriers' US office designed and installed a brand new barricade layout at this year's Lollapalooza Festival, ensuring the highest levels of safety for audiences, crew and artists, 1-4 August 2013. 
Chicago's Grant Park became home to the festival once again with performances from The Cure, Mumford & Sons, The Killers and Nine Inch Nails keeping the 90,000 capacity crowds entertained.
The Mojo team worked with festival producers C3 and NPB Security to assess the site layout and predicted crowd movements, designing new configurations across the two main stages.
Mojo Barriers' US President, J.B. Dolphin, comments: "We used 660m of our patented aluminium barricade, implementing a new layout which consisted of a thrust leading to an off-center front of house.
"This not only improved the safety – giving additional space for security and crew – but also opened up the sightlines, ensuring the best possible views for the audience, which was one of our main aims when planning this year's event."
Mojo Barriers has supplied Lollapalooza for the past three years, and works with C3 to deliver other flagship US festivals including Austin City Limits. 
20 Years & counting for Mojo Barriers and The Rolling Stones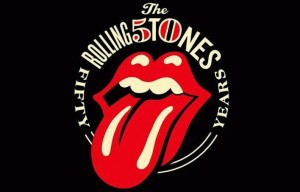 Mojo Barriers is back on tour with the Rolling Stones in the US, providing barricade for the band's 50 & Counting Tour, June 2013.
The two month tour kicked off at the Los Angeles STAPLES Center on 3rd May and runs until 24th June at the Verizon Centre Washington DC. Mojo Barriers is providing its standard aluminium barrier across all North American dates.
J.B. Dolphin, Mojo Barriers US President, said: "Mojo Barriers has a long-standing relationship with the Rolling Stones stretching back to when the company was first set up in 1988 – over 20 years ago .From indoor arena tours like this one where we're providing dry hire, to stadium tours such as their 2006 Bigger Bang tour where we provided 350m of barriers, we're always pleased to be involved with the Stones and their production team."