Mojo Scoop Best Crowd/Pit Barrier at The Festival Supplier Awards
We're thrilled to have been awarded 'Best Crowd/Pit Barrier' at the Festival supplier Awards 2016. Following an incredible year at Mojo Barriers, it was our bespoke barrier configuration at BoomTown Fair 2015 that scooped up this prestigious award, beating off tough competition.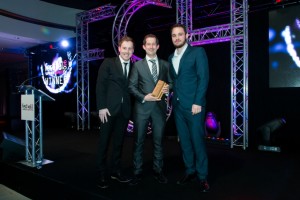 With the judges commenting that Mojo Barriers "always seems to be at the forefront of new developments", we're proud to be recognised for our innovation and continuous product development.
The awards took place at the Hurlingham Club, London on the 28th January 2016, and UK manager Kevin Thorborn was on hand to collect the award from comedian Andrew Ryan.
Kevin Thorborn comments: "We're honoured to have been awarded best crowd/ pit barrier at this year's Festival Supplier Awards and this win reflects the hard work and innovation of the team at Mojo Barriers. It's brilliant to be part of such a great team and to have the privilege to work on some of the world's best events. We want to thank the FSA for this accolade and for helping to showcase and celebrate all the behind the scenes work that goes into UK's festivals. We look forward to another brilliant year."