Mojo Barriers Australia heads to Southeast Asia with Metallica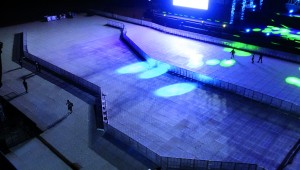 Mojo Barriers' Australian office was called in by Metallica to provide extensive stage barriers for the Southeast Asia leg of the band's Through the Never tour, 21-25 August 2013.
The rock legends played Stadium Merdeka in Kuala Lumpur, Malaysia and Changi Exhibition Centre in Singapore before heading to Gelora Bung Karno Stadium in Jakarta, Indonesia.
Metallica's last show in Indonesia was in 1993, when they were touring their fifth studio album 'Black'. At the peak of their popularity, the hype surrounding the concert resulted in the crowd rioting.
Two decades on, and the bands first time back in Indonesia, Metallica's production teams contracted Mojo Barriers to design  a bespoke barrier configuration using its patented aluminium system, which was then adapted  for the other two dates.
Cees Muurling, Mojo Barriers' managing director, says: "Safety for Metallica has always been paramount, but more attention than ever was focussed on these dates due to past incidents. We have a very longstanding relationship with the band and production, ensuring the highest level of safety for audience, crew and band members.
"We have supplied nearly every single US, Europe and Middle East tour dates for many years now and our recently-opened office in Australia (established October 2012) meant that we are now logistically better able to service tour dates in Southeast Asia too."  
The Mojo Barriers Australia team, led by project manager Craig Edwards, provided one system for Kuala Lumpur and Singapore which consisted of 226 metre-long sections. The system included gates and corners so its shape could be adapted for the needs of each venue.
Malaysia:  For the Kuala Lumpur date Mojo worked with organisers Galaxy to create a configuration that would cater to three different ticket sales. Mojo demonstrated how barriers can be used to safely and easily section off individual areas, creating a 2,000-capacity VIP pit in front of the stage, a curved line behind this for the 2,500 mid-level tickets with the remaining 4,000 capacity from front of house (FOH) back. Total capacity for the gig, including tiered seating, was 25,000.
Singapore:  The Singapore date offered two ticket prices, with Mojo Barriers configuring an open passive D in front of the stage to hold 15,000 with a straight line running behind the FOH tower to create a safe area for a further 15,000 fans. Client was Lamcproductions.
Indonesia: The Jakarta show saw Mojo work with Black Rock Entertainment and add an additional 88m added to the stage barrier system. With one ticket price for the entire 25,000 capacity standing crowd (total show capacity 54,000), an open passive D shape was installed. The first line was located in front of the stage security pit with a further two lines angled 16m apart to encourage an even crowd flow, whilst maintaining sight lines of the stage.  
Craig Edwards, Mojo Barriers project manager, comments: "Having the equipment based in Australia, and it being out of our main festival season meant we were able to supply a large amount of equipment quickly and efficiently, meeting some very tight time constraints.
"It's coming up to the first anniversary of the Mojo Barriers Australia office and it has been a huge success. These dates in Southeast Asia demonstrate the impact our expansion has had not just on the local Australian market but also surrounding countries which now benefit more easily from Mojo Barriers' trusted crowd control knowledge and products."