Aug 2011 Lollapalooza Festival first for Mojo Barriers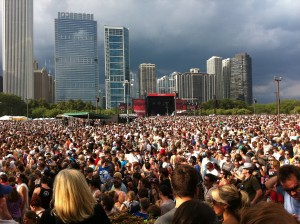 Mojo Barriers designed and installed a new stage barrier configuration to improve site safety at this year's Lollapalooza Festival in Chicago, Illinois from 5th – 7th August 2011.
The festival saw global stars including Eminem, Foo Fighters, Coldplay and Muse take to the stage and perform to crowds of up to 90,000 people each day.
Mojo worked closely with festival organisers C3 Presents and security specialists NPB prior to the event to design the new layout which improved crowd safety in front of the two main stages, whilst also creating an effective working space for show security and isolating the stage from the audience.
Both stage layouts were comprised of 500m of Mojo's industry-leading stage barrier with a 140ft thrust leading to the front-of-stage tower, giving security and working personal excellent access.
JB Dolphin, Mojo's US president said: "
"Our unique barrier system is designed to be highly adaptable and we offer a wide range of additions such as curved sections, corners and gates, meaning that our designs can be completely tailored no matter what the site requirements. This was particularly useful at Lollapalooza as one of the main stages is on hilly ground. This was our first year working for the festival and the partnership was a huge success for all involved."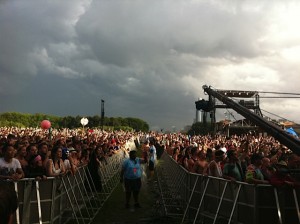 Following Lollapalooza C3 Presents awarded Mojo the contract for Austin City Limits, a music festival which took place in September in Texas. Mojo's Jack Hayes managed the project.