Mojo Barriers appoints New Budapest Distributor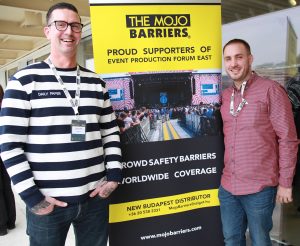 A range of Mojo Barriers aluminium crowd safety barriers are now based in Budapest with the announcement of a new Mojo distributor giving convenient, cost effective barrier rental for festival  organisers and tours coming to Eastern Europe, November 17th, 2017.
A stock of Mojo Barriers will be permanently located in Budapest for rental and it has already been hired out to create the front of stage barrier for the Gorillaz concert, 13th November in Budapest, Papp Laszlo Arena.
Mojo's project and touring manager Stanley Jilesen states:
"With the expanding live events market in Hungary and Eastern Europe, Mojo Barriers is proud to support organisers with local resource to help keep their events safe. Having worked with Sziget Festival for several years we are delighted to work with the innovators in this region pushing for higher standards." 
The new Hungarian distributorship is the company's 12th along with the international offices in Netherlands, UK, USA and Australia. Growing this global network strengthens the ability to support world tours with local resources whilst also making it easy for festivals and concerts in the region to hire the range of barriers. 
Dániel Benis, Sziget production director, comments:
"We wanted to deliver our events to the highest of international production standards, particularly when it came to the safety of our audience, artists and crew. Our experience with Mojo Barriers has been very positive so we are delighted to be able to offer their products to other events in the region."
Mojo Barriers celebrates 25 years with Lowlands Festival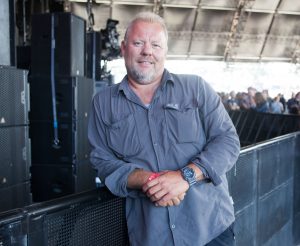 2017 was a landmark celebration for the organisers and suppliers of Lowlands Festival, where Mojo Barriers has kept crowds and artists safe at all 25 editions, August 17th – 20th, 2017.
A 60,000 sell out crowd were in attendance for a wide range of artists including Mumford & Sons, Iggy Pop, The XX, Cyprus Hill and Bastille across six stages. This year the main two Alpha and Bravo stages were newly designed and manufactured, creating impressive focal points on the creatively designed Biddinghuizen site.
Mojo Barriers account manager Erwin Sprenger states:
"This year is really special to see with all of the innovations on the festival and the 25th celebrations. I have worked on 17 Lowlands Festivals and even with all of the site developments this year it is one of the easiest projects I manage, thanks to the efficiency of the festival management team and local crews. We supply 600m of equipment but only two Mojo co-ordinators are required to manage the installation."
In addition to Mojo's aluminium front-of-stage barrier, a range of special corner barriers, mega-gates, line-up-gates and Gatekeeper turnstiles were installed across the site. The company also supplies its plastic Bar Barrier system for concessions and cable ramps.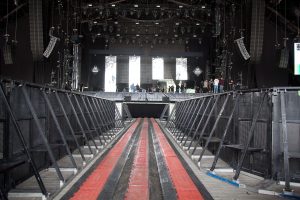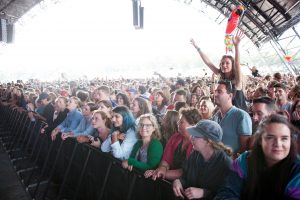 Mojo Barriers Australia Supplies Lorde on Cockatoo Island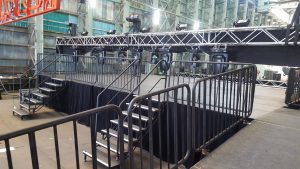 As the exclusive agents in New South Wales for PRO-STAGE, Mojo Barriers Australia supplied staging and risers in addition to stage barriers to Nova's Red Room Presents Lorde on Cockatoo Island, 7th July 2017.
Promoted by popular local radio station, Nova, 1,200 lucky fans were awarded tickets to Lorde's concert which took place at a secret venue; Cockatoo Island's Turbine Hall. The venue originally served as a ship building yard and dates back to the 1850's, and is now a UNESCO World Heritage Site.
This was Mojo's second event as distributors for Pro Stage in New South Wales for this client and at this location, following a Justin Bieber live performance where Mojo supplied media platforms and risers.
For Lorde's performance, Mojo Barriers supplied barrier for front of stage and front of house, along with emergency exit doors. Mojo also supplied a Pro Stage System for main stage at 1.4M in height, with a large access ramp and a tired Front of House Podium.
Being on a small island in the middle of Sydney Harbour gave its own specific challenges as Mojo Barriers Australia's project manager Sheena Edwards explains:
"The only way to reach Cockatoo Island is by catching a ferry across the harbour, which does present challenges when trying to get equipment to the site. All suppliers are ferried over from Sydney, however due to the size of the barge only one truck can fit at a time. Suppliers are ferried one by one and therefore a very tight production schedule had to be maintained to ensure we didn't miss our scheduled time slot and create delays for on-site crew waiting for equipment to arrive.
"Cockatoo Island is a beautiful UNESCO World Heritage Site and as we were working inside a listed building, we were required to be extremely careful when loading and unloading to ensure the building was not damaged by equipment or crew."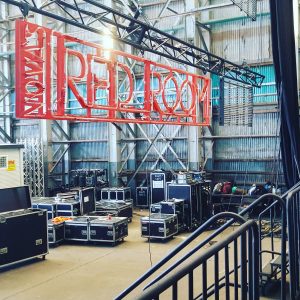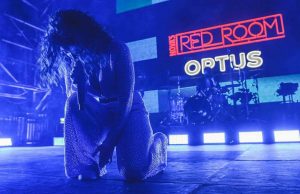 Mojo Barriers increase presence at Glastonbury Festival
For the 13th year Mojo Barriers supported the Glastonbury Festival, expanding their service to the world-famous event and introducing new systems to improve audience safety, 22-25 June, 2017
Once again 150,000 ticket holders made their way to Worthy Farm at Pilton, Somerset to enjoy performances from the likes of Radiohead, Foo Fighters, Ed Sheeran, Stormzy, Lorde and even Jeremy Corbyn joining hundreds of other acts spread across the 1,100 acre site.
Mojo supplied aluminium stage barriers to 16 of the stages at Glastonbury Festival 2017, delivering a total of 1,400 metres across the site, including at the new Death Metal stage in the Shangri La area.
Mojo Barriers' project manager Jim Gaffney has been a Glastonbury supplier for nearly quarter of a century and he has been at the core of developing the barrier configurations at the festival over the years, with 2017 no different. New for this year were 15 Line-up Gates and one Mega Gate in the south-east corner of the arena at the entrance leading to the campsite, which reduced the queuing at that bottleneck.
Mojo once again installed secondary barrier systems on the festival's two biggest stages: – The Pyramid Stage and Other Stage. The Pyramid Stage secondary system was introduced a few years' ago to help cope with the increased capacity for that area, whereas the Other Stage barrier system came in last year when changes were made to open up sight lines for the audience.
Jim Gaffney, Mojo Barriers' UK senior account manager, said: "The new gates we introduced at the south east corner worked perfectly and eradicated the problems that have occurred there in the past.
"The secondary systems for the Pyramid Stage and Other Stage once again gave the audience a safer event and also allowed security staff more access to the audience."
Jerry Milichip was the site manager for the Pyramid Stage this year. Jerry has overseen many events that Mojo Barriers have supplied so played a pivotal role in the smooth delivery of the barriers.
"Jerry and our crews work very well together," said Jim. "He understands the way we work and why we do certain things because of his experience with barriers. Having him in a senior role was a huge help as he had made all the ground preparations we needed and logistical details like having enough forklifts at the right time to make our installation quick and efficient."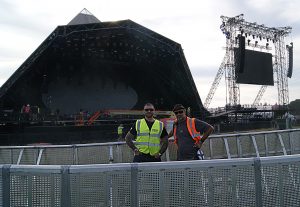 Mojo Barriers at Hellfest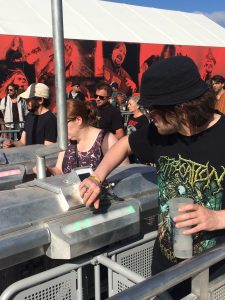 Mojo Barriers introduced its Gatekeeper temporary event turnstile system to Hellfest for the first time, June 2017, along with Mojo aluminium stage barriers keeping crowds safe.
Festival rock fans descended on Clisson, France for Hellfest Summer Open Air, enjoying performances from headliners Linkin' Park, Deep Purple, Aerosmith and many more. 
For its sixth year working with the festival, Mojo supplied over 800 meters of stage barriers, along with 200 meters of bar barriers. For the first time, the company installed 17 Gatekeepers to speed up entry to the festival site. To ensure smooth ingress, Mojo supported Intellitix, who integrated its RFID technology into the Gatekeepers for scanning wristbands at the entrances, enabling the fans to be ushered into the festival site more quickly and efficiently.
The Gatekeeper intelligent portable turnstiles link to a central computer system, which gives accurate capacity data and real time counting. It also incorporates full scanning capabilities and is compatible with any scanning methods.
Mojo Barriers Download Triple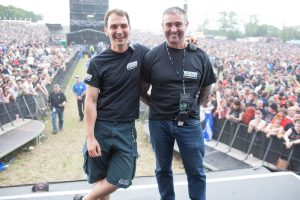 Mojo Barriers was contracted to install over 2,000m of front of stage barriers and bar barriers at three Download Festivals in the UK, France and Spain, June 2017.
Each country's Live Nation division were the promoters and clients, bringing in Mojo to keep rock fans safe through three days of performances by the world's top rock bands.
It was a welcome return to Donington Park's Download weekend, June 9th to 11th, in the UK for Mojo with Jim Gaffney, heralding Jim's return to the company as a senior account  manager.  Jim explained:
"I have managed the design and installation of the stage barriers at Download Festival since it began in 2003, where Mojo Barriers has always been the system of choice. I enjoy a great relationship with the Festival Republic team supporting Live Nation, it's always been a high priority for Melvin Benn and John Probyn to deliver a safe festival. We have a lot of planning discussions to look at the crowd dynamics and create the best barrier design.
"We have developed a very particular barrier configuration for the main stage, accounting in particular for the sloping ground stage right, the very wide sight line, along with the need for the incoming productions to get easy access to the front of house. While very good natured, we also considered this is a very boisterous audience who like to get their mosh pits and circles going, all of which led us to a unique lay-out. Our primary front of stage curved barrier has a central thrust back to front of house, and two secondary "arms" that allow the security improved access to the audience. The layout also allows the audience a choice of areas and a safe event without being too restrictive.
"This year we also had to accommodate Aerosmith's 15m thrust coming off the front of the mainstage, which meant looking at the downstage edge curves very carefully to avoid any pinch points, while retaining the original width of the thrust. This is where experience becomes invaluable. The pit for security personnel was also slightly deeper, because of the thrust, but the fact that the festival management had invested in putting down hard standing in front of the stage since the previous years' festival meant our load in and out were much easier, with less ground damage from plant to deal with."
Also joining the Mojo Barriers UK team at Download was Costa Chaparov as crew chief. Jim and Costa have worked together for many years and, with Mojo this summer, they have already managed barrier installations at BBC Radio 1's Big Weekend in Hull and the Old Trafford Manchester One Love memorial concert at very short notice.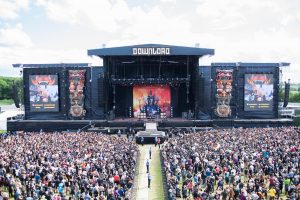 Over 1,200m of aluminium stage barrier was deployed in unique layouts at all five stages and around front of house towers, camera platforms and assisted viewing platforms. Mojo also supplied over 200 meters of Bar barrier to the various bars and concessions around the whole site giving their staff a secure working environment.
Simultaneously on mainland Europe it was the first time Mojo Barriers had supplied 750m of barriers and 400m of plastic bar barriers to the Paris festival. Stanley Jilesen project managed the planning and delivery of six trucks of equipment across five stages with two Mojo supervisors completing installation in just a day and a half, with the assistance of local crew.
Igor Dawidowicz, from Live Nation SAS France comments: "Everything went very well and your team is just great! Honestly, we all feel the difference between your work and other companies."
Stanley will also project manage the 400m of Mojo stage barriers to the new Spanish edition of Download two weeks later.
Mojo Supply The Europa League Final Celebrations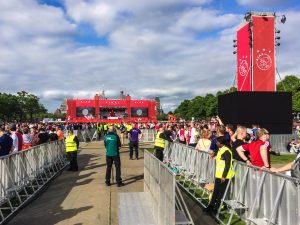 As thousands of Ajax fans gathered to watch the Europa League final, Mojo Barriers ensured crowd safety within Amsterdam's famous Museum Square.
With previous events in the park attracting crowd problems, The Mayor of Amsterdam, Eberhard van der Laan, wanted to create a safe and special environment for fans to watch the Europa League final between AFC Ajax and Manchester United.
Mojo Barriers was entrusted to create fan zones for 80,000 fans at Museum Square, which included multiple big screens to watch the game and a victory stage next to Rijksmuseum. Mojo's team installed five trucks of material including 750 straight barriers, 27 mega exits, 120 specials, 40 police gates and 40 line-up gates.
Mojo Barriers' Erwin Sprengers comments: "I'm extremely proud of the whole Mojo team who delivered quality and speed, and pulled together to help ensure the event was a huge success."
Client: Livetime Productions. Production manager Maarten Lamers. 
Bruno Mars tours with Mojo Barriers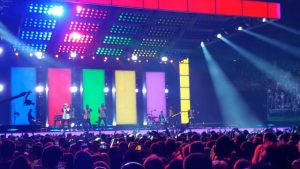 Mojo Barriers helped Bruno Mars create magic safely through the provision of specially-designed touring barrier to all European and US tour dates of his 24K Magic World Tour.
Mojo supplied a complete touring set, including front of stage barriers and a front of house barriers, to Bruno Mars' third concert tour, which began on 29th March at the Sportpaleis in Antwerp. Mojo utilised its G2 barrier, which was designed specifically for the touring industry to bring benefits to production teams, including being lighter, more compact and enabling easier and therefore more cost efficient transportation and installation.
Stanley Jilesen, Mojo Barriers project manager explains:
"We've known Bruno Mars' production manager, Joel Forman, for a long time now and he's always great to work with. For this tour we supplied our G2 touring barrier which is perfect for arena shows as their lightweight, compact design means they require less truck space so they can be easily transported to different venues throughout the tour. This enables the barriers to tour with the rest of the production elements, negating the need to rent equipment from local suppliers at each venue."
Kevin Thorborn Appointed Mojo Barriers UK Director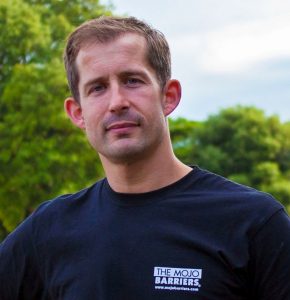 Kevin Thorborn has been promoted to director of Mojo Barriers UK, following his role as UK manager for the past 17 years, 24th April 2017.
Having started at Mojo Barriers in 2000 Kevin has managed the provision of stage and crowd safety barriers to over 1,000 festivals, from their local Medway Castle Concerts to Glastonbury Festival. His diverse experience spans venues from student unions to the O2 Arena, supplying concerts and European tours, which this year have included Bruno Mars, film premieres, award shows such as the Brit Awards, major public and sporting events and he has even supplied police forces in riot situations.
Mojo Barriers CEO Alex Borger states:
"We are delighted at Kevin's progression since joining Mojo, particularly over the past two years when he has delivered consistently impressive results and expanded the UK business. I am sure this promotion to UK director is the beginning of a very exciting future as we look to expand our offering to the UK market with Kevin at the helm.
"Kevin has developed an extensive network of clients and he is clearly delivering the high levels of service we aspire to, as shown by the amount of events contracting Mojo Barriers on a regular basis."
Outside of the companies head office in Netherlands, the UK office sits alongside the USA and Australia offices, with a further 27 distributors providing clients a global network to access Mojo Barriers' trusted range of crowd safety and stage barriers.
Mojo Supply Gorillaz New Album Launch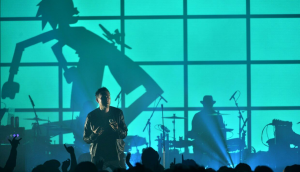 To mark the launch of their highly anticipated new album 'Humanz', Gorillaz performed a secret one-off show at Printworks, London, and Mojo Barriers showed it's not all about big tours and festivals by supplying its world-class stage barriers to this prestigious event, 24th March 2017.
The world's most successful virtual band celebrated the release of their new studio album with a very special performance which saw Gorillaz play 'Humanz' live for the first time in a ''triumphant comeback gig'' (NME) supported by Telekom Electronic Beats.
As the Gorillaz live band took to the stage, Mojo Barriers ensured artist and audience safety, highlighting that a big artist launch in a small venue still needs detailed attention. Held at new London venue, Printworks, the show saw Gorillaz joined on stage by a stellar rollcall of talent including Del La Soul, Pusha T and Noel Gallagher. Mojo Barriers ensured the safety of the audience and the band by providing a complete barrier and cable cover set, which included straight barrier sections, flex corners and snakegates. Mojo worked closely with the production team to install a barrier configuration that matched the contour of the stage and front-of-house area, and offered optimum safety. 
Stanley Jilesen, Mojo Barriers project manager commented: "We've worked with Gorillaz production manager, Joel Stanley, on previous events and it was great to work with him on such an exciting and highly-anticipated launch. Even with the event being held in an intimate venue, the prestige of the band and the calibre of acts they collaborated with on the night meant that the event required detailed attention to ensure the wellbeing of the crowd, the band and the front-of-house team. We worked closely with the production team to ensure the equipment and configuration we supplied did just this, and it was great to be involved in this very special Gorillaz show."
Gorillaz production manager, Joel Stanley, commented: "As always, Mojo have been crucial in the show and a pleasure to deal with, always flexible and amazing value."