Jan 2010 Mojo Barriers deliver to half of the Top Ten grossing tours of 2009!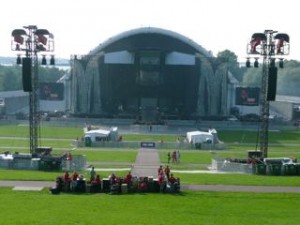 Mojo Barriers worked with the top four highest grossing tours of 2009 according to Rolling Stone Magazine (issue # 1096, Jan 21 2010) out this week! 
Rolling Stone Magazine has announced the highest grossing tours of 2009 with U2, Madonna, Bruce Springsteen and the E Street Band, and AC/DC have taking the top four positions. 
Mojo Barriers proved that the company's line of crowd control barricade is durable and can sustain the rigors of the best worldwide tours.  Metallica, a band with a long-standing relationship with Mojo Barriers also listed in the Top Ten. 
Supplying a "tour stock" of Mojo Barriers is only the first step in many of these relationships.  Additional barricade was often provided for tours with specific large-scale shows, such as Bruce Springsteen at Giants Stadium that required an additional 200 metres of barricade. The Toronto shows for both U2 and The Jonas Brothers also required additional barriers, with Mojo Barriers representatives "hands-on" approach evident with their presence at shows in Europe, North America, and Japan.   
In all, Mojo Barriers provided barricade for 304 shows for tours within the top 10 of 2009 who grossed over three-quarters of a billion dollars. 
Mojo Barriers is excited and committed to continue providing crowd control systems to the largest musical tours in the world. 
Feb 2009 Mojo Barriers Back in Black with AC/DC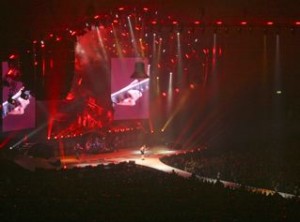 The AC/DC European tour started this February 18th with a spectacular show in Oslo's new Telenor Arena.
Tour Barrier
Mojo Barriers has supplied 100m of their proprietary black aluminium barriers for the main front of stage barrier and front of house mix position for all dates on the European tour. The black finished aluminium is a visually unobtrusive system, creating the all important robust, safe partition between the audience, artists and production professionals. AC/DC were known for getting among the crowd during performances during their early years, but in order to get up close to their audience they now have a front of stage extension that allows them to get out into their audience safely.
Production manager Dale Skjerseth commented: "Mojo Barriers give us a high quality system and they have all the specials and corners needed to get around the uniquely shaped stage. There is a lot of history within the AC/DC team. We know we can rely on the Mojo (Barriers) team and we like to stick with what we know is the best system. "The initial system was prepared by the Mojo Barriers US office when he World tour began on 28th October 2008, taking in 42 arena shows across the USA and Canada. It continues with European dates until the end of June, followed by shows in South America, Australia and further US and European legs.
Mojo Barriers in Norway
The first night of AC/DC European tour in Oslo's Telenor Arena saw Mojo Barriers Head Office team working closely with their Norwegian distributor, Pro Sec Professional Security AS (Pro Sec) to ensure a successful night. A sell-out 23,000 rock fans were the first to see a concert at Europe's newest arena, with Norwegian security professionals Pro Sec supplying security staff as well as the additional aluminium barrier required to extend the front of house barrier across the full width of the Telenor Arena.
Pro Sec is the official distributor, with a permanent stock of Moj0o's aluminium barrier based in norway to supply the local market. The company is managed by Kenneth Isaksen who said: " Our partnership with Mojo Barriers means that we can offer promotors and event organizers in Norway the highest standard of crowd management infrastructure to create safe shows for everyone concerned. The experienced support and additional inventory of equipment we have received from the head office in Holland means we can work with any event to deliver professional service. The Gatekeeper made the ingress is very smooth process for our staff at this new venue and on this show we also supplied Mojo ~Bar Barriers for the merchandise and catering outlets in the venue. 
Mojo's Gatekeeper first concert with AC/DC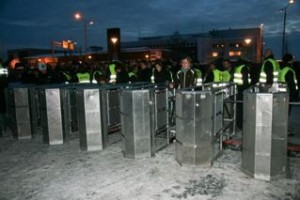 The crowd at the Telenor Arena was split between the three tiered seated sides and the standing audience on the 'pitch' area in front of the stage. Mojo Barriers' new intelligent turnstile Gatekeeper system was deployed as the new venue management and promoters were keen to ensure a safe, regulated crowd flow onto the arena floor through one entrance. Ten Gatekeeper units were securely fixed at the entrance allowing the security professionals to control crowd flow and effectively carry out a stop and search function as 12,000 people entered the standing area. The Gatekeeper monitor was located inside the arena, allowing the real-time capacity to be read at any given time.
Leon van der Velden from Mojo Barriers head office supported Kenneth Isaksen on this show and looked after the Gatekepper. He said: "This was the first big arena show for the Gatekeeper. It demonstrated that it is a great system for controlling crowd-flow and measuring exactly how effectively the audience is entering the show. It allows the new venue to analyse the habits of local people and find out how the local transport system coped with getting people into the venue. The system went together quickly and proved itself to be very practical an easy to use. There were no problems even working in the snowy conditions at -10 degrees. We processed 12,000 rock fans coming in to the venue. We have received compliments from everyone concerned with the show."