Mojo Barriers celebrates 25 years with Lowlands Festival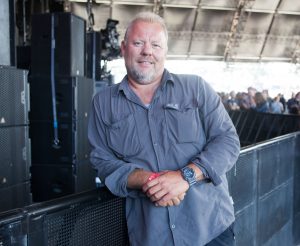 2017 was a landmark celebration for the organisers and suppliers of Lowlands Festival, where Mojo Barriers has kept crowds and artists safe at all 25 editions, August 17th – 20th, 2017.
A 60,000 sell out crowd were in attendance for a wide range of artists including Mumford & Sons, Iggy Pop, The XX, Cyprus Hill and Bastille across six stages. This year the main two Alpha and Bravo stages were newly designed and manufactured, creating impressive focal points on the creatively designed Biddinghuizen site.
Mojo Barriers account manager Erwin Sprenger states:
"This year is really special to see with all of the innovations on the festival and the 25th celebrations. I have worked on 17 Lowlands Festivals and even with all of the site developments this year it is one of the easiest projects I manage, thanks to the efficiency of the festival management team and local crews. We supply 600m of equipment but only two Mojo co-ordinators are required to manage the installation."
In addition to Mojo's aluminium front-of-stage barrier, a range of special corner barriers, mega-gates, line-up-gates and Gatekeeper turnstiles were installed across the site. The company also supplies its plastic Bar Barrier system for concessions and cable ramps.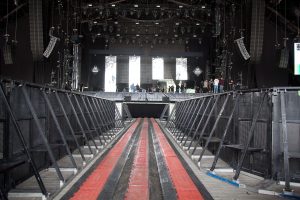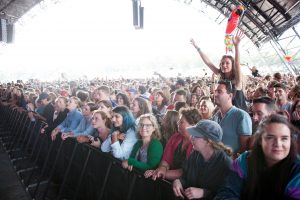 Mojo Barriers increase presence at Glastonbury Festival
For the 13th year Mojo Barriers supported the Glastonbury Festival, expanding their service to the world-famous event and introducing new systems to improve audience safety, 22-25 June, 2017
Once again 150,000 ticket holders made their way to Worthy Farm at Pilton, Somerset to enjoy performances from the likes of Radiohead, Foo Fighters, Ed Sheeran, Stormzy, Lorde and even Jeremy Corbyn joining hundreds of other acts spread across the 1,100 acre site.
Mojo supplied aluminium stage barriers to 16 of the stages at Glastonbury Festival 2017, delivering a total of 1,400 metres across the site, including at the new Death Metal stage in the Shangri La area.
Mojo Barriers' project manager Jim Gaffney has been a Glastonbury supplier for nearly quarter of a century and he has been at the core of developing the barrier configurations at the festival over the years, with 2017 no different. New for this year were 15 Line-up Gates and one Mega Gate in the south-east corner of the arena at the entrance leading to the campsite, which reduced the queuing at that bottleneck.
Mojo once again installed secondary barrier systems on the festival's two biggest stages: – The Pyramid Stage and Other Stage. The Pyramid Stage secondary system was introduced a few years' ago to help cope with the increased capacity for that area, whereas the Other Stage barrier system came in last year when changes were made to open up sight lines for the audience.
Jim Gaffney, Mojo Barriers' UK senior account manager, said: "The new gates we introduced at the south east corner worked perfectly and eradicated the problems that have occurred there in the past.
"The secondary systems for the Pyramid Stage and Other Stage once again gave the audience a safer event and also allowed security staff more access to the audience."
Jerry Milichip was the site manager for the Pyramid Stage this year. Jerry has overseen many events that Mojo Barriers have supplied so played a pivotal role in the smooth delivery of the barriers.
"Jerry and our crews work very well together," said Jim. "He understands the way we work and why we do certain things because of his experience with barriers. Having him in a senior role was a huge help as he had made all the ground preparations we needed and logistical details like having enough forklifts at the right time to make our installation quick and efficient."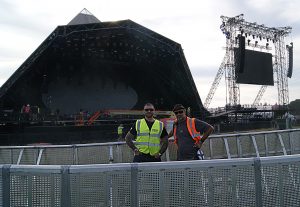 Mojo Barriers at Hellfest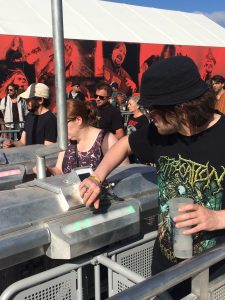 Mojo Barriers introduced its Gatekeeper temporary event turnstile system to Hellfest for the first time, June 2017, along with Mojo aluminium stage barriers keeping crowds safe.
Festival rock fans descended on Clisson, France for Hellfest Summer Open Air, enjoying performances from headliners Linkin' Park, Deep Purple, Aerosmith and many more. 
For its sixth year working with the festival, Mojo supplied over 800 meters of stage barriers, along with 200 meters of bar barriers. For the first time, the company installed 17 Gatekeepers to speed up entry to the festival site. To ensure smooth ingress, Mojo supported Intellitix, who integrated its RFID technology into the Gatekeepers for scanning wristbands at the entrances, enabling the fans to be ushered into the festival site more quickly and efficiently.
The Gatekeeper intelligent portable turnstiles link to a central computer system, which gives accurate capacity data and real time counting. It also incorporates full scanning capabilities and is compatible with any scanning methods.
Mojo Barriers Download Triple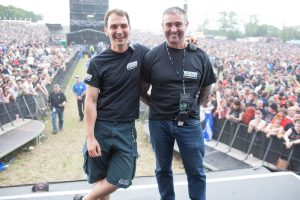 Mojo Barriers was contracted to install over 2,000m of front of stage barriers and bar barriers at three Download Festivals in the UK, France and Spain, June 2017.
Each country's Live Nation division were the promoters and clients, bringing in Mojo to keep rock fans safe through three days of performances by the world's top rock bands.
It was a welcome return to Donington Park's Download weekend, June 9th to 11th, in the UK for Mojo with Jim Gaffney, heralding Jim's return to the company as a senior account  manager.  Jim explained:
"I have managed the design and installation of the stage barriers at Download Festival since it began in 2003, where Mojo Barriers has always been the system of choice. I enjoy a great relationship with the Festival Republic team supporting Live Nation, it's always been a high priority for Melvin Benn and John Probyn to deliver a safe festival. We have a lot of planning discussions to look at the crowd dynamics and create the best barrier design.
"We have developed a very particular barrier configuration for the main stage, accounting in particular for the sloping ground stage right, the very wide sight line, along with the need for the incoming productions to get easy access to the front of house. While very good natured, we also considered this is a very boisterous audience who like to get their mosh pits and circles going, all of which led us to a unique lay-out. Our primary front of stage curved barrier has a central thrust back to front of house, and two secondary "arms" that allow the security improved access to the audience. The layout also allows the audience a choice of areas and a safe event without being too restrictive.
"This year we also had to accommodate Aerosmith's 15m thrust coming off the front of the mainstage, which meant looking at the downstage edge curves very carefully to avoid any pinch points, while retaining the original width of the thrust. This is where experience becomes invaluable. The pit for security personnel was also slightly deeper, because of the thrust, but the fact that the festival management had invested in putting down hard standing in front of the stage since the previous years' festival meant our load in and out were much easier, with less ground damage from plant to deal with."
Also joining the Mojo Barriers UK team at Download was Costa Chaparov as crew chief. Jim and Costa have worked together for many years and, with Mojo this summer, they have already managed barrier installations at BBC Radio 1's Big Weekend in Hull and the Old Trafford Manchester One Love memorial concert at very short notice.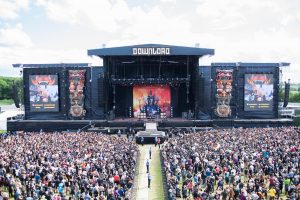 Over 1,200m of aluminium stage barrier was deployed in unique layouts at all five stages and around front of house towers, camera platforms and assisted viewing platforms. Mojo also supplied over 200 meters of Bar barrier to the various bars and concessions around the whole site giving their staff a secure working environment.
Simultaneously on mainland Europe it was the first time Mojo Barriers had supplied 750m of barriers and 400m of plastic bar barriers to the Paris festival. Stanley Jilesen project managed the planning and delivery of six trucks of equipment across five stages with two Mojo supervisors completing installation in just a day and a half, with the assistance of local crew.
Igor Dawidowicz, from Live Nation SAS France comments: "Everything went very well and your team is just great! Honestly, we all feel the difference between your work and other companies."
Stanley will also project manage the 400m of Mojo stage barriers to the new Spanish edition of Download two weeks later.
Mojo Supply Feyenoord Victory Parade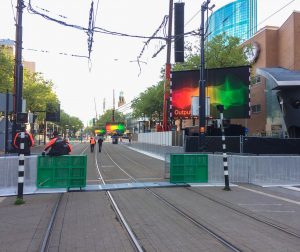 Mojo Barriers ensured over 150,000 fans could celebrate in style when Feyenoord won its first Eredivisie title in 18 years.
Six trailers and 24 Mojo crew installed over 1,750m of crowd barriers including 27 mega exits, high fencing and barrier corners in the centre of Rotterdam in preparation for Feyenoord's victory parade. Feyenoord's first Dutch title win since 1999, came after a defeat by Excelsior on 7th May, in which the title could have been claimed.
Mojo Barriers' Erwin Sprengers explains:
"Feyenoord could have won the league on the 7th May, so we were called in to ensure crowd safety at the victory parade, which took place in central Rotterdam. The night before the match, we installed 1,750m of crowd barriers which lined the main roads and secured the government building where the local Mayor is located. With numerous big screens and players on the Mayor's balcony, we created 11 crowd zones to limit surges and closed the main road and tram route in preparation. Following Feyenoord's defeat, we had to de-rig throughout the night without there being an event.
"With the Dutch league title race coming down to the final day of the season at the Feyenoord V Heracles game, we re-installed all the kit in preparation for their win. With Feyenoord being crowned champions, the atmosphere was incredible and the victory parade attracted over 150,000 fans who all took to the streets of Rotterdam to celebrate with their team and see them lift the Eredivisie shield. It was a pleasure to work with Livetime Productions' production manager, Maarten Lamers."
Mojo Supply The Europa League Final Celebrations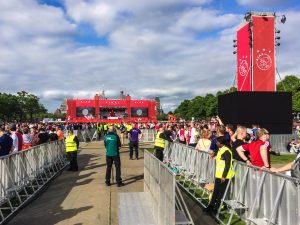 As thousands of Ajax fans gathered to watch the Europa League final, Mojo Barriers ensured crowd safety within Amsterdam's famous Museum Square.
With previous events in the park attracting crowd problems, The Mayor of Amsterdam, Eberhard van der Laan, wanted to create a safe and special environment for fans to watch the Europa League final between AFC Ajax and Manchester United.
Mojo Barriers was entrusted to create fan zones for 80,000 fans at Museum Square, which included multiple big screens to watch the game and a victory stage next to Rijksmuseum. Mojo's team installed five trucks of material including 750 straight barriers, 27 mega exits, 120 specials, 40 police gates and 40 line-up gates.
Mojo Barriers' Erwin Sprengers comments: "I'm extremely proud of the whole Mojo team who delivered quality and speed, and pulled together to help ensure the event was a huge success."
Client: Livetime Productions. Production manager Maarten Lamers. 
Mojo Barriers Australia Supplies High Fence at the Sydney Opera House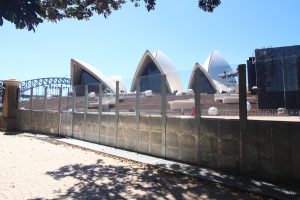 Mojo Barriers Australia has supplied over 300m of its reinforced barrier system 'High Fence' at the Sydney Opera House for a number of outdoor shows. 
Originally manufactured by Mojo for the 2014 G20 Summit in Brisbane, High Fence offers a 2.4m high robust security barrier, compatible with all additional components such as gates or corners. It has a polycarbonate upper, which is a durable and high impact resistance material which easily withstands destructive attacks. Mojo Barriers Australia supplied High Fence to a number of outdoor concerts at Sydney Opera House including Crowded House and Ben Harper & The Innocent Criminals, which formed part of Live Nation's 'On The Steps' concert series.
Opera Australia also chose Mojo's High Fence to secure the perimeter of the Sydney Opera House forecourt for their outdoor production of Handa presents Sydney Opera House – The Opera (The Eighth Wonder) which saw a run of five shows.
Mojo Barriers provided transparent polycarbonate upper panels to create perimeter fencing without obscuring sight lines, to ensure the public could still see the iconic Sydney Opera House backdrop. For areas where a sight kill was required, Mojo utilised its tinted polycarbonate panels while the shows were taking place on the forecourt, to block views of the stage and prevent crowd build-up outside the perimeter barrier.
Mojo also supplied mega exits to allow access for large emergency vehicles and emergency exit points for large crowds.
Craig Edwards, general manager of Mojo Barriers Australia commented: "It's great to see Mojo Barrier's High Fence creating safe event areas at such an iconic venue as the Sydney Opera House. The event safety, security and management teams all love the look and strength that this product provides. With adaptable polycarbonate uppers, High Fence has given organisers the option of blocking off views of certain areas, such as the back of house, whilst also ensuring attendees are able to enjoy the beautiful harbour views. High Fence is more aesthetically attractive compared to the usual perimeter fencing used at major event and it's the perfect solution for occasions where crowd and structure segregation is a vital part of the crowd management process."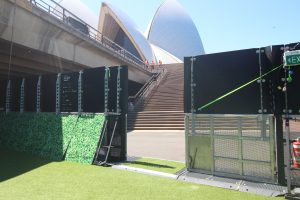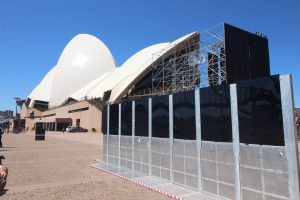 Success at Sziget Festival
Mojo Barriers was called upon to supply the main stage barrier, high fence and line-up gates to this year's Sziget Festival, which welcomed an increased capacity of over 90,000 people per day, 10-17 Aug.
Budapest once again played host to the week-long Sziget Festival, one of the largest music and cultural festivals in Europe, which this year boasted performances from Muse, Sia, Rihanna and Bastille. Following on from the success of its inaugural year supplying Sziget Festival, Mojo Barriers was once again called upon to supply 400m of barrier, 50m of High Fence and 20 line-up gates to the 2016 event. As well as stage barrier within the main stage arena and line-up gates throughout the festival site, Mojo also supplied its high fence to the main stage front-of-house in order to enhance security and improve the aesthetics of the structure. With a crew of 10-12 people, protect managed by Mojo's Rik Beulink, the install took one day.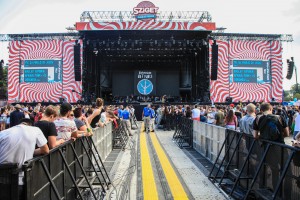 Mojo Barriers' Stanley Jilesen commented: "We first worked with Sziget Festival in 2015, introducing a breaker fence to the main stage to break up the audience and keep the pressure off the people at the front. This is something the organisers are really impressed with and it's worked really well to enhance the experience for the audience and help keep them as safe as possible.
"We're also on-hand throughout the event to make any modifications to the barrier configuration or supply any additional equipment. Two days ago Daniel called me and needed some line-up gates, so half an hour later the equipment was in a truck and on the way from Holland to Budapest. We always leave a project manager on site in case any changes are required, or if a band wishes to bring in some extra set which affects the barrier layout, such as a catwalk, and having one of our team on site means this can be quickly accommodated. It's great to work on such a progressive festival, one which has such a brilliant team and which is constantly evolving, and we look forward to building on our relationship in the future."
Daniel Benis, head of production commented: "Over the last few years, we have used barriers from our existing partners but couldn't beat the quality of Mojo Barriers neither in the equipment side nor on service side. In the last few years nearly all riders have placed greater emphasis upon crowd controlling issues and Mojo Barriers are now seen as a standard, so we had to step up. Mojo's services and equipment has solved all our problems, and any incoming production manager knows what they are getting when they see Mojo Barriers. Regarding the Hungarian regulations and crowd controlling issues, we had to find a solution to help improve the circulation of the crowds, in terms of normal flow and also in case of heavy crowds. Our security teams were also really satisfied with this."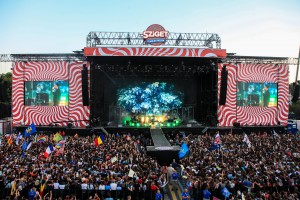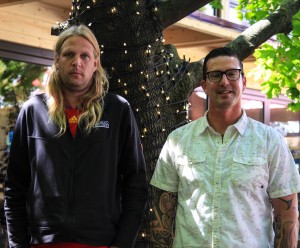 BoomTown Fair 2016
Building on its relationship with BoomTown Fair, Mojo Barriers supplied 600m of kit to this year's event, 11-14 Aug 2016.
Hampshire's Matterley Estate once again played host to the fully immersive BoomTown Fair, which this year welcomed an increased capacity of 60,000 music lovers and saw the addition of over 80 street venues. Mojo Barriers expanded on its inaugural year supplying BoomTown Fair, by supplying 600m of kit, which was installed across the entire festival site. Mojo's barriers were installed at all festival stages, including The Lion's Den, The Jolly Dodger and Sector 6, a new district introduced to the 2016 event.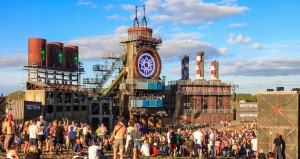 Founded in 2009, BoomTown Fair is an expansive metropolis, split into nine different districts, each of which has a different theme. As well as its impressive main stages, BoomTown Fair is famed for its bespoke entertainment and its creatively themed venues, which this year witnessed performances from Madness, Damian 'Jr Gong' Marley and Fat Freddy's Drop.
Kevin Thorborn, Mojo Barriers' UK manager commented: "The individual and quirky nature of BoomTown makes it such a special event and it's great to see organisers pushing boundaries when it comes to creativity and imagination. BoomTown Fair is famed for its impressive stages and immersive set design and this year saw the introduction of the new district, Sector 6. This wasn't an area we had supplied before, so it was a case of visiting the site, checking the ground and the contours and designing a barrier layout which offered maximum crowd safety.
"As well as supplying new areas, we also installed our barriers at BoomTown's infamous stages, including The Town Centre and The Lion's Den stage, which is situated within a natural bowl, meaning we had to design an effective layout which matched the contour of the land. It's great to be involved with such a progressive event, which keeps growing year on year, and we look forward to expanding our work with BoomTown Fair in the future."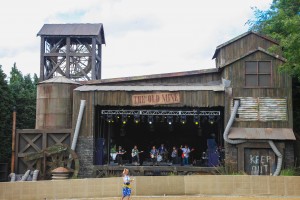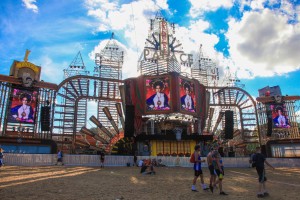 Home Treble for Mojo Barriers
More often servicing a plethora of global events, Mojo Barriers experienced one of the companies' busiest periods on its own soil, with three consecutive weekends of huge occasions, May 2016.
The first of these significant projects was King's Day: Netherlands national holiday in honour of King Willem-Alexander. King's Day celebrations ran throughout The Netherlands, saw Mojo Barriers keeping the crowds safe at 16 events across the seven cities of Zwolle, Rotterdam, Amsterdam, Eindhoven, Alkmaar, Groningen and Den Bosch. The most popular destination was Amsterdam, where 750,000 visitors joined the 822,000 plus locals for the world's largest street party.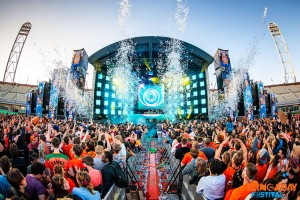 In recent years Amsterdam authorities have introduced several successful measures to stem the flow of visitors as the city was becoming too congested. Effective crowd management plans, coupled with relocating stages and creating ticket only areas to limit capacity have improved crowd safety. In total Mojo Barriers deployed 1,800m barriers, along with 91 Line Up Gates, 780 Bar Barriers and eight Gatekeeper turnstiles.
The following weekend brought Liberation Day, a national day of celebration with a wide variety of entertainment and events taking place to commemorate the liberation of The Netherlands during World War II. Mojo Barriers supplied Liberation Day festivals' with 1,000 barriers, 26 Gatekeepers, 90 Line Up gates across seven cities: Haarlem, Zwolle, Groningen, Wageningen, Rotterdam, Utrecht and Den Haag.
In anticipation of the hotly predicted Championship victory celebrations, Mojo Barriers' team loaded in loaded 900 barriers and specials for the expected Ajax celebrations on the 8th of May. But with final day unexpected twists on the pitch PSV Eindhoven retained the Dutch title, leapfrogging Ajax on a dramatic final day in the Eredivisie. Mojo dispatched a team of 16 people to take out the Ajax barriers and move to the new location. A long day began with a 5am load at two sites. At the railway station 115 units plus 20 Line Up gates were installed, while at Arena Park 785 units including gates, high-fence and 16 mega exit doors were ready by 1pm, for the fans arriving ahead of the 4pm show. Mojo's team began load out at 9.30pm and the sites were clear by 2am, minimising disruption for the city.
Mojo Barriers' director Alex Borger states:
"This was a logistically challenging run of projects. Beginning with King's Day covering multiple urban event sites, we were always working to tight deadline to minimise disruption to normal city life. We have worked with the King's Day organisers for many years, and that experience is valuable for everyone involved. But this year our whole team, led by Erwin Sprengers, Stanley Jilesen, account managers, Rik Beulink and Gijs de Snoo deserve huge credit, as we went straight into the Liberation Day and then onto PSV's football Championship celebrations. All of this coincides with supplying barrier to AC / DC and Bruce Springsteen European tours, leading into an unbelievably busy summer of festivals."
Photo courtesy of Everfest and Iamsterdam.