Mojo Barriers at Queen's Day celebration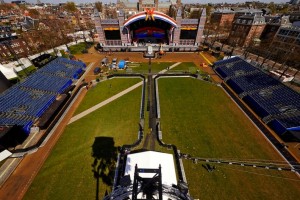 Global crowd barrier supplier Mojo Barriers was called in for the Queen's Day celebrations in the Netherlands, April 30th 2013.

The annual celebrations stepped up a level this year for the Dutch monarch's official birthday as millions of spectators gathered to witness the abdication from the throne of Queen Beatrix, followed by the inauguration of her son Willem Alexander –  the first Dutch King since 1890.
As Amsterdam became the focal point of national celebrations, Dutch crowd safety specialists Mojo Barriers supplied its trusted barricade equipment from an extensive portfolio of products.
Erwin Sprengers from Mojo Barriers co-ordinated all deployment for multiple large scale events across Amsterdam and project managed the highest profile installation, where 80m of crowd barriers were installed for the main ceremonies at the Royal Palace on Dam Square and at the De Nieuwe Kerk. 
He said:  "With thousands of people on the city's streets, our primary aim was to work with the event planners in each area to design and install crowd barriers to create safe viewing and event spaces.  It was a great atmosphere and the event was a credit to all included in its production."
They also provided multiple other sites including 285m of their patented aluminium stage barriers as well as 16 modular line up gates used for entrance ways, to manage the ingress of large queues at a public event on the Java Island peninsula.  This saw one of the largest crowds who had gathered to watch the new King and his wife Queen Maximá travel through the city by boat via the river IJ.
Celebrations continued long into the night during the Kings Ball at Museumplein, where 450m of Mojo barriers created safe audience areas at the free public event as André Rieu and the Johann Strauss Orchestra gave a live performance of The Coronation Waltz