Every September thousands of revellers descend upon the streets of Barcelona in Spain for La Mercè, a five-day, free-to-attend celebration. Live music, dance and theatre take place in venues across the city as locals and visitors alike bid farewell to summer and welcome the cooler days of autumn. This year, Mojo Barriers was called upon to provide its crowd control solutions at one of the festival's busiest venues, El Parc del Forum.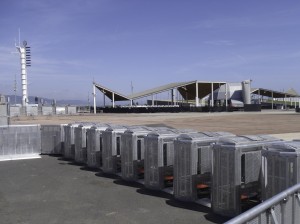 Mojo Barriers' Gatekeeper 2.0 intelligent turnstile system attracted organisers BSM, which needed to ensure capacities of the open air concert venue – which also hosts Primavera Sound festival – weren't breached. The venue welcomed live music fans across three nights (19th, 20th and 23rd September), who danced the night away to a host of local and international acts. 
Leon van der Velden, project manager at Mojo Barriers, said: "The Gatekeeper 2.0 is the ideal solution for oganisers needing to control the capacity in an open air venue like the El Parc del Forum. It allows them to close the gates if capacity is reached, or in case of emergency. For a free, un-ticketed event like La Mercè this gives a vital safety-net as there is no way of knowing how many people are going to turn up."
The Gatekeeper 2.0 was introduced to the international events market in 2013 and combines a secure, portable turnstile with the ability to integrate complete ticket scanning technologies such as RFID, barcode or NFC readers. La Mercè operated the system with counting only, using the data to meet health and safety regulations.
Leon continues: "The Gatekeeper 2.0, links directly to an easy-to-use central computer system which gives accurate capacity data and real time counting. This gave BSM all the information they needed to make informed, on-the-spot decisions. The direction of the turnstile can be controlled from the computer system, allowing you to change the configuration of entrances and exits dependent on the flow of the crowd. Gatekeeper's real-time logfile registers all movements in and out, allowing a detailed evaluation to be created after the event, including the length of the walk-in, which gates where used most and the busiest times."
Twenty Gatekeepers were installed in total at the main entrance and exit of the site, supported by 40 of standard aluminium stage barriers completing the configuration.
The project was led by Kata, production manager at Sensei Producciones and part of Live Nation Barcelona, who was announced as an official Mojo Barriers supplier in July last year.
Kata commented: "The Mojo Barriers products have proven popular in the Spanish market and have been used at events including Primavera Sound, Sonisphere, BBK Bilbao Live and Festival International Benicassim. Gatekeeper was the ideal product for La Mercè which needed to have close control of its capacities."
Organiser BSM is council-owned and operates venues including the Barcelona Olympic Stadium and Palau Sant Jordi.