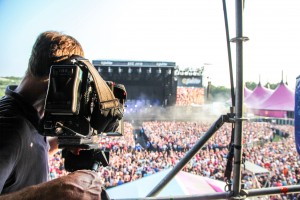 Mojo Barriers has recently returned from The Netherland's oldest festival, Pinkpop, where the stage barrier specialist completed the last segment of filming for the Discovery Channel's 'How do they do it?'
Hosting the programme's production company, WAG TV, Mojo Barriers has been busy helping to film the documentary which will air in winter 2014. It will explain how Mojo Barriers' patented stage barrier system is made, and the important role it plays at some of the world's largest and most well known events.
Jasper Caldenhoven Mojo Barriers' project manager has been managing the process and ensuring that the film crew gets everything they need. He said: "Before joining Mojo Barriers four years ago I worked in film location, so it's been great to be able to put these skills to good use.
"The documentary follows every step of Mojo Barriers' procedures including the manufacturing process, which saw us filming at four different factories. We then filmed the rigorous testing systems back at our warehouse, the logistical and planning processes and finally, how we use the barriers out on site.
"Pinkpop was the perfect festival for this, with over 1,100m of barrier across the site and 485m on the main stage alone, carefully designed and configured for optimum audience, crew and artist safety."
'How do they do it?' is one of the Discovery Channel's flagship programmes and is aired in over 220 countries worldwide. To find out more about the series visit http://www.sciencechannel.com/tv-shows/how-do-they-do-it and keep checking the Mojo Barriers website here to find out when the film will be aired.