Taylor Swift's '1989 World Tour' was the highest grossing concert tour of 2015 and Mojo Barriers was on hand to ensure crowd safety during the North American and European tour dates.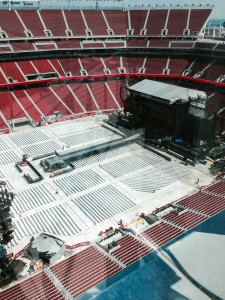 From the first show on the 5th May 2015, the seven month tour visited 85 locations worldwide until its finale on December 12th at the AAMI Park in Melbourne. Mojo Barriers was contracted to provide crowd barriers for 71 out of the 85 dates, which included all 63 North American and eight European shows.  
For the stadium dates Mojo Barriers supplied 850 feet of barrier to surround the thrust, which extended out into the audience for maximum intimacy, and was used to create VIP areas within the stadiums. For the arena dates, Mojo supplied 550 feet of crowd barrier which wrapped around the stage to ensure optimum crowd safety. Alongside providing barriers, Mojo Barriers US' JB dolphin also coordinated the hire of nine Gladiator IV 4.5k follow spots from SpotRental.  
JB Dolphin President of Mojo Barriers US and SpotRental US commented: "The client appreciated our wide service offering offer, from the global support network of Mojo Barriers, alongside our SpotRental lighting. Taylor Swift's 1989 World Tour demanded high production values and being the highest grossing concert tour of 2015 meant professionalism was required to meet the busy schedule with consistently high standards. We're proud to have been part of that team. "
This isn't the first time Mojo Barriers has worked with Taylor Swift, having being contracted to supply her last world tour 'Red' which took place in 2013.