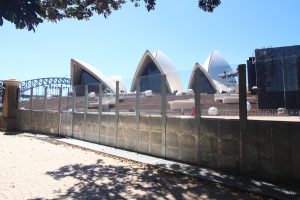 Mojo Barriers Australia has supplied over 300m of its reinforced barrier system 'High Fence' at the Sydney Opera House for a number of outdoor shows. 
Originally manufactured by Mojo for the 2014 G20 Summit in Brisbane, High Fence offers a 2.4m high robust security barrier, compatible with all additional components such as gates or corners. It has a polycarbonate upper, which is a durable and high impact resistance material which easily withstands destructive attacks. Mojo Barriers Australia supplied High Fence to a number of outdoor concerts at Sydney Opera House including Crowded House and Ben Harper & The Innocent Criminals, which formed part of Live Nation's 'On The Steps' concert series.
Opera Australia also chose Mojo's High Fence to secure the perimeter of the Sydney Opera House forecourt for their outdoor production of Handa presents Sydney Opera House – The Opera (The Eighth Wonder) which saw a run of five shows.
Mojo Barriers provided transparent polycarbonate upper panels to create perimeter fencing without obscuring sight lines, to ensure the public could still see the iconic Sydney Opera House backdrop. For areas where a sight kill was required, Mojo utilised its tinted polycarbonate panels while the shows were taking place on the forecourt, to block views of the stage and prevent crowd build-up outside the perimeter barrier.
Mojo also supplied mega exits to allow access for large emergency vehicles and emergency exit points for large crowds.
Craig Edwards, general manager of Mojo Barriers Australia commented: "It's great to see Mojo Barrier's High Fence creating safe event areas at such an iconic venue as the Sydney Opera House. The event safety, security and management teams all love the look and strength that this product provides. With adaptable polycarbonate uppers, High Fence has given organisers the option of blocking off views of certain areas, such as the back of house, whilst also ensuring attendees are able to enjoy the beautiful harbour views. High Fence is more aesthetically attractive compared to the usual perimeter fencing used at major event and it's the perfect solution for occasions where crowd and structure segregation is a vital part of the crowd management process."