Mojo Flooring Protects Pitch for World Title Boxing and International Football
Mojo Barriers UK division installed the first Terratrak Plus® pitch protection system of a busy 2018 summer season onto the Leeds United Elland Road pitch for the IBF World Featherweight Title fight, 19th May 2018, keeping the pitch in pristine condition ready for England International football 17 days later. Stadium floor TIMELAPSE. It simultaneously covered three other stadium pitches.

First onto the Elland Road pitch was the Mojo Barriers team early on Thursday morning, installing their Terratrak Plus® stadium flooring system. Project Manager Kevin Thorborn oversaw twenty crew who installed 9,200 sqm of pitch protection, which was well within schedule ready for the other suppliers to come in on the Friday morning and install the ring, canopy and seating.
Director Kevin Thorborn says: "This Terratrak Plus® gave a fully driveable pitch protection that can take loads of up to 100 tonnes. The fact that it is translucent makes it pitch friendly as it lets light through to the grass. The floor tiles are easy to handle, so we deployed a crew of twenty to install and remove the system, which was off the pitch by 1pm on the Sunday following the Saturday evening fight."

The Mojo crew also installed 70m of Mojo Barriers to create a safe fighters entrance ring walk. Across that same timeframe Mojo crew's also installed 9,500 sqm  of the company's  Terratrak Plus® pitch protection into Manchester's Ethiad Stadium  for a series of concerts, starting with sold-out Ed Sheeran shows and remaining there for JayZee & Beyonce, Foo Fighters and Taylor Swift until mid June.  Mojo also installed 9,500 sqm of Terratrak Plus® into Old Trafford for a Billy Joel concert and installed a fourth system of Terratrak Plus® into Wembley Stadium for Ed Sheeran, Taylor Swift and Capital's Summertime Ball.
Frank Warren and Queensbury Promotions promoted the IBF World Title Fight, which was witnessed by 30,000 fans in Elland Road stadium who enjoyed local Leeds favourite, Josh Warrington, beating World Champion, Lee Selby, taking the title to the delight of a packed stadium.

Leeds United FC was doubly honoured to host two international level events within the space of two and a half weeks. Elland Road's Facilities Manager, Mark Broadley, project managed the transformation from a football stadium into a boxing arena and back again, leaving the stadium as if the boxing had never been in.
Mark Broadley explains: "It's great that Elland Road was selected to host both World Title Boxing and the last England football friendly before the World Cup. Of course a key consideration was that we had to install all of the boxing production and have temporary seating for six and a half thousand fans on the pitch, whilst still ensuring that seventeen days later it remained in prime condition for the country's finest footballers.

"Our groundsman and all of the key production suppliers (Mojo Barriers, Arena Seating, Ringcraft Boxing and Prysm) liaised very closely through multiple planning meetings to minimise the time-span for which the pitch had to be covered. It required a very well co-ordinated build and de-rig, incorporating overnight shifts, which they all co-operated on and executed brilliantly."

The England football team played on the pitch on June 7th, which evidently suited them as they secured a 2-0 win over Costa Rica.

ENDS
Evago Group Acquires Terraplas rental business
Evago Group has become the world's exclusive rental partner for all Terraplas turf protection products since taking over the American rentals branch for Terraplas USA, March 2018.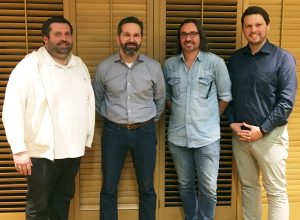 German event supply and industrial services company Evago Group ("Evago") and the Anglo-American Checkers Safety Group, who purchased Terraplas in 2015, have agreed a long-term partnership for Terraplas rentals internationally. Having acquired Mojo Barriers in 2017, Evago then bought the UK Terraplas rental business, and immediately fulfilled demand for the specialist stadium pitch protection for concerts. This new deal will see the Terraplas range be available throughout the Evago Group and Mojo's trusted global network.
With over 27 years of experience in the quality turf protection market, Terraplas has unrivalled experience and leadership in the business of temporary flooring for stadiums and arenas hosting concerts and other non-grass events. The partnership Terraplas USA, part of the Checkers Safety Group, means Evago companies (Mojo Barriers, BÜMO, IEP) have an expanded ground protection rental portfolio of stock exceeding 400,000 m².
With the completion of this transaction Evago sets another milestone in its international growth and diversification strategy, significantly extending its position in the global event flooring market.
Goran Marincic, CEO, Evago AG states:
"Terraplas products are unique in the market and complement our existing product portfolio perfectly. They have become highly trusted to protect valuable stadium turf and sport pitches from heavy vehicles to pedestrians. With this acquisition we significantly strengthen our position in global events, adding significant synergy with our existing brands and companies. Our goal now is to very quickly increase the rental stock of pitch protection with additional new material in order to be able to respond immediately to customer requirements."
Robert Else, Chairman of Terraplas comments:
"In our partnership with the EVAGO Group, we are pleased to further consolidate and expand the market leadership of the Terraplas brand worldwide."
Mojo Barriers Australia's Sensational Installation at Spotless Stadium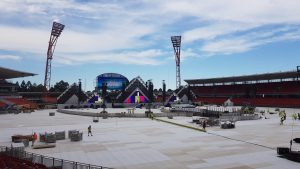 Mojo Barriers Australia recently undertook one of the country's largest stadium field cover installations, with over 15,000m₂ being installed for Sensation at Spotless Stadium, Sydney Showground, November 2017.
Sensation, the biggest open-air festival in Australia this year, was a great success, and protecting the valuable sports surface was of critical importance as Spotless Stadium is the home of Sydney's professional cricket team Sydney Thunder and the Greater Western Sydney (GWS) Giants, part of the Australian Football League. Mojo installed a complete Supatrac system to ensure the best possible pitch protection. It took 34 truck movements to freight the equipment in and out of the stadium and over 850 man hours to install and remove.
The Mojo team installed over 15,000m₂ of 100% white Supatrac, along with over 500m of aluminium Mojo Barrier in a 'D' configuration. Since launching as a supplier of Supatrac in January of this year, Mojo Barriers is now able to provide both barrier and stadium floor covering as a combined offering. To further protect the stadium pitch at Sydney Showground, the team installed a layer of Enkamat under the flooring to provide additional protection at the areas with the highest footfall and crowd density.
As well as being on-site during the event, the Mojo team managed the daily installation and removal of the aluminium ground protection products during the stage build, and worked closely with the festival organisers and stadium groundskeeper to ensure optimum crowd barrier configurations and pitch protection.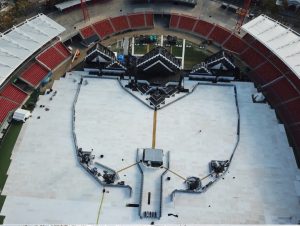 Craig Edwards, General Manager of Mojo Barriers Australia comments: "It was great to be able to showcase our logistical capabilities installing Supatrac and barrier as a combined service, and to be instrumental in one of the largest stadium field covers in Australia makes us particularly proud. Pitch covers are usually a combination of a variety of products; however we supplied 100% white Supatrac to Sensation to ensure the same high quality product throughout the entire stadium.
"Not only did our team need to ensure the products were installed to the highest standard for the biggest festival Australia has seen in three years, but due to it being hosted in such a busy stadium, the condition of the turf post-Sensation was critical with the upcoming sporting schedule."
Joshua Green, Sensation Event Manager from Phoenix Entertainment Live said "The Supatrac product is the way of the future for stadiums, the product doesn't leave indentations on the turf and a sporting event can be held the next day.  Supatrac is an efficient product to install and remove, with 15,000m2 installed in under eight hours there was minimum impact to production load-in – and it was even quicker on the load out. Coupling the supply of flooring and stage barrier products with Mojo delivered further efficiencies and made for a smooth and flexible operation.
"The aluminium and Enkamat combination was also highly effective. We managed to load in over 50 tonnes of steel for the stage and production build with four 135 foot boom lifts and two 60 tonne cranes operating for five days. With heavy production on the aluminium and 30,000 patrons on the Supatrac it is remarkable that none of the turf required replacing after the event – this is a great result for the Sydney Showground. Supatrac is the benchmark for stadium shows to minimise impact on the pitch."
Mojo Barriers appoints New Budapest Distributor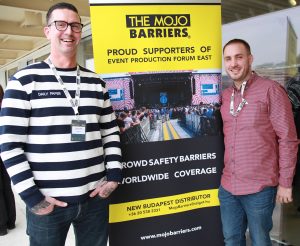 A range of Mojo Barriers aluminium crowd safety barriers are now based in Budapest with the announcement of a new Mojo distributor giving convenient, cost effective barrier rental for festival  organisers and tours coming to Eastern Europe, November 17th, 2017.
A stock of Mojo Barriers will be permanently located in Budapest for rental and it has already been hired out to create the front of stage barrier for the Gorillaz concert, 13th November in Budapest, Papp Laszlo Arena.
Mojo's project and touring manager Stanley Jilesen states:
"With the expanding live events market in Hungary and Eastern Europe, Mojo Barriers is proud to support organisers with local resource to help keep their events safe. Having worked with Sziget Festival for several years we are delighted to work with the innovators in this region pushing for higher standards." 
The new Hungarian distributorship is the company's 12th along with the international offices in Netherlands, UK, USA and Australia. Growing this global network strengthens the ability to support world tours with local resources whilst also making it easy for festivals and concerts in the region to hire the range of barriers. 
Dániel Benis, Sziget production director, comments:
"We wanted to deliver our events to the highest of international production standards, particularly when it came to the safety of our audience, artists and crew. Our experience with Mojo Barriers has been very positive so we are delighted to be able to offer their products to other events in the region."
Mojo Barriers US appoints New Vice President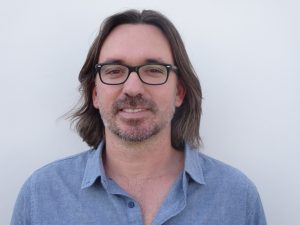 Mojo Barriers US office announces the appointment of Dan Gormley as Vice President, joining fellow US Vice President Jordi van Berkum.
Dan states:
"I am delighted to be joining Mojo Barriers as the company prepares to introduce new product ranges into the US market. I have the upmost respect for Mojo and relish the challenge to continue to evolve and improve our effectiveness and reach, expand the offering to clients, while developing and further strengthen our brand."
Dan's eight years experience working in live entertainment has given him a deep understanding of promoter cost containment requirements, along with the development of both new processes and new products to reduce overhead production costs. Previous roles have spanned festival site development to design and construction of new live event facilities. 
Dan will be based in Mojo's Los Angeles facility.
Mojo Barriers celebrates 25 years with Lowlands Festival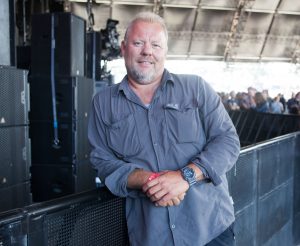 2017 was a landmark celebration for the organisers and suppliers of Lowlands Festival, where Mojo Barriers has kept crowds and artists safe at all 25 editions, August 17th – 20th, 2017.
A 60,000 sell out crowd were in attendance for a wide range of artists including Mumford & Sons, Iggy Pop, The XX, Cyprus Hill and Bastille across six stages. This year the main two Alpha and Bravo stages were newly designed and manufactured, creating impressive focal points on the creatively designed Biddinghuizen site.
Mojo Barriers account manager Erwin Sprenger states:
"This year is really special to see with all of the innovations on the festival and the 25th celebrations. I have worked on 17 Lowlands Festivals and even with all of the site developments this year it is one of the easiest projects I manage, thanks to the efficiency of the festival management team and local crews. We supply 600m of equipment but only two Mojo co-ordinators are required to manage the installation."
In addition to Mojo's aluminium front-of-stage barrier, a range of special corner barriers, mega-gates, line-up-gates and Gatekeeper turnstiles were installed across the site. The company also supplies its plastic Bar Barrier system for concessions and cable ramps.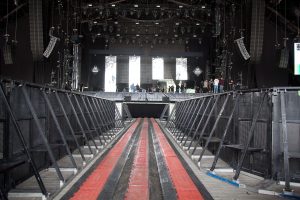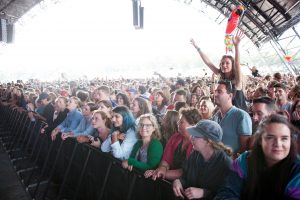 Mojo Barriers at Hellfest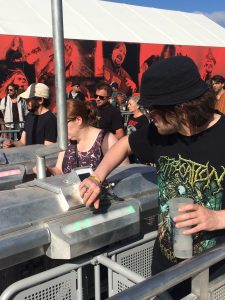 Mojo Barriers introduced its Gatekeeper temporary event turnstile system to Hellfest for the first time, June 2017, along with Mojo aluminium stage barriers keeping crowds safe.
Festival rock fans descended on Clisson, France for Hellfest Summer Open Air, enjoying performances from headliners Linkin' Park, Deep Purple, Aerosmith and many more. 
For its sixth year working with the festival, Mojo supplied over 800 meters of stage barriers, along with 200 meters of bar barriers. For the first time, the company installed 17 Gatekeepers to speed up entry to the festival site. To ensure smooth ingress, Mojo supported Intellitix, who integrated its RFID technology into the Gatekeepers for scanning wristbands at the entrances, enabling the fans to be ushered into the festival site more quickly and efficiently.
The Gatekeeper intelligent portable turnstiles link to a central computer system, which gives accurate capacity data and real time counting. It also incorporates full scanning capabilities and is compatible with any scanning methods.
Mojo Barriers Download Triple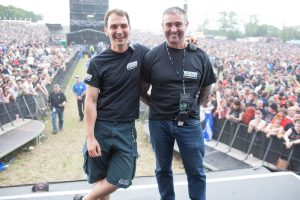 Mojo Barriers was contracted to install over 2,000m of front of stage barriers and bar barriers at three Download Festivals in the UK, France and Spain, June 2017.
Each country's Live Nation division were the promoters and clients, bringing in Mojo to keep rock fans safe through three days of performances by the world's top rock bands.
It was a welcome return to Donington Park's Download weekend, June 9th to 11th, in the UK for Mojo with Jim Gaffney, heralding Jim's return to the company as a senior account  manager.  Jim explained:
"I have managed the design and installation of the stage barriers at Download Festival since it began in 2003, where Mojo Barriers has always been the system of choice. I enjoy a great relationship with the Festival Republic team supporting Live Nation, it's always been a high priority for Melvin Benn and John Probyn to deliver a safe festival. We have a lot of planning discussions to look at the crowd dynamics and create the best barrier design.
"We have developed a very particular barrier configuration for the main stage, accounting in particular for the sloping ground stage right, the very wide sight line, along with the need for the incoming productions to get easy access to the front of house. While very good natured, we also considered this is a very boisterous audience who like to get their mosh pits and circles going, all of which led us to a unique lay-out. Our primary front of stage curved barrier has a central thrust back to front of house, and two secondary "arms" that allow the security improved access to the audience. The layout also allows the audience a choice of areas and a safe event without being too restrictive.
"This year we also had to accommodate Aerosmith's 15m thrust coming off the front of the mainstage, which meant looking at the downstage edge curves very carefully to avoid any pinch points, while retaining the original width of the thrust. This is where experience becomes invaluable. The pit for security personnel was also slightly deeper, because of the thrust, but the fact that the festival management had invested in putting down hard standing in front of the stage since the previous years' festival meant our load in and out were much easier, with less ground damage from plant to deal with."
Also joining the Mojo Barriers UK team at Download was Costa Chaparov as crew chief. Jim and Costa have worked together for many years and, with Mojo this summer, they have already managed barrier installations at BBC Radio 1's Big Weekend in Hull and the Old Trafford Manchester One Love memorial concert at very short notice.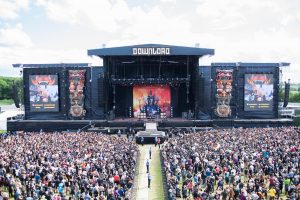 Over 1,200m of aluminium stage barrier was deployed in unique layouts at all five stages and around front of house towers, camera platforms and assisted viewing platforms. Mojo also supplied over 200 meters of Bar barrier to the various bars and concessions around the whole site giving their staff a secure working environment.
Simultaneously on mainland Europe it was the first time Mojo Barriers had supplied 750m of barriers and 400m of plastic bar barriers to the Paris festival. Stanley Jilesen project managed the planning and delivery of six trucks of equipment across five stages with two Mojo supervisors completing installation in just a day and a half, with the assistance of local crew.
Igor Dawidowicz, from Live Nation SAS France comments: "Everything went very well and your team is just great! Honestly, we all feel the difference between your work and other companies."
Stanley will also project manage the 400m of Mojo stage barriers to the new Spanish edition of Download two weeks later.
Mojo Supply Feyenoord Victory Parade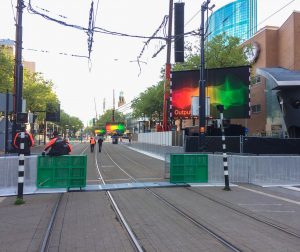 Mojo Barriers ensured over 150,000 fans could celebrate in style when Feyenoord won its first Eredivisie title in 18 years.
Six trailers and 24 Mojo crew installed over 1,750m of crowd barriers including 27 mega exits, high fencing and barrier corners in the centre of Rotterdam in preparation for Feyenoord's victory parade. Feyenoord's first Dutch title win since 1999, came after a defeat by Excelsior on 7th May, in which the title could have been claimed.
Mojo Barriers' Erwin Sprengers explains:
"Feyenoord could have won the league on the 7th May, so we were called in to ensure crowd safety at the victory parade, which took place in central Rotterdam. The night before the match, we installed 1,750m of crowd barriers which lined the main roads and secured the government building where the local Mayor is located. With numerous big screens and players on the Mayor's balcony, we created 11 crowd zones to limit surges and closed the main road and tram route in preparation. Following Feyenoord's defeat, we had to de-rig throughout the night without there being an event.
"With the Dutch league title race coming down to the final day of the season at the Feyenoord V Heracles game, we re-installed all the kit in preparation for their win. With Feyenoord being crowned champions, the atmosphere was incredible and the victory parade attracted over 150,000 fans who all took to the streets of Rotterdam to celebrate with their team and see them lift the Eredivisie shield. It was a pleasure to work with Livetime Productions' production manager, Maarten Lamers."
Kevin Thorborn Appointed Mojo Barriers UK Director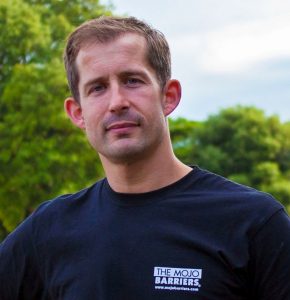 Kevin Thorborn has been promoted to director of Mojo Barriers UK, following his role as UK manager for the past 17 years, 24th April 2017.
Having started at Mojo Barriers in 2000 Kevin has managed the provision of stage and crowd safety barriers to over 1,000 festivals, from their local Medway Castle Concerts to Glastonbury Festival. His diverse experience spans venues from student unions to the O2 Arena, supplying concerts and European tours, which this year have included Bruno Mars, film premieres, award shows such as the Brit Awards, major public and sporting events and he has even supplied police forces in riot situations.
Mojo Barriers CEO Alex Borger states:
"We are delighted at Kevin's progression since joining Mojo, particularly over the past two years when he has delivered consistently impressive results and expanded the UK business. I am sure this promotion to UK director is the beginning of a very exciting future as we look to expand our offering to the UK market with Kevin at the helm.
"Kevin has developed an extensive network of clients and he is clearly delivering the high levels of service we aspire to, as shown by the amount of events contracting Mojo Barriers on a regular basis."
Outside of the companies head office in Netherlands, the UK office sits alongside the USA and Australia offices, with a further 27 distributors providing clients a global network to access Mojo Barriers' trusted range of crowd safety and stage barriers.