Evago Group Acquires Terraplas rental business
Evago Group has become the world's exclusive rental partner for all Terraplas turf protection products since taking over the American rentals branch for Terraplas USA, March 2018.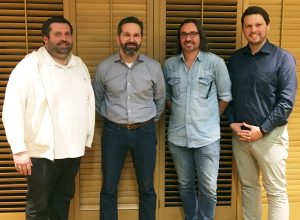 German event supply and industrial services company Evago Group ("Evago") and the Anglo-American Checkers Safety Group, who purchased Terraplas in 2015, have agreed a long-term partnership for Terraplas rentals internationally. Having acquired Mojo Barriers in 2017, Evago then bought the UK Terraplas rental business, and immediately fulfilled demand for the specialist stadium pitch protection for concerts. This new deal will see the Terraplas range be available throughout the Evago Group and Mojo's trusted global network.
With over 27 years of experience in the quality turf protection market, Terraplas has unrivalled experience and leadership in the business of temporary flooring for stadiums and arenas hosting concerts and other non-grass events. The partnership Terraplas USA, part of the Checkers Safety Group, means Evago companies (Mojo Barriers, BÜMO, IEP) have an expanded ground protection rental portfolio of stock exceeding 400,000 m².
With the completion of this transaction Evago sets another milestone in its international growth and diversification strategy, significantly extending its position in the global event flooring market.
Goran Marincic, CEO, Evago AG states:
"Terraplas products are unique in the market and complement our existing product portfolio perfectly. They have become highly trusted to protect valuable stadium turf and sport pitches from heavy vehicles to pedestrians. With this acquisition we significantly strengthen our position in global events, adding significant synergy with our existing brands and companies. Our goal now is to very quickly increase the rental stock of pitch protection with additional new material in order to be able to respond immediately to customer requirements."
Robert Else, Chairman of Terraplas comments:
"In our partnership with the EVAGO Group, we are pleased to further consolidate and expand the market leadership of the Terraplas brand worldwide."
Mojo Barriers US appoints New Vice President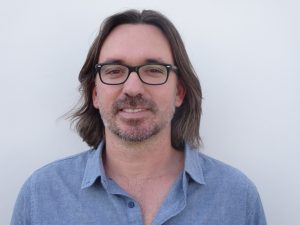 Mojo Barriers US office announces the appointment of Dan Gormley as Vice President, joining fellow US Vice President Jordi van Berkum.
Dan states:
"I am delighted to be joining Mojo Barriers as the company prepares to introduce new product ranges into the US market. I have the upmost respect for Mojo and relish the challenge to continue to evolve and improve our effectiveness and reach, expand the offering to clients, while developing and further strengthen our brand."
Dan's eight years experience working in live entertainment has given him a deep understanding of promoter cost containment requirements, along with the development of both new processes and new products to reduce overhead production costs. Previous roles have spanned festival site development to design and construction of new live event facilities. 
Dan will be based in Mojo's Los Angeles facility.
Building on 2016 Success for Mojo Barriers US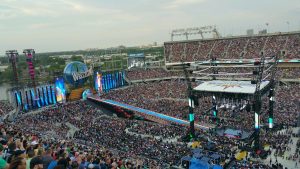 A new look Mojo Barriers US office, with Jordi van Berkum at the helm, has assembled an experienced team to ensure the company continues to offer its world renowned stage and crowd safety barriers to its expanding portfolio of clients.
Mojo Barriers US office has started the year supplying some diverse events, from installing crowd safety barriers to a large political event in Washington DC, WWE WrestleMania 33 in Orlando over the first weekend of April, to servicing the 27 date US tour for Eric Church. Mojo Barriers is still on the road with the Red Hot Chili Peppers and the team has just dispatched the touring barrier system for the five month The Weeknd tour.
The outdoor festival season began in March and witnessed Mojo supply over 500m of stage barrier to Okeechobee Music & Arts Festival in Florida, and over 300m of barrier to the New Orleans Jazz & Heritage Festival, the home of jazz, which it has supplied for many years.
Jordi van Berkum states:
"We are committed to continuing to give our existing clients Mojo Barriers' consistent high service levels, whilst expanding our equipment stocks. There is a growing awareness when it comes to the need for having a tried and trusted crowd or stage barrier system on an event, so we are also advising new clients on how best to use our barrier systems to keep their audiences, artists and crew safe."
Mojo's US Pennsylvania team is building on a successful 2016, when they supplied over 75 festivals, the ten biggest music tours including all 21 North American tour dates for the legendary American rock band, Guns N Roses' Not in this Lifetime Tour, and hundreds of rentals to some of the year's biggest events.
Bruno Mars tours with Mojo Barriers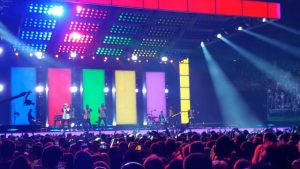 Mojo Barriers helped Bruno Mars create magic safely through the provision of specially-designed touring barrier to all European and US tour dates of his 24K Magic World Tour.
Mojo supplied a complete touring set, including front of stage barriers and a front of house barriers, to Bruno Mars' third concert tour, which began on 29th March at the Sportpaleis in Antwerp. Mojo utilised its G2 barrier, which was designed specifically for the touring industry to bring benefits to production teams, including being lighter, more compact and enabling easier and therefore more cost efficient transportation and installation.
Stanley Jilesen, Mojo Barriers project manager explains:
"We've known Bruno Mars' production manager, Joel Forman, for a long time now and he's always great to work with. For this tour we supplied our G2 touring barrier which is perfect for arena shows as their lightweight, compact design means they require less truck space so they can be easily transported to different venues throughout the tour. This enables the barriers to tour with the rest of the production elements, negating the need to rent equipment from local suppliers at each venue."
Mojo Barriers' Appoints US Manager
Mojo Barriers US has appointed Jordi van Berkum as the company's new US manager, 6th Feb 2017.

Since the acquisition of Mojo Barriers by EVAGO Group on 18th Jan 2017, CEO Alex Borger has been taking on board the ambitions of the new owners and visiting the global network of offices with them. A trip to the USA in January with EVAGO CFO Lorenz Schmid resulted in the appointment of Jordi van Berkum.
Alex comments: "Jordi's experience working for Mojo Barriers gives us confidence that his understanding of our high quality delivery and service values will be at the core of his management strategy. He's a fantastic addition to our management team who will help to shape the US company to make the best of new opportunities that arise as part of EVAGO Group in a dynamic market sector."

Mojo is currently supplying crowd barriers/barricades to 2017 US tours by the Red Hot Chili Peppers and 21 Pilots.

In addition to working with Mojo Barriers, Jordi worked for Backbone North America where he was part of the production team at events including Corona Sunsets, Mysteryland USA, TomorrowWorld, Life in Color Miami and the United States Grand Prix Formula 1 concerts at Circuit of the Americas featuring Taylor Swift & The Roots ft Usher.
Mojo Barriers Supply Muse World Tour
Muse is the latest band to benefit from Mojo Barriers' specially-designed touring barrier as 160m of the system keeps crowds safe throughout 'The Drones World Tour'.
Mojo Barriers was contracted to ensure audience and artist safety at all the US and European dates of Muse's nine month tour. Mojo supplied 160m of barrier, ADA and heavy duty cable ramps along with custom designed Double Flex Corners to allow the Muse production team to pass cabling under the barriers safely.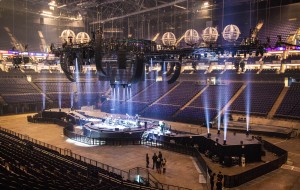 Mojo's JB Dolphin and John Wagoner oversaw all 27 Mexican and North American dates, whilst Stanley Jilesen oversaw the 50 shows in Europe. Muse played in the round, with a circular stage in the middle with two catwalks at either end. To compliment the unique stage layout, Mojo's Vario Corners were widely used to work with the contours of the stage. The tour has been celebrated for its use of the latest drone technology by Motion Business, who worked with the production team to fly giant drones above the audience throughout the show.
Mojo US' John Wagoner comments: "The Drones World Tour has been groundbreaking with the bands use of technology and we're proud to have been involved with such a spectacular production. During rehearsals the production team had some last minute changes that augmented the barrier layout, however we were able to deploy the crucial parts to accommodate these changes and ensure the tour didn't miss a beat."
Mojo's Stanley Jilesen comments: "Muse's stage design allows the band to offer greater intimacy and get as close as possible to their fans. We were able to accommodate this layout using specialist equipment from our stock list,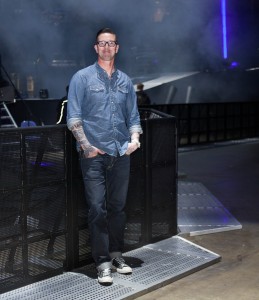 as well as custom designed barrier pieces, which enabled us to install the desired barrier configuration. Muse's use of technology within their stage show has enabled them to produce a truly brilliant spectacle and we're proud to play a part in this." 
Chris Kansy, production manager commented: "Muse's Drones World Tour isn't a straightforward one-size fits all show. The tour is sculpted around a bespoke stage layout with multiple entrances and multiple cable routing in and out. The set up depends on a number of factors including the venue, where the band enters and how we need to feed equipment in and out of it. We rely on carrying a range of spare equipment Mojo Barriers has supplied us to enable us to adopt the configuration that we need for the show, and having the right parts to do this is important.
"My relationship with Mojo Barriers has been a long one and I have huge trust in the team and their kit. Mojo understand our requirements and have gone out of their way to ensure we have all the special corners and gates needed to stage this impressive show."
The Drones World Tour officially begun on the 17 November 2015 in Mexico's Palacio de Los Deportes and will end at Hungary's Sziget Festival on the 10 August 2016.
2015 Success For Mojo Barriers US
Mojo Barriers' US office had a busy 2015 supplying safety barricades and a range of special equipment to some of the year's biggest events.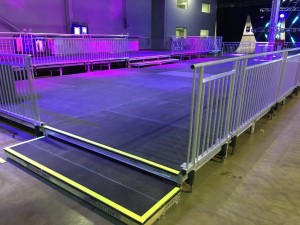 Pemberton Music Festival: 561m of barrier and 1,740 ft of cable ramps were supplied to Pemberton Music Festival, which took place in Pemberton, British Colombia from 16th – 19th July. Billed as "Canada's largest festival," the four-day event witnessed performances from Kendrick Lamar, The Black Keys and The War on Drugs.
Squamish Valley Music Festival: Mojo Barriers supplied 470m of Mojo's specially-designed touring barrier the G2, which enabled the team to load up to 15% more barrier, meaning only one truck was needed. Mojo first worked with Squamish Valley Music Festival in 2014 when Mojo's Peter Burns trained the local staff to safely install the barriers, this meant for the 2015 event the Squamish team were able to take on the barrier install for themselves. Squamish Valley Music Festival took place in Squamish, Canada from the 7th – 9th August.
Time Warp Festival: The team undertook Mojo's largest decking job to date as they helped transform an empty warehouse into a venue fit for this brilliant EDM event. Mojo Barriers provided DJ Booths with tracking table tops for easy set changes, stages, VIP risers and barriers to surround the stages and front of house platforms. Time Warp Festival took place in Brooklyn, New York on from the 20th – 21st November. The festival, presented by German promoters Cosmopop, boasted performances from EDM royalty including Sven Väth, Luciano and Jamie Jones.
Reaction NYE: Reaction NYE is Chicago's premier NYE event, taking place on the 30th – 31st December. Mojo Barriers aided the transformation of 580,000 raw sq ft of warehouse, through the supply of 183m of barriers and the construction of one of the stages. Mojo also supplied a multi tiered VIP platform with ADA compliant ramps, specially designed using custom size stage decking allowing the upmost flexibility in design. With performances from deadmau5, Skrillex and Chvrches, Mojo helped music-lovers ring in the New Year in true EDM style.
Mojo Barriers Supplies Taylor Swift's Record Breaking 1989 World Tour
Taylor Swift's '1989 World Tour' was the highest grossing concert tour of 2015 and Mojo Barriers was on hand to ensure crowd safety during the North American and European tour dates.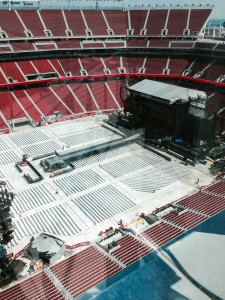 From the first show on the 5th May 2015, the seven month tour visited 85 locations worldwide until its finale on December 12th at the AAMI Park in Melbourne. Mojo Barriers was contracted to provide crowd barriers for 71 out of the 85 dates, which included all 63 North American and eight European shows.  
For the stadium dates Mojo Barriers supplied 850 feet of barrier to surround the thrust, which extended out into the audience for maximum intimacy, and was used to create VIP areas within the stadiums. For the arena dates, Mojo supplied 550 feet of crowd barrier which wrapped around the stage to ensure optimum crowd safety. Alongside providing barriers, Mojo Barriers US' JB dolphin also coordinated the hire of nine Gladiator IV 4.5k follow spots from SpotRental.  
JB Dolphin President of Mojo Barriers US and SpotRental US commented: "The client appreciated our wide service offering offer, from the global support network of Mojo Barriers, alongside our SpotRental lighting. Taylor Swift's 1989 World Tour demanded high production values and being the highest grossing concert tour of 2015 meant professionalism was required to meet the busy schedule with consistently high standards. We're proud to have been part of that team. "
This isn't the first time Mojo Barriers has worked with Taylor Swift, having being contracted to supply her last world tour 'Red' which took place in 2013.
Mojo Barriers Us Contracted For Four Major Tours
Mojo Barriers' US office has been chosen to supply safety barricades for four of the most anticipated tours of 2015. 
Taylor Swift, The Rolling Stones, AC/DC and Kenny Chesney will all hit the road equipped with Mojo's trusted barricade system, ensuring crowd, crew and artist safety during the US tour dates. 
On 20th May Taylor Swift embarks on her '1989 World Tour', with Mojo on hand to provide barricades until the 31st October in Tampa, Florida. 
Mojo Barriers' long-standing relationship with rock legend's AC/DC's continues with the 'Rock or Bust' tour, which sees them hit the road for the first time since 2010. The Highway to Hell stars will kick off their US leg on 22nd August in Massachusetts and finish on 28th September at Los Angeles' Dodger Stadium. 
The Rolling Stones 2015 tour visits 15 North American cities from the 24th May until the 14th July, and country music sensation, Kenny Chesneys, 'Big Reveal Tour', kicked off in Nashville on 26th March and is set to finish in Massachusetts on 29th August. 
J.B Dolphin, Mojo Barriers' US president, commented: "We are very proud to be involved in four of the biggest tours to be hitting the USA this year. These contract wins reflect our growing reach into the concert and touring industry, which is a core part of our music focus, alongside the great festivals that we supply every summer."
MOJO ON THE ROAD WITH THREE AMERICAN HEAVYWEIGHTS THIS SUMMER
Mojo Barriers' UK office was entrusted to supply the stage barriers for three of the USA's biggest stars, Katy Perry, Miley Cyrus and Justin Timberlake, as they headed across the Atlantic to play their UK and European tour dates.
KATY PERRY'S PRISMATIC TOUR:
Katy Perry toured across the UK with 75m of Mojo Barriers' patented aluminium stage barrier, configured to follow the layout of the singer's v-shaped stage which was designed to reflect her latest album's title, Prysm. The layout, designed by Mojo Barriers' CAD specialists in cooperation with Perry's production team, featured a secondary barrier line within the 'v', used to create a custom 'golden circle' for fans to get up close and personal to the Roar star.
JUSTIN TIMBERLAKE'S 20/20 EXPERIENCE:
Justin Timberlake's 20/20 Experience toured with 18m of Mojo's stage barriers to provide crowd control solutions across all of its UK and European dates. The tour also engaged Mojo Barriers' US office for the North American dates, allowing the production team to ensure the same standards of health, safety and security across the globe, as well as the same aesthetic look and feel.
MILEY CYRUS' BANGERZ TOUR:
The sell-out European dates of the 'Bangerz' tour features a total of 128m of Mojo Barriers: 80m to cover the tour's A and B stages and an additional 48m to surround the show's C stage and FOH. The unique cross shaped thrust of the stage and catwalk, and the C stage behind the FOH is a complex set up which required a flexible approach to planning and design. Mojo's system allowed the barrier line to perfectly fit the contours of the stage, getting the audience nearer to the action and Miley herself.
Kevin Thorborn, general manager of Mojo Barriers UK, commented: "Complex designs such as these mean that venues often don't have the correct kit available to match the ambitious production values of the tour.
"Our extensive range of straight sections, corners and gates mean we can create flexible configurations to suit the required layout, without ever compromising on the stringent health and safety standards required.
"We are very proud to be involved in three of the biggest tours in Europe this year, and it reflects our growing reach into the concert and touring industry, which is a core part of Mojo UK's music focus, alongside the festivals we supply every summer."