Mojo Flooring Protects Pitch for World Title Boxing and International Football
Mojo Barriers UK division installed the first Terratrak Plus® pitch protection system of a busy 2018 summer season onto the Leeds United Elland Road pitch for the IBF World Featherweight Title fight, 19th May 2018, keeping the pitch in pristine condition ready for England International football 17 days later. Stadium floor TIMELAPSE. It simultaneously covered three other stadium pitches.

First onto the Elland Road pitch was the Mojo Barriers team early on Thursday morning, installing their Terratrak Plus® stadium flooring system. Project Manager Kevin Thorborn oversaw twenty crew who installed 9,200 sqm of pitch protection, which was well within schedule ready for the other suppliers to come in on the Friday morning and install the ring, canopy and seating.
Director Kevin Thorborn says: "This Terratrak Plus® gave a fully driveable pitch protection that can take loads of up to 100 tonnes. The fact that it is translucent makes it pitch friendly as it lets light through to the grass. The floor tiles are easy to handle, so we deployed a crew of twenty to install and remove the system, which was off the pitch by 1pm on the Sunday following the Saturday evening fight."

The Mojo crew also installed 70m of Mojo Barriers to create a safe fighters entrance ring walk. Across that same timeframe Mojo crew's also installed 9,500 sqm  of the company's  Terratrak Plus® pitch protection into Manchester's Ethiad Stadium  for a series of concerts, starting with sold-out Ed Sheeran shows and remaining there for JayZee & Beyonce, Foo Fighters and Taylor Swift until mid June.  Mojo also installed 9,500 sqm of Terratrak Plus® into Old Trafford for a Billy Joel concert and installed a fourth system of Terratrak Plus® into Wembley Stadium for Ed Sheeran, Taylor Swift and Capital's Summertime Ball.
Frank Warren and Queensbury Promotions promoted the IBF World Title Fight, which was witnessed by 30,000 fans in Elland Road stadium who enjoyed local Leeds favourite, Josh Warrington, beating World Champion, Lee Selby, taking the title to the delight of a packed stadium.

Leeds United FC was doubly honoured to host two international level events within the space of two and a half weeks. Elland Road's Facilities Manager, Mark Broadley, project managed the transformation from a football stadium into a boxing arena and back again, leaving the stadium as if the boxing had never been in.
Mark Broadley explains: "It's great that Elland Road was selected to host both World Title Boxing and the last England football friendly before the World Cup. Of course a key consideration was that we had to install all of the boxing production and have temporary seating for six and a half thousand fans on the pitch, whilst still ensuring that seventeen days later it remained in prime condition for the country's finest footballers.

"Our groundsman and all of the key production suppliers (Mojo Barriers, Arena Seating, Ringcraft Boxing and Prysm) liaised very closely through multiple planning meetings to minimise the time-span for which the pitch had to be covered. It required a very well co-ordinated build and de-rig, incorporating overnight shifts, which they all co-operated on and executed brilliantly."

The England football team played on the pitch on June 7th, which evidently suited them as they secured a 2-0 win over Costa Rica.

ENDS
Mojo Barriers UK Supplies Red Carpet Season
This red carpet season, Mojo Barriers was called upon to supply just short of 1km of barriers to many of the season's biggest awards ceremonies.
Kicking off the season in style, Mojo supplied the 2017 MTV EMAs and went on to supply the National Television Awards 2018, the 71st British Academy Film Awards (BAFTA), the 2018 Brit Awards and the inaugural Global Radio Awards.
Along with stage barriers, Mojo also supplied almost 250m of its specially designed High Fence which created 2.4m of height to section off secure and private VIP areas. Mojo also supplied heras fencing, channel barriers, met barriers and T Shield to ensure safety for both artists and attendees.
Mojo Barriers UK director Kevin Thorborn comments: "We're proud to have worked on such a roll-call of prestigious events, and with the eyes of the media world on these prestigious award shows it was vital we supplied barriers that not only provided optimum security, but that also looked great.
"It's been great to not only be working to strengthen our relationships with our existing awards clients, but to also forging new relationships as we work on new events introduced throughout 2018."
Mojo Barriers UK Summer Roundup
The introduction of temporary flooring for stadium pitch protection marked a significant addition to the services offered by Mojo Barriers' UK office summer 2017, along with over 10km of front of stage barriers and crowd safety products installed to festivals, tours, one off stadium concerts and sporting events. 
With the summer about to start Mojo Barriers became the exclusive supplier of Terraplas in the UK, with Director Kevin Thorborn taking on the installation of 8,000sqm of Terrafloor at Wembley Stadium, 29th April, for the Joshua v's Klitschko world title fight. The pedestrian flooring protected the Wembley pitch from the 90,000 capacity crowd, so that the pitch was ready for FA Cup football the following week.
It was the heavier duty Terratrac plus system installed at the Manchester Etihad for the July 3rd Robbie Williams concert, and again two weeks later in the same venue for Take That. Mojo provided 9,500sqm of the heavy duty pitch protection system, which is suitable for the large vehicle movements required for touring load-ins.
Kevin states:
"Terraplas is a world renowned high quality product, being able to supply our clients with stadium pitch protection systems this summer has seen us add a great additional support service and we are looking to expand that service into 2018."
With the additional temporary flooring inventory Mojo UK has also opened a second storage and logistics hub in Essex.
Festival Crowd Barriers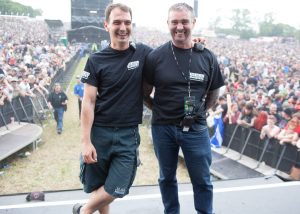 2017 was one of the busiest ever summers for the UK office with the return of Jim Gaffney and the addition of Kosta Chaparov to the Mojo team, who spearheaded the installation of barriers at festival sites across the UK. Their summers began with a familiar client in a venue not used for a large festival before, with the BBC Radio 1 Big Weekend taking place in Hull, closely followed by Download Festival, where it provided 2,000m of barrier across the site.
The next large festival for Mojo was Glastonbury, where 1,400m of stage barriers were installed. Having been a supplier for nearly a quarter of a century Jim's experience has seen him at the core of developing barrier configurations at the festival. Mojo supplied barrier to the Pyramid and Other stages as well as introducing 15 new Line-up Gates and one Mega Gate in the southeast corner to reduce queuing at that bottleneck.
The first two weekends of July saw Mojo in London for Community and Wireless festivals, which both took place in Finsbury Park. The two events required 350m of stage barrier and 145m of bar barrier.  Mojo's original plan for the events was to divide the site in two with a line of stage barrier and Mega gates. After a discussion with site management, it was agreed that the configuration of the ground prevented this configuration. Instead, a 40m run off was built into the arena from the front barrier line and parallel to the fence line, which gave the security more access to the audience both physically and from an observational point of view.
After May's terror attack in Manchester Arena, Mojo was called upon to provide barriers to the One Love Manchester gig. The event was planned at very short notice and the Mojo team had to quickly prepare their equipment from their European offices in order to provide the required 400m of barrier. Mojo also supplied 300m of crowd barrier at Radiohead's Lancashire Cricket Ground concert, which was a replacement for their cancelled Manchester Arena show.
Scotland's inaugural Trnsmt Festival took place from 7th to 9thof July. Mojo provided 500m of barrier including curved primary and secondary front of stage barriers and, as can often happen, the barrier configuration was varied from the original design once the experienced team looked at how the site was working.
Jim comments:
"Trnsmt's site manager was John Wilson, who I have built up a strong working relationship with over the years. Once we were onsite we identified that the main stage would be heavily side loaded, and with very busy crowds expected on Saturday night for Kasabian and Catfish and the Bottlemen, we extended the right hand side of the stage barriers. This was in contrast to the original plan, however it helped ease the egress between the acts and kept the crowds safe."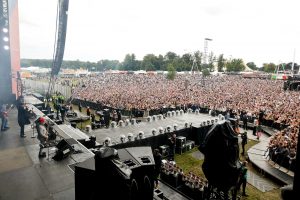 V Festival, which took place on 19th and 20th of August, used 700m of barrier from Mojo. Kosta was Mojo's project supervisor for the festival, which this year saw a reconfiguration of the stages. As well as this new layout, the team were also required to design a specific barrier configuration for P!nk's show, due to the extra thrust added to the stage for her performance, which involved being lowered onto the stage from a crane and then being flown above the audience in a harness.
The end of August saw the Mojo team heading to Reading and Leeds Festivals. At the Leeds site the team provided 900m of barrier, whereas the Reading location required 1,000m. An increased crowd density in the Dance Tent over the last two years led to Jim and his team creating a miniature version of their main stage configuration inside. This worked well, providing the security teams with much greater access to the audience. 
Mojo also supplied stage barrier to Boomtown Fair, which grew once again to take 700m of Mojo, Latitude, Creamfields, Proms in the Park, Somerset House's Summer Series, Parc Eiras, Ramblin Man, Ealing Jazz Festival, Southall Mela and finished the festival season at On Blackheath with a lively set from The Libertines.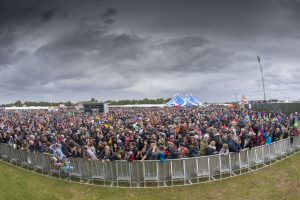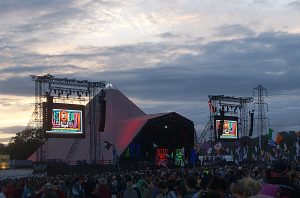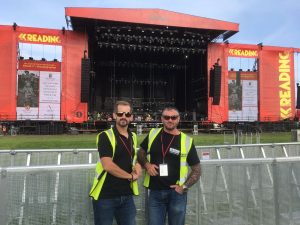 Sports Crowd Control Systems
London Stadium hosted the IAAF World Athletics Championships, 4th to 17th August, with capacity crowds enjoying retirement races from Usain Bolt and Mo Farah. Mojo supplied 114m of High Fence deployed outside the stadium perimeter to manage crowd flow.
Mojo High Fence was also used for the Guns'n'Roses, Depeche Mode and Robbie Williams concerts at London Stadium and it continues to be used to segregate crowds at West Ham home games. 
Kevin concludes:
"This fantastic year has been a great team effort, from the people on site to the office team, particularly Gordon Forrest and Andrea Iordache for their support and logistical skills.
"We're looking forward to a busier 2018 as we introduce our new stadium floor protection service and continue to expand our barrier inventory."
Photo credit: V Festival, Marc de Groot
Mojo Barriers increase presence at Glastonbury Festival
For the 13th year Mojo Barriers supported the Glastonbury Festival, expanding their service to the world-famous event and introducing new systems to improve audience safety, 22-25 June, 2017
Once again 150,000 ticket holders made their way to Worthy Farm at Pilton, Somerset to enjoy performances from the likes of Radiohead, Foo Fighters, Ed Sheeran, Stormzy, Lorde and even Jeremy Corbyn joining hundreds of other acts spread across the 1,100 acre site.
Mojo supplied aluminium stage barriers to 16 of the stages at Glastonbury Festival 2017, delivering a total of 1,400 metres across the site, including at the new Death Metal stage in the Shangri La area.
Mojo Barriers' project manager Jim Gaffney has been a Glastonbury supplier for nearly quarter of a century and he has been at the core of developing the barrier configurations at the festival over the years, with 2017 no different. New for this year were 15 Line-up Gates and one Mega Gate in the south-east corner of the arena at the entrance leading to the campsite, which reduced the queuing at that bottleneck.
Mojo once again installed secondary barrier systems on the festival's two biggest stages: – The Pyramid Stage and Other Stage. The Pyramid Stage secondary system was introduced a few years' ago to help cope with the increased capacity for that area, whereas the Other Stage barrier system came in last year when changes were made to open up sight lines for the audience.
Jim Gaffney, Mojo Barriers' UK senior account manager, said: "The new gates we introduced at the south east corner worked perfectly and eradicated the problems that have occurred there in the past.
"The secondary systems for the Pyramid Stage and Other Stage once again gave the audience a safer event and also allowed security staff more access to the audience."
Jerry Milichip was the site manager for the Pyramid Stage this year. Jerry has overseen many events that Mojo Barriers have supplied so played a pivotal role in the smooth delivery of the barriers.
"Jerry and our crews work very well together," said Jim. "He understands the way we work and why we do certain things because of his experience with barriers. Having him in a senior role was a huge help as he had made all the ground preparations we needed and logistical details like having enough forklifts at the right time to make our installation quick and efficient."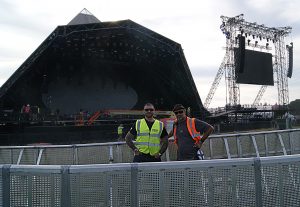 Mojo Barriers Download Triple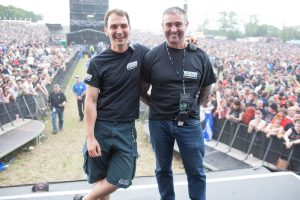 Mojo Barriers was contracted to install over 2,000m of front of stage barriers and bar barriers at three Download Festivals in the UK, France and Spain, June 2017.
Each country's Live Nation division were the promoters and clients, bringing in Mojo to keep rock fans safe through three days of performances by the world's top rock bands.
It was a welcome return to Donington Park's Download weekend, June 9th to 11th, in the UK for Mojo with Jim Gaffney, heralding Jim's return to the company as a senior account  manager.  Jim explained:
"I have managed the design and installation of the stage barriers at Download Festival since it began in 2003, where Mojo Barriers has always been the system of choice. I enjoy a great relationship with the Festival Republic team supporting Live Nation, it's always been a high priority for Melvin Benn and John Probyn to deliver a safe festival. We have a lot of planning discussions to look at the crowd dynamics and create the best barrier design.
"We have developed a very particular barrier configuration for the main stage, accounting in particular for the sloping ground stage right, the very wide sight line, along with the need for the incoming productions to get easy access to the front of house. While very good natured, we also considered this is a very boisterous audience who like to get their mosh pits and circles going, all of which led us to a unique lay-out. Our primary front of stage curved barrier has a central thrust back to front of house, and two secondary "arms" that allow the security improved access to the audience. The layout also allows the audience a choice of areas and a safe event without being too restrictive.
"This year we also had to accommodate Aerosmith's 15m thrust coming off the front of the mainstage, which meant looking at the downstage edge curves very carefully to avoid any pinch points, while retaining the original width of the thrust. This is where experience becomes invaluable. The pit for security personnel was also slightly deeper, because of the thrust, but the fact that the festival management had invested in putting down hard standing in front of the stage since the previous years' festival meant our load in and out were much easier, with less ground damage from plant to deal with."
Also joining the Mojo Barriers UK team at Download was Costa Chaparov as crew chief. Jim and Costa have worked together for many years and, with Mojo this summer, they have already managed barrier installations at BBC Radio 1's Big Weekend in Hull and the Old Trafford Manchester One Love memorial concert at very short notice.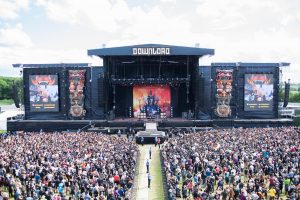 Over 1,200m of aluminium stage barrier was deployed in unique layouts at all five stages and around front of house towers, camera platforms and assisted viewing platforms. Mojo also supplied over 200 meters of Bar barrier to the various bars and concessions around the whole site giving their staff a secure working environment.
Simultaneously on mainland Europe it was the first time Mojo Barriers had supplied 750m of barriers and 400m of plastic bar barriers to the Paris festival. Stanley Jilesen project managed the planning and delivery of six trucks of equipment across five stages with two Mojo supervisors completing installation in just a day and a half, with the assistance of local crew.
Igor Dawidowicz, from Live Nation SAS France comments: "Everything went very well and your team is just great! Honestly, we all feel the difference between your work and other companies."
Stanley will also project manage the 400m of Mojo stage barriers to the new Spanish edition of Download two weeks later.
Bruno Mars tours with Mojo Barriers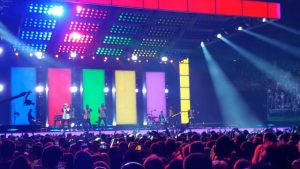 Mojo Barriers helped Bruno Mars create magic safely through the provision of specially-designed touring barrier to all European and US tour dates of his 24K Magic World Tour.
Mojo supplied a complete touring set, including front of stage barriers and a front of house barriers, to Bruno Mars' third concert tour, which began on 29th March at the Sportpaleis in Antwerp. Mojo utilised its G2 barrier, which was designed specifically for the touring industry to bring benefits to production teams, including being lighter, more compact and enabling easier and therefore more cost efficient transportation and installation.
Stanley Jilesen, Mojo Barriers project manager explains:
"We've known Bruno Mars' production manager, Joel Forman, for a long time now and he's always great to work with. For this tour we supplied our G2 touring barrier which is perfect for arena shows as their lightweight, compact design means they require less truck space so they can be easily transported to different venues throughout the tour. This enables the barriers to tour with the rest of the production elements, negating the need to rent equipment from local suppliers at each venue."
Kevin Thorborn Appointed Mojo Barriers UK Director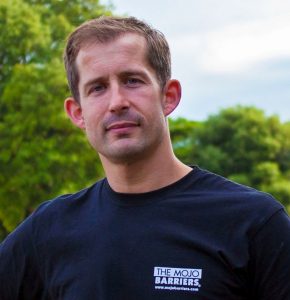 Kevin Thorborn has been promoted to director of Mojo Barriers UK, following his role as UK manager for the past 17 years, 24th April 2017.
Having started at Mojo Barriers in 2000 Kevin has managed the provision of stage and crowd safety barriers to over 1,000 festivals, from their local Medway Castle Concerts to Glastonbury Festival. His diverse experience spans venues from student unions to the O2 Arena, supplying concerts and European tours, which this year have included Bruno Mars, film premieres, award shows such as the Brit Awards, major public and sporting events and he has even supplied police forces in riot situations.
Mojo Barriers CEO Alex Borger states:
"We are delighted at Kevin's progression since joining Mojo, particularly over the past two years when he has delivered consistently impressive results and expanded the UK business. I am sure this promotion to UK director is the beginning of a very exciting future as we look to expand our offering to the UK market with Kevin at the helm.
"Kevin has developed an extensive network of clients and he is clearly delivering the high levels of service we aspire to, as shown by the amount of events contracting Mojo Barriers on a regular basis."
Outside of the companies head office in Netherlands, the UK office sits alongside the USA and Australia offices, with a further 27 distributors providing clients a global network to access Mojo Barriers' trusted range of crowd safety and stage barriers.
Mojo Supply Gorillaz New Album Launch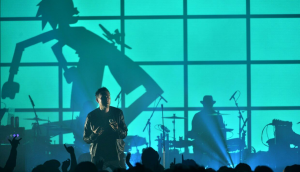 To mark the launch of their highly anticipated new album 'Humanz', Gorillaz performed a secret one-off show at Printworks, London, and Mojo Barriers showed it's not all about big tours and festivals by supplying its world-class stage barriers to this prestigious event, 24th March 2017.
The world's most successful virtual band celebrated the release of their new studio album with a very special performance which saw Gorillaz play 'Humanz' live for the first time in a ''triumphant comeback gig'' (NME) supported by Telekom Electronic Beats.
As the Gorillaz live band took to the stage, Mojo Barriers ensured artist and audience safety, highlighting that a big artist launch in a small venue still needs detailed attention. Held at new London venue, Printworks, the show saw Gorillaz joined on stage by a stellar rollcall of talent including Del La Soul, Pusha T and Noel Gallagher. Mojo Barriers ensured the safety of the audience and the band by providing a complete barrier and cable cover set, which included straight barrier sections, flex corners and snakegates. Mojo worked closely with the production team to install a barrier configuration that matched the contour of the stage and front-of-house area, and offered optimum safety. 
Stanley Jilesen, Mojo Barriers project manager commented: "We've worked with Gorillaz production manager, Joel Stanley, on previous events and it was great to work with him on such an exciting and highly-anticipated launch. Even with the event being held in an intimate venue, the prestige of the band and the calibre of acts they collaborated with on the night meant that the event required detailed attention to ensure the wellbeing of the crowd, the band and the front-of-house team. We worked closely with the production team to ensure the equipment and configuration we supplied did just this, and it was great to be involved in this very special Gorillaz show."
Gorillaz production manager, Joel Stanley, commented: "As always, Mojo have been crucial in the show and a pleasure to deal with, always flexible and amazing value."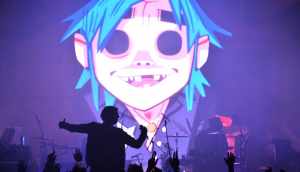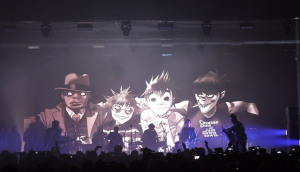 Mojo Barriers' Touring Treble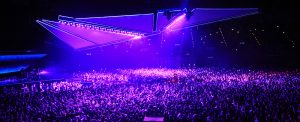 Mojo Barriers UK office has continued its winter touring season with a busy start to the year supplying its specially designed touring barrier to three major tours, January 2017.
Avenged Sevenfold kicked off their European arena tour on January 10th at Glasgow's SSE Hydro. Collaborating with the team behind Cirque du Soleil, the band took their stage production to the next level with projection mapping, giant inflatables and impressive visuals. Mojo Barriers supplied almost 100m of equipment for the UK and European tour dates, with a barrier configuration that contoured the additional thrust and B stage.
Mojo Barriers is also supplying an arena sized stage barrier system to all the UK and European tour dates of Kings of Leon's 'Walls' tour, starting on the 15th February at the Laxness Arena in Cologne. Mojo is also supplying the European and US legs of The Weeknd's Starboy: Legend of the Fall Tour which will begin on the 17th February at Stockholm's Ericsson Globe. With an impressive catwalk stage, Mojo is installing a number of supplementary products including diamond plates, vario corners and flex corners, to ensure the barrier configuration matches the contours of the stage.
Kevin Thorborn, Mojo Barriers' UK manager commented: "The touring market has always been an important one for us at Mojo Barriers, both internationally and in the UK, and we've witnessed major growth in this area over the last few years. As tours push the boundaries when it comes to stage shows and production we've seen an increased demand for our specifically designed touring barrier, which offers a more tour-friendly product whilst maintaining the highest levels of structural integrity and safety."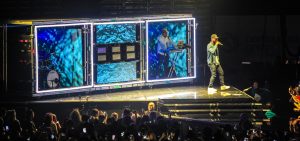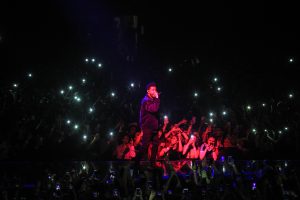 Red Hot Chilli Peppers 'The Getaway Tour'
The Red Hot Chilli Peppers began the European leg of their Getaway World Tour in September and we were asked to supply touring barriers for all 42 European tour dates.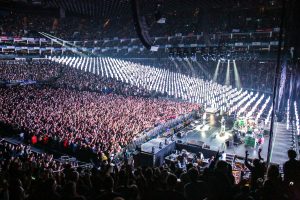 The band played some of the biggest arenas on the continent from Madrid and Barcelona to Vienna, Berlin and Stockholm, to promote their latest album. We supplied an arena sized Mojo stage barrier kit, for each of the 42 European show dates which took place in 26 venues, and which featured the largest automated kinetic light show in concert touring history.
The Californian band started their European tour at the Laszlo Papp Budapest Sports Arena and took their spectacular show to Amsterdam's Ziggo Dome, Franktfurt's Festhalle and Birmingham's Genting Arena.
The tour finished at the Dublin 3Arena on Wednesday 21st and the band will resume their epic trip around the world with a series of concerts back in the USA beginning in San Antonio on January 5.