Evago Group Acquires Terraplas rental business
Evago Group has become the world's exclusive rental partner for all Terraplas turf protection products since taking over the American rentals branch for Terraplas USA, March 2018.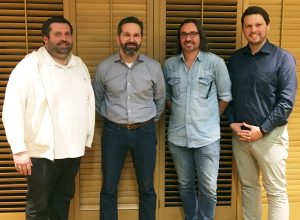 German event supply and industrial services company Evago Group ("Evago") and the Anglo-American Checkers Safety Group, who purchased Terraplas in 2015, have agreed a long-term partnership for Terraplas rentals internationally. Having acquired Mojo Barriers in 2017, Evago then bought the UK Terraplas rental business, and immediately fulfilled demand for the specialist stadium pitch protection for concerts. This new deal will see the Terraplas range be available throughout the Evago Group and Mojo's trusted global network.
With over 27 years of experience in the quality turf protection market, Terraplas has unrivalled experience and leadership in the business of temporary flooring for stadiums and arenas hosting concerts and other non-grass events. The partnership Terraplas USA, part of the Checkers Safety Group, means Evago companies (Mojo Barriers, BÜMO, IEP) have an expanded ground protection rental portfolio of stock exceeding 400,000 m².
With the completion of this transaction Evago sets another milestone in its international growth and diversification strategy, significantly extending its position in the global event flooring market.
Goran Marincic, CEO, Evago AG states:
"Terraplas products are unique in the market and complement our existing product portfolio perfectly. They have become highly trusted to protect valuable stadium turf and sport pitches from heavy vehicles to pedestrians. With this acquisition we significantly strengthen our position in global events, adding significant synergy with our existing brands and companies. Our goal now is to very quickly increase the rental stock of pitch protection with additional new material in order to be able to respond immediately to customer requirements."
Robert Else, Chairman of Terraplas comments:
"In our partnership with the EVAGO Group, we are pleased to further consolidate and expand the market leadership of the Terraplas brand worldwide."
Mojo Barriers appoints New Budapest Distributor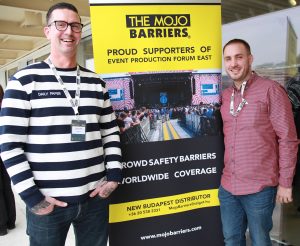 A range of Mojo Barriers aluminium crowd safety barriers are now based in Budapest with the announcement of a new Mojo distributor giving convenient, cost effective barrier rental for festival  organisers and tours coming to Eastern Europe, November 17th, 2017.
A stock of Mojo Barriers will be permanently located in Budapest for rental and it has already been hired out to create the front of stage barrier for the Gorillaz concert, 13th November in Budapest, Papp Laszlo Arena.
Mojo's project and touring manager Stanley Jilesen states:
"With the expanding live events market in Hungary and Eastern Europe, Mojo Barriers is proud to support organisers with local resource to help keep their events safe. Having worked with Sziget Festival for several years we are delighted to work with the innovators in this region pushing for higher standards." 
The new Hungarian distributorship is the company's 12th along with the international offices in Netherlands, UK, USA and Australia. Growing this global network strengthens the ability to support world tours with local resources whilst also making it easy for festivals and concerts in the region to hire the range of barriers. 
Dániel Benis, Sziget production director, comments:
"We wanted to deliver our events to the highest of international production standards, particularly when it came to the safety of our audience, artists and crew. Our experience with Mojo Barriers has been very positive so we are delighted to be able to offer their products to other events in the region."
Mojo Barriers celebrates 25 years with Lowlands Festival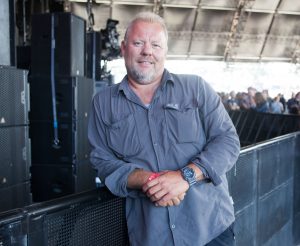 2017 was a landmark celebration for the organisers and suppliers of Lowlands Festival, where Mojo Barriers has kept crowds and artists safe at all 25 editions, August 17th – 20th, 2017.
A 60,000 sell out crowd were in attendance for a wide range of artists including Mumford & Sons, Iggy Pop, The XX, Cyprus Hill and Bastille across six stages. This year the main two Alpha and Bravo stages were newly designed and manufactured, creating impressive focal points on the creatively designed Biddinghuizen site.
Mojo Barriers account manager Erwin Sprenger states:
"This year is really special to see with all of the innovations on the festival and the 25th celebrations. I have worked on 17 Lowlands Festivals and even with all of the site developments this year it is one of the easiest projects I manage, thanks to the efficiency of the festival management team and local crews. We supply 600m of equipment but only two Mojo co-ordinators are required to manage the installation."
In addition to Mojo's aluminium front-of-stage barrier, a range of special corner barriers, mega-gates, line-up-gates and Gatekeeper turnstiles were installed across the site. The company also supplies its plastic Bar Barrier system for concessions and cable ramps.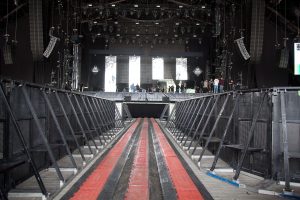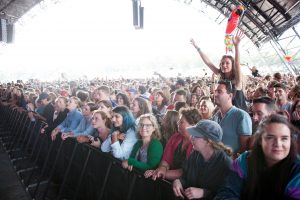 Mojo Supply Feyenoord Victory Parade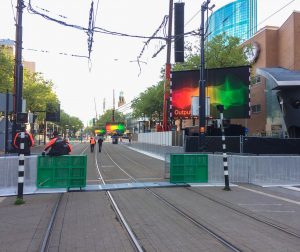 Mojo Barriers ensured over 150,000 fans could celebrate in style when Feyenoord won its first Eredivisie title in 18 years.
Six trailers and 24 Mojo crew installed over 1,750m of crowd barriers including 27 mega exits, high fencing and barrier corners in the centre of Rotterdam in preparation for Feyenoord's victory parade. Feyenoord's first Dutch title win since 1999, came after a defeat by Excelsior on 7th May, in which the title could have been claimed.
Mojo Barriers' Erwin Sprengers explains:
"Feyenoord could have won the league on the 7th May, so we were called in to ensure crowd safety at the victory parade, which took place in central Rotterdam. The night before the match, we installed 1,750m of crowd barriers which lined the main roads and secured the government building where the local Mayor is located. With numerous big screens and players on the Mayor's balcony, we created 11 crowd zones to limit surges and closed the main road and tram route in preparation. Following Feyenoord's defeat, we had to de-rig throughout the night without there being an event.
"With the Dutch league title race coming down to the final day of the season at the Feyenoord V Heracles game, we re-installed all the kit in preparation for their win. With Feyenoord being crowned champions, the atmosphere was incredible and the victory parade attracted over 150,000 fans who all took to the streets of Rotterdam to celebrate with their team and see them lift the Eredivisie shield. It was a pleasure to work with Livetime Productions' production manager, Maarten Lamers."
Mojo Supply The Europa League Final Celebrations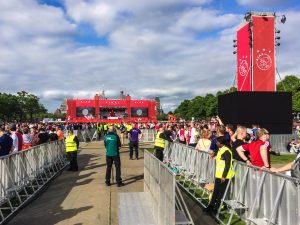 As thousands of Ajax fans gathered to watch the Europa League final, Mojo Barriers ensured crowd safety within Amsterdam's famous Museum Square.
With previous events in the park attracting crowd problems, The Mayor of Amsterdam, Eberhard van der Laan, wanted to create a safe and special environment for fans to watch the Europa League final between AFC Ajax and Manchester United.
Mojo Barriers was entrusted to create fan zones for 80,000 fans at Museum Square, which included multiple big screens to watch the game and a victory stage next to Rijksmuseum. Mojo's team installed five trucks of material including 750 straight barriers, 27 mega exits, 120 specials, 40 police gates and 40 line-up gates.
Mojo Barriers' Erwin Sprengers comments: "I'm extremely proud of the whole Mojo team who delivered quality and speed, and pulled together to help ensure the event was a huge success."
Client: Livetime Productions. Production manager Maarten Lamers. 
Mojo Barriers' Appoints US Manager
Mojo Barriers US has appointed Jordi van Berkum as the company's new US manager, 6th Feb 2017.

Since the acquisition of Mojo Barriers by EVAGO Group on 18th Jan 2017, CEO Alex Borger has been taking on board the ambitions of the new owners and visiting the global network of offices with them. A trip to the USA in January with EVAGO CFO Lorenz Schmid resulted in the appointment of Jordi van Berkum.
Alex comments: "Jordi's experience working for Mojo Barriers gives us confidence that his understanding of our high quality delivery and service values will be at the core of his management strategy. He's a fantastic addition to our management team who will help to shape the US company to make the best of new opportunities that arise as part of EVAGO Group in a dynamic market sector."

Mojo is currently supplying crowd barriers/barricades to 2017 US tours by the Red Hot Chili Peppers and 21 Pilots.

In addition to working with Mojo Barriers, Jordi worked for Backbone North America where he was part of the production team at events including Corona Sunsets, Mysteryland USA, TomorrowWorld, Life in Color Miami and the United States Grand Prix Formula 1 concerts at Circuit of the Americas featuring Taylor Swift & The Roots ft Usher.
Red Hot Chilli Peppers 'The Getaway Tour'
The Red Hot Chilli Peppers began the European leg of their Getaway World Tour in September and we were asked to supply touring barriers for all 42 European tour dates.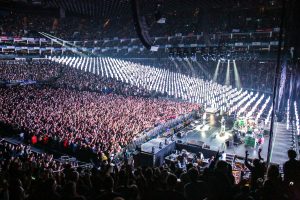 The band played some of the biggest arenas on the continent from Madrid and Barcelona to Vienna, Berlin and Stockholm, to promote their latest album. We supplied an arena sized Mojo stage barrier kit, for each of the 42 European show dates which took place in 26 venues, and which featured the largest automated kinetic light show in concert touring history.
The Californian band started their European tour at the Laszlo Papp Budapest Sports Arena and took their spectacular show to Amsterdam's Ziggo Dome, Franktfurt's Festhalle and Birmingham's Genting Arena.
The tour finished at the Dublin 3Arena on Wednesday 21st and the band will resume their epic trip around the world with a series of concerts back in the USA beginning in San Antonio on January 5.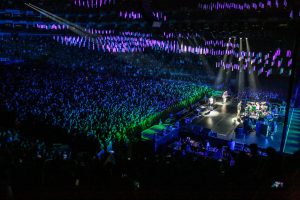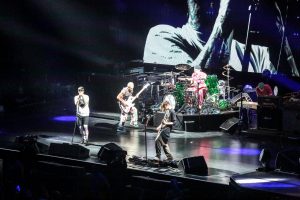 Bastille Wild World Tour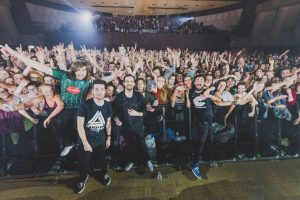 2016 saw Bastille embark on an arena tour to promote the launch of their latest album, Wild World, and we were called upon to ensure artist and audience safety at all 22 UK and European dates. 
Kicking off on the 28th October at Bournemouth BIC, the UK and European tour leg will run until 9th February where it will come to fruition at the Halle 662 in Zurich. We're supplying arena size kit, including stage barriers, flex corners, snake gates and metal cable ramps. As well as positioning barriers across the main stage, we've also designed a bespoke barrier configuration for the B-stage, to ensure continuity throughout each venue.
The tour has already visited 10 UK arenas including the Motorpoint Arena in Cardiff, The O2 in London, First Direct Arena in Leeds, the Barclaycard Arena in Birmingham and The SSE Hydro in Glasgow, and is now heading to Germany, Amsterdam, Switzerland, Spain, Sweden, Denmark and the Czech Republic.
Photo Credit: Joel Stanley/ Gregory Nolan Photography 
Mojo Barriers say Ahoy to MTV EMAs in Rotterdam
Mojo Barriers was called upon to supply and install the main stage crowd barrier, perimeter high fence and the star-studded red carpet barrier at the glitzy MTV EMAs held in the Rotterdam Ahoy, 6th November 2016.
Hosted by American songstress Bebe Rhexa, the 2016 ceremony marked its return to Rotterdam having previously hosted it back in 1997, and saw Mojo Barriers implement an effective crowd barrier configuration both inside and out of the iconic music venue.
Mojo Barriers' Stanley Jilesen and his 6-strong team installed over 650 metres of aluminium barrier throughout the Rotterdam venue. Over 250m of crowd barrier was installed to line the perimeter of the main 'infinity' stage and the B-Stage, created by set designer Julio Himede, which witnessed performances from Kings of Leon, Afrojack, One Republic and Bruno Mars.
Over 100 metres of crowd barrier was used to create a media pit within the standing audience, segregating the broadcast cameras on floor tracking from the crowds. This ensured clear sightlines for the entire audience whilst allowing the broadcasters to film all the live performances throughout the night. Black barriers were installed throughout the venue to blend-in with the set and enhance aesthetics for TV broadcasting.
Mojo Barriers supplied its High Fence outside the venue, to provide 50m of sightline kill extensions, offering 2.4m of additional opaque height to protect the privacy of VIP guests on arrival from crowds waiting outside the venue. Over 250m of crowd barrier was installed along the perimeter of the front entrance of the Rotterdam Ahoy to ensure the safe and smooth ingress and egress of music fans.
In-front of the venue, a temporary structure played host to the glamorous red carpet area, which utilised over 190m of Mojo Barriers' crowd barrier to segregate the media and fans from the arriving performing artists, presenters and award nominees. Each section of barrier was adorned with MTV EMA and sponsor logos, in line with event branding and sponsor aspirations.
Stanley Jilesen comments: "Continuing our longstanding relationship working with the MTV EMAs, Maggie Mouzakitis and the wider production team, we were delighted to welcome such a great event to work on back to our home country. It is a pleasure to work on a project which each year pushes boundaries of creative production and we relish the opportunity to enhance the experience for the audience and keep them as safe as possible."
Mojo Barriers' Busy European Touring Summer
With over 1,000m of Mojo's touring barrier supplied across 201 tour dates, this summer saw Mojo Barriers' European business consolidate its position as a global partner to  artists touring UK and Europe; September 2016.     
Stanley Jilesen headed up Mojo's summer tours in Europe, supplying enough specially designed touring barrier to cross from France to England across the English Channel. Featuring on five of the summer's biggest tours, Mojo supplied all 42 European tour dates of The Red Hot Chilli Peppers' The Getaway World Tour, 28 European dates of Bruce Springsteen's The River Tour 2016, including his open-air concert at the Malieveld in The Hague, 33 AC / DC dates featuring Axle Rose on vocals, 23 European tour dates of Rihanna's The Anti World Tour and 50 European tour dates of Muse's The Drones World Tour.
All the tours benefitted from Mojo Barriers' world famous stage barriers, with specially designed features, including Vario and Flex corners and Mega Exits, along with full support designing and installing customised barrier configurations within each venue.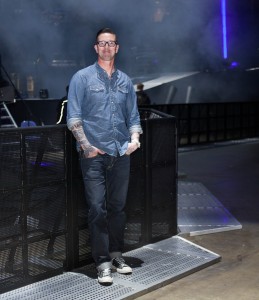 Mojo Barriers' Stanley Jilesen commented: "We're working with our US and Australian offices to give world tours a seamless service. Four out of five of these tours have come out of the US, and it was great to get the opportunity to work with new performers whilst continuing to build on our longstanding relationships with existing clients. As well as an incredibly busy summer of festivals, these contract wins reflect our strong links with the concert and touring industry, which is a core part of our business."