Mojo Barriers Australia's Sensational Installation at Spotless Stadium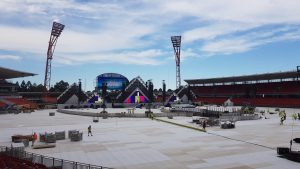 Mojo Barriers Australia recently undertook one of the country's largest stadium field cover installations, with over 15,000m₂ being installed for Sensation at Spotless Stadium, Sydney Showground, November 2017.
Sensation, the biggest open-air festival in Australia this year, was a great success, and protecting the valuable sports surface was of critical importance as Spotless Stadium is the home of Sydney's professional cricket team Sydney Thunder and the Greater Western Sydney (GWS) Giants, part of the Australian Football League. Mojo installed a complete Supatrac system to ensure the best possible pitch protection. It took 34 truck movements to freight the equipment in and out of the stadium and over 850 man hours to install and remove.
The Mojo team installed over 15,000m₂ of 100% white Supatrac, along with over 500m of aluminium Mojo Barrier in a 'D' configuration. Since launching as a supplier of Supatrac in January of this year, Mojo Barriers is now able to provide both barrier and stadium floor covering as a combined offering. To further protect the stadium pitch at Sydney Showground, the team installed a layer of Enkamat under the flooring to provide additional protection at the areas with the highest footfall and crowd density.
As well as being on-site during the event, the Mojo team managed the daily installation and removal of the aluminium ground protection products during the stage build, and worked closely with the festival organisers and stadium groundskeeper to ensure optimum crowd barrier configurations and pitch protection.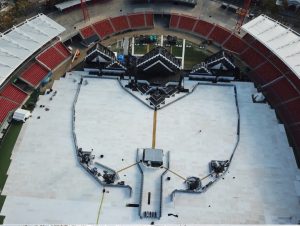 Craig Edwards, General Manager of Mojo Barriers Australia comments: "It was great to be able to showcase our logistical capabilities installing Supatrac and barrier as a combined service, and to be instrumental in one of the largest stadium field covers in Australia makes us particularly proud. Pitch covers are usually a combination of a variety of products; however we supplied 100% white Supatrac to Sensation to ensure the same high quality product throughout the entire stadium.
"Not only did our team need to ensure the products were installed to the highest standard for the biggest festival Australia has seen in three years, but due to it being hosted in such a busy stadium, the condition of the turf post-Sensation was critical with the upcoming sporting schedule."
Joshua Green, Sensation Event Manager from Phoenix Entertainment Live said "The Supatrac product is the way of the future for stadiums, the product doesn't leave indentations on the turf and a sporting event can be held the next day.  Supatrac is an efficient product to install and remove, with 15,000m2 installed in under eight hours there was minimum impact to production load-in – and it was even quicker on the load out. Coupling the supply of flooring and stage barrier products with Mojo delivered further efficiencies and made for a smooth and flexible operation.
"The aluminium and Enkamat combination was also highly effective. We managed to load in over 50 tonnes of steel for the stage and production build with four 135 foot boom lifts and two 60 tonne cranes operating for five days. With heavy production on the aluminium and 30,000 patrons on the Supatrac it is remarkable that none of the turf required replacing after the event – this is a great result for the Sydney Showground. Supatrac is the benchmark for stadium shows to minimise impact on the pitch."
Mojo Barriers Australia Supplies Lorde on Cockatoo Island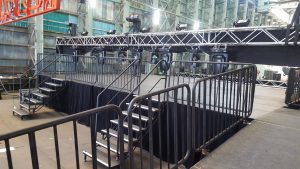 As the exclusive agents in New South Wales for PRO-STAGE, Mojo Barriers Australia supplied staging and risers in addition to stage barriers to Nova's Red Room Presents Lorde on Cockatoo Island, 7th July 2017.
Promoted by popular local radio station, Nova, 1,200 lucky fans were awarded tickets to Lorde's concert which took place at a secret venue; Cockatoo Island's Turbine Hall. The venue originally served as a ship building yard and dates back to the 1850's, and is now a UNESCO World Heritage Site.
This was Mojo's second event as distributors for Pro Stage in New South Wales for this client and at this location, following a Justin Bieber live performance where Mojo supplied media platforms and risers.
For Lorde's performance, Mojo Barriers supplied barrier for front of stage and front of house, along with emergency exit doors. Mojo also supplied a Pro Stage System for main stage at 1.4M in height, with a large access ramp and a tired Front of House Podium.
Being on a small island in the middle of Sydney Harbour gave its own specific challenges as Mojo Barriers Australia's project manager Sheena Edwards explains:
"The only way to reach Cockatoo Island is by catching a ferry across the harbour, which does present challenges when trying to get equipment to the site. All suppliers are ferried over from Sydney, however due to the size of the barge only one truck can fit at a time. Suppliers are ferried one by one and therefore a very tight production schedule had to be maintained to ensure we didn't miss our scheduled time slot and create delays for on-site crew waiting for equipment to arrive.
"Cockatoo Island is a beautiful UNESCO World Heritage Site and as we were working inside a listed building, we were required to be extremely careful when loading and unloading to ensure the building was not damaged by equipment or crew."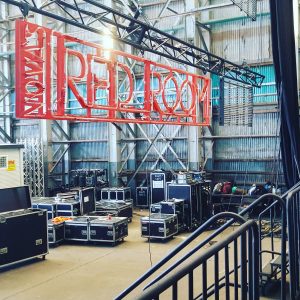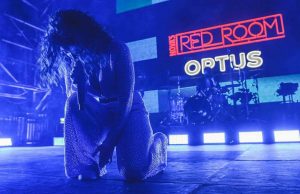 Mojo Barriers Australia Supplies High Fence at the Sydney Opera House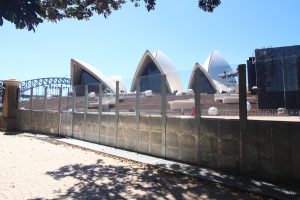 Mojo Barriers Australia has supplied over 300m of its reinforced barrier system 'High Fence' at the Sydney Opera House for a number of outdoor shows. 
Originally manufactured by Mojo for the 2014 G20 Summit in Brisbane, High Fence offers a 2.4m high robust security barrier, compatible with all additional components such as gates or corners. It has a polycarbonate upper, which is a durable and high impact resistance material which easily withstands destructive attacks. Mojo Barriers Australia supplied High Fence to a number of outdoor concerts at Sydney Opera House including Crowded House and Ben Harper & The Innocent Criminals, which formed part of Live Nation's 'On The Steps' concert series.
Opera Australia also chose Mojo's High Fence to secure the perimeter of the Sydney Opera House forecourt for their outdoor production of Handa presents Sydney Opera House – The Opera (The Eighth Wonder) which saw a run of five shows.
Mojo Barriers provided transparent polycarbonate upper panels to create perimeter fencing without obscuring sight lines, to ensure the public could still see the iconic Sydney Opera House backdrop. For areas where a sight kill was required, Mojo utilised its tinted polycarbonate panels while the shows were taking place on the forecourt, to block views of the stage and prevent crowd build-up outside the perimeter barrier.
Mojo also supplied mega exits to allow access for large emergency vehicles and emergency exit points for large crowds.
Craig Edwards, general manager of Mojo Barriers Australia commented: "It's great to see Mojo Barrier's High Fence creating safe event areas at such an iconic venue as the Sydney Opera House. The event safety, security and management teams all love the look and strength that this product provides. With adaptable polycarbonate uppers, High Fence has given organisers the option of blocking off views of certain areas, such as the back of house, whilst also ensuring attendees are able to enjoy the beautiful harbour views. High Fence is more aesthetically attractive compared to the usual perimeter fencing used at major event and it's the perfect solution for occasions where crowd and structure segregation is a vital part of the crowd management process."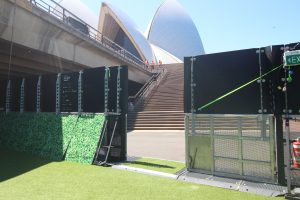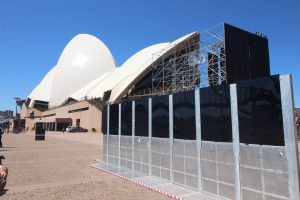 Mojo Barriers Unveil High Fence At Eurosonic Noorderslag
Mojo Barriers launches its new reinforced barrier system 'High Fence' to the European events sector at Eurosonic Noorderslag, 15 January.
High Fence is an exceptionally strong and durable reinforced aluminium barrier system, with a Polycarbonate upper section that can be adapted transparent, black or white. It allows event organisers and venues to create robust restricted zones such as stage access areas for artists, either giving security personal and the audience uninterrupted views, or creating complete sight line kills.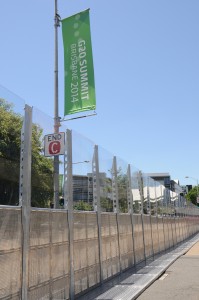 Mojo's extensive range of compatible doors and gates are also available, which integrate seamlessly into the barrier line, to ensure fire safety, access and egress regulations are met. It is aesthetically attractive and safe, with increased strength compared to the traditional fencing methods and similar types of barricade used at live events.
Designed and manufactured to Mojo's high standards and in line with the high specifications of the organisers of the G20 Leaders' Summit in Brisbane, 2.5k (2,500m) of High Fence is now available to the international festival, tour, concert and live event industries.
Cees Muurling, managing director at Mojo Barriers, explains: "High Fence is the ideal solution for events and occasions where crowd and structure segregation is an integral part of the crowd management process.  It will allow organisers to create secure areas, with the option on clear sightlines or 'private' screening. Consisting of 1m wide and 2.4m high sections, High Fence is quick and simple to build. It was proven to be extremely strong – in Australia it underwent extreme testing against pressure, fire arms, chainsaws and even bombs . . . which we hope are extreme measures it will not be subjected to again!"
Attendees of Eurosonic can visit Mojo Barriers at the outdoor EPIC fair area.
Follow Mojo Barriers on Twitter @mojobarriers
Mojo Barriers designs new high fence product for the G20 summit
A brand new reinforced barrier system was designed by Mojo Barriers to help keep politicians, dignitaries and heads of state including Barack Obama and David Cameron safe during the G20 Leaders' Summit in Brisbane, Australia from 15-16 November 2014.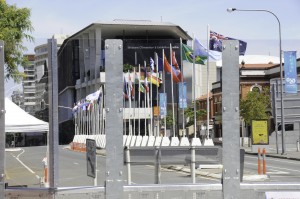 With over 4,000 delegates and 3,000 media descending on Brisbane to discuss a wide range of global economic issues, the system was required to create restricted zones across the city and form protective walls around the event's venues, including the Brisbane Convention and Exhibition Centre.
Coates Hire contracted Mojo Barriers to supply and install a unique barrier solution as specified by police and government officials. The resulting product, High Fence, consists of 1m wide and 2.4m high sections of reinforced aluminium barrier – the standard crowd control equipment from Mojo's product range – with a see-through Polycarbonate upper, which is a durable and high impact resistance material, easily withstanding destructive attacks.
Over 2,000m of the product was installed across the city by the company's Australian team. Doors and gates were also manufactured which integrated into the barrier line, to ensure fire safety and access and egress regulations could be met.
Cees Muurling, managing director at Mojo Barriers, explains: "The brief was to create a product to act as a deterrent and keep the public out of restricted areas. High Fence is quick and simple to install, exceptionally strong and durable and the clear upper section gives security personnel uninterrupted views of the surrounding areas. Its unique aspect is that it is not weighted or pinned to the ground, therefore is completely self supporting, and can withstand significant crowd pressure and deliberate attempts to breach the barrier line.
 "It underwent extreme testing against pressure and targeted attacks. It was proven to be extremely strong and is the ideal solution for events and occasions where crowd and building segregation is an integral part of the security process."
The installation for the G20 was one of the toughest on Mojo's records, with limited overnight shifts to install all barriers and transparent panels, snaking in a complex grid across the city.
Craig Edwards, Mojo Barriers' Australian operations and account manager, explains: "The tough timeframe and sheer scale of the operation meant it was the most complex and challenging project the Australian Mojo office has faced to date. We assembled a skilled team of nine local and international supervisors, managed over fifty truck movements and directed a crew of over one-hundred hands. Coordinating simultaneous legs of the installation required accurate planning."
Over 2,500m of the product is now available to the international event, security and police industries. Cees Muurling expresses the importance the product will play in opening up a new market sector for the company, which was established 25 years ago and is a global leader in the supply of state of the art crowd control solutions to festivals, tours, concerts and live events.
He says: "Post event, we will have 2,500 metres of High Fence available across all of Mojo Barriers' offices; UK, Europe, Australia and the USA. It's ideal for the police, security and protection industries as well as future political, government and cultural events. We've already had interest from parties across these sectors."
High Fence is aesthetically attractive compared to the usual perimeter fencing used at major events and this was essential considering the media and broadcast attention garnered by the Summit.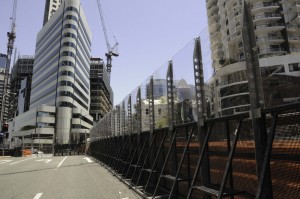 MOJO ANNOUNCES MALAYSIAN DISTRIBUTOR
Following a surge in music events and tours heading to the region, Mojo Barriers has announced Kuala Lumpur based EHQ Projects as its official Malaysian distributor, April 2014.
Working in partnership with Mojo Barriers' Australian office, full service event supply company EHQ will hold an extensive selection of Mojo's crowd barrier products including aluminium straight sections, vario corners, flexi corners and snake gates.
Craig Edwards, operations and account manager at Mojo Barriers Australia, comments: "After travelling South East Asia for Mojo Barriers on the Metallica Tour and Future Music Show in 2013 – we could see that there was a serious need for a quality barrier product in the region.
"It was on the Metallica show in Kuala Lumpur that we met Jay Neil and Andrew Warren from EHQ Projects, and we knew that if anyone was to represent Mojo in the region it was EHQ. Their professional approach to providing quality sound, light and staging equipment for Metallica was very impressive. They were at all times committed to customer satisfaction."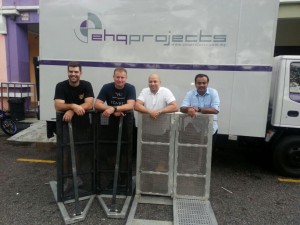 The first show of the Mojo/EHQ partnership was Future Music Festival 2014, where Mojo provided 200m of barrier sections to meet the whole event's requirements. Upcoming shows include Christina Aguilera, SUKMA 2014, MTV World Stage, Arthurs Day 2014 and Rockaway 2014.
Craig continues: "The entertainment and concert industry in Malaysia and South East Asia in general is growing rapidly, and attracting big international acts who demand quality and reliability. By having a trusted distribution partner based in Kuala Lumpur we can give international production managers and local promoters the option of having Mojo Barriers available locally year round, providing security and peace of mind that the barrier is up to task."
Craig, and Nicola Carroll, Mojo's Australian director, have trained EHQ on safe work methods and will be working closely with the team to design bespoke configurations for upcoming events, drawing on Mojo's years of experience in crowd management. 
Pictured L to R: Michael Griffith (Mojo Australia Site Supervisor) Craig Edwards (Mojo Australia's Account Manager) Andrew Warren (Co Owner EHQ Projects) Jay Neil (Co Owner EHQ Projects)
MOJO BARRIERS GETS NEW YEAR'S EVE OFF WITH A BANG AT SYDNEY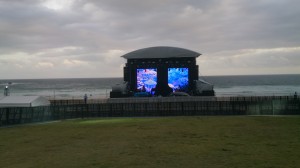 Mojo Barriers' Australian office played a vital role to ensure the safety of the hundreds of thousands gathered for Australia's spectacular New Year's Eve firework display around Sydney's Harbour Bridge, 31st December 2013.  
As one of the first countries in the world to celebrate the arrival of New Year, millions tuned in to watch Australia's iconic fireworks display unleashed at midnight at the Sydney Opera House and Harbour Bridge.  In addition to the worldwide media attention, an estimated 1.6 million people descended on the Sydney Harbour Foreshore to celebrate the start of 2014.
For the first year, Mojo Barriers was commissioned to work with the police and security to close off the busiest areas of Sydney, the Opera House and The Rocks, in preparation for the crowds congregating in these prime viewing areas for the countdown. Jason Craig from the Sydney Harbour Foreshore Authority (SHFA) and Travis Semmens and Jason Foster from ACES Security, were in charge of all onsite security operations. Mojo worked with them to determine the optimum positions for the barrier system which included the company's new high fences and Mega Exit Gates.
Mojo Barriers utilised its crowd control systems in both the East Circular Quay (ECQ) and George Street; both popular areas for people to watch the fireworks display. The Mojo team identified safety barrier configurations, using its 3m Mega Exit Gates, 1.5m gates and 1m gates. The team also installed its new high fence system. Measuring 2.4m high it provides sightline protection and meant signage was fixed securely above head height to be seen by the whole audience. It has been specifically designed to allow access for large emergency vehicles and as emergency exit points for large crowds.
Craig Edwards, Mojo Barriers' Australian account manager, commented: "This was a huge job for us as the Sydney NYE fireworks is seen across the world and attracts hundreds of thousands of people to the real casino online for real money harbourside. This makes it paramount for us to ensure each area has full emergency access and crowds are maintained within the set safety limits.
 "Each location presented its own challenges, from getting the equipment onsite to working safely and efficiently in crowded environments. The East Circular Quay has very uneven surface with sudden drops and was constantly crowded, which we had to factor in when planning build logistics.
"Campbell's Cove and Dawes Point, located just 300m from each other, didn't allow for any fork lift access so we had to hire an eight tonne truck with a tail lift and wheel dollies by hand to transport all the gear. Despite this, each area was completed on time and to the highest standards with no complications arising on the night."
Continuing its work across Australia, Mojo Barriers was also contracted to supply 230m of barrier across four crowd break lines for Sydney's annual festival, Shore Thing. Located on Bondi Beach, Mojo utilised its Guide Pin System to ensure each barrier was placed securely on the uneven grass surface. Elsewhere in the country the team was contracted to provide its crowd safety services for Wet 'n' Wild NYE, NYE Fed Square celebrations in Melbourne, Falls Festival in Byron Bay and Lorne Victoria, as well as Field Day Sydney and Beach Life Festival. 
Mojo Barriers Australia heads to Southeast Asia with Metallica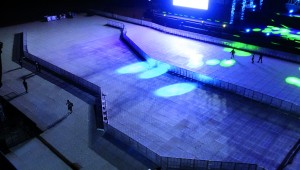 Mojo Barriers' Australian office was called in by Metallica to provide extensive stage barriers for the Southeast Asia leg of the band's Through the Never tour, 21-25 August 2013.
The rock legends played Stadium Merdeka in Kuala Lumpur, Malaysia and Changi Exhibition Centre in Singapore before heading to Gelora Bung Karno Stadium in Jakarta, Indonesia.
Metallica's last show in Indonesia was in 1993, when they were touring their fifth studio album 'Black'. At the peak of their popularity, the hype surrounding the concert resulted in the crowd rioting.
Two decades on, and the bands first time back in Indonesia, Metallica's production teams contracted Mojo Barriers to design  a bespoke barrier configuration using its patented aluminium system, which was then adapted  for the other two dates.
Cees Muurling, Mojo Barriers' managing director, says: "Safety for Metallica has always been paramount, but more attention than ever was focussed on these dates due to past incidents. We have a very longstanding relationship with the band and production, ensuring the highest level of safety for audience, crew and band members.
"We have supplied nearly every single US, Europe and Middle East tour dates for many years now and our recently-opened office in Australia (established October 2012) meant that we are now logistically better able to service tour dates in Southeast Asia too."  
The Mojo Barriers Australia team, led by project manager Craig Edwards, provided one system for Kuala Lumpur and Singapore which consisted of 226 metre-long sections. The system included gates and corners so its shape could be adapted for the needs of each venue.
Malaysia:  For the Kuala Lumpur date Mojo worked with organisers Galaxy to create a configuration that would cater to three different ticket sales. Mojo demonstrated how barriers can be used to safely and easily section off individual areas, creating a 2,000-capacity VIP pit in front of the stage, a curved line behind this for the 2,500 mid-level tickets with the remaining 4,000 capacity from front of house (FOH) back. Total capacity for the gig, including tiered seating, was 25,000.
Singapore:  The Singapore date offered two ticket prices, with Mojo Barriers configuring an open passive D in front of the stage to hold 15,000 with a straight line running behind the FOH tower to create a safe area for a further 15,000 fans. Client was Lamcproductions.
Indonesia: The Jakarta show saw Mojo work with Black Rock Entertainment and add an additional 88m added to the stage barrier system. With one ticket price for the entire 25,000 capacity standing crowd (total show capacity 54,000), an open passive D shape was installed. The first line was located in front of the stage security pit with a further two lines angled 16m apart to encourage an even crowd flow, whilst maintaining sight lines of the stage.  
Craig Edwards, Mojo Barriers project manager, comments: "Having the equipment based in Australia, and it being out of our main festival season meant we were able to supply a large amount of equipment quickly and efficiently, meeting some very tight time constraints.
"It's coming up to the first anniversary of the Mojo Barriers Australia office and it has been a huge success. These dates in Southeast Asia demonstrate the impact our expansion has had not just on the local Australian market but also surrounding countries which now benefit more easily from Mojo Barriers' trusted crowd control knowledge and products."  
Mojo Barriers launches access control product 'The Gatekeeper 2.0'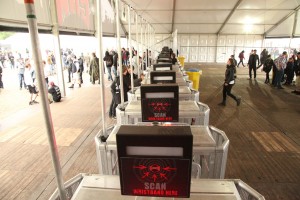 Mojo Barriers unveiled its new access control system 'the Gatekeeper 2.0' at Belgium's Graspop Festival, combining a secure turnstile entrance with integrated scanning capabilities, 27-30 June 2013.
The crowd control specialist launched the new product at Belgium's 'hardest rock festival', which used 18 Gatekeepers to control the ingress and egress of the 45,000 capacity crowd who enjoyed performances from headliners Twisted Sister, Iron Maiden and Slipknot.
Graspop was the first music event to benefit from the Gatekeeper, which manages all aspects of entry and exit into events, festivals, venues and designated areas (such as VIP, staff only and camping).
An intelligent portable turnstile, it links directly to an easy to use central computer system which gives accurate capacity data and real time counting. It incorporates full scanning capabilities and is compatible with any scanning methods.
Cees Muurling, Mojo Barriers managing director, comments: "With the rise of RFID, QR codes, barcodes and mobile phone ticketing, and the vast amount of data these can garner for event organisers and sponsors, there was a requirement from clients for a hardware solution which hosted these technologies. We work in partnership with event organisers, ticketing and scanning companies to reduce ticket fraud by combining a solid physical barrier – the Gatekeeper – with the latest ticket scanning methods."
For Graspop, Mojo Barriers worked with Belgium-based Playpass which provided RFID wristbands to festival-goers, staff, press and artists. The company's scanners were fitted to the Gatekeeper system offering a complete entrance control system, and instant access to data on the crowd's movement and interests across the three day event.
Gert Ruts from Playpass comments: "For me it's not 'if' this is going to become more popular, it's 'when'. The Gatekeeper offers the best of both worlds for event organisers; access to the data offered by RFID wristbands, but also hardware – the turnstile – to make their festival more secure and efficient, cutting down on security personnel and staff required to check and scan tickets. This is our first time supplying wristbands and scanning with Graspop and we have also worked with Rock Werchter for four years. Gatekeeper has proven a great addition to our offering."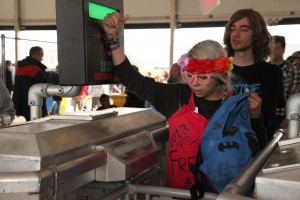 Gatekeeper is ideally suited for standalone greenfield events but also for venues looking to supplement their existing entrance systems. It can be combined with Mojo Barriers' standard temporary barrier system to create a robust segregation line with entrance points and emergency exits. 
Triple win for Mojo Barriers Australia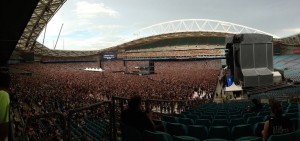 Mojo Barriers' Australian office was appointed to supply stage barriers and crowd safety services across three of the country's biggest summer music festivals in 2013 – Big Day Out, Soundwave and Future Music Festival. 
The contracts follow the announcement late last year that Mojo Barriers had opened its first permanent Australian premises, offering improved services to events across the continent. 
Future Music Festival, which tours nationally and kicked off in Brisbane on 2nd March, boasts acts including The Prodigy and The Stone Roses. Mojo Barriers is supplying 2.5km of aluminium stage barriers across all stages. 
The national Soundwave tour kept Mojo's team busy installing over 4.5km of barrier across the festival's five sites (Brisbane, Sydney, Melbourne, Adelaide and Perth) helping to keep audiences, crew and headliners including Metallica and Linkin Park safe.
Nicola Carroll, Mojo Barriers Australia director, said: "With the office only recently opened this is a fantastic start for us. Mojo Barriers has worked with these festivals in the past, but with our new premises and staffing structure we've been able to increase our stock provision and further integrate our specialist safety and security components into festival designs. Mojo Barriers Line-Up Gates, Mega-Exits and High Fencing are now key elements of crowd management in high density areas." 
Mojo Barrier's team worked closely with each festival to analyse site specifics and audience behaviour to design and install bespoke barrier layouts to ensure the safest possible events. 
Nicola commented: "It's about more than just the products – it's what's done with them. We have worked with the production team, site team and security representatives at each festival to design custom-built configurations, ideally suited to the location, music type and capacity, and our enhanced logistical capabilities has enabled us to provide dedicated barrier crew where required, with both touring and local supervisors overseeing every element of the installations."
For last month's Big Day Out festival Mojo Barriers supplied over 3km of barriers across five locations (Sydney, Gold Coast, Adelaide, Melbourne and Perth) where mega acts including The Killers and the Red Hot Chilli Peppers took to the stage.
The events were crewed by Mojo Barriers' Supervisors Craig Edwards, Craig Pope, Stanley Jilesen and Mandy Bradford.